I Love Lucy Superstar Special #1
R1 - America - Paramount Home Entertainment
Review written by and copyright: Eric Cotenas (1st November 2016).
The Film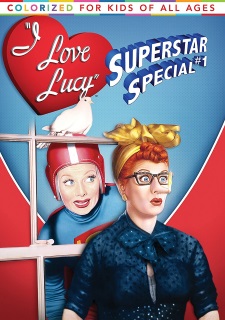 In 2015, CBS brought I Love Lucy back to the airwaves with a "Superstar Special" that colorized and combined two episodes from different seasons featuring superstars who may not even register with modern audiences. In "L.A. at Last!" from the 1955 fourth season, bandleader-turned-Hollywood discovery Ricky Ricardo (The Long, Long Trailer's Desi Arnaz), screwball wife Lucy (Yours, Mine and Ours 's Lucille Ball), tightwad landlord neighbor Fred Mertz (My Three Sons' William Frawley) and his long-suffering wife Ethel (The Great Race's Vivian Vance) – Vance and Frawley hated each other offscreen even more than onscreen – arrive in Los Angeles after a grueling cross-country road trip – which included stops at a tourist trap from hell, a backwoods endurance test with Lucy's distant cousin Tennessee Ernie Ford, and a visit to Ethel's hometown where the populace was convinced it was middle-aged Ethel who was destined for stardom. With Ricky away at the studio, Lucy, Ethel, and Fred scout the stars at the local "watering hole" The Brown Derby where celebrity stalkee William Holden (The Bridge on the River Kwai) ends up with a pie in his face. When Ricky surprises star struck Lucy by bringing Holden back to the hotel to meet her, she goes to hilarious lengths in order to not be recognized by him. Eve Arden (Anatomy of a Murder) also appears. The second part of the program skips ahead to season six's "Lucy and Superman" and back to the couple's Brooklyn apartment when Lucy one ups friend Carolyn Appleby (Doris Singleton) for the scheduling of their respective children's birthday parties by opening her big mouth and promising an appearance by Superman himself (Rancho Notorious' George Reeves). With Ricky unable (or unwilling) to produce Reeves, Lucy dons the suit and climbs out onto the apartment ledge in the middle of a rainstorm, requiring the real Superman to rescue her. While even the most casual cinephile might recognize Holden and MeTV viewers might recognize Reeves, other "superstars" whose appearances provided more entertaining episodes included John Wayne (Stagecoach) when Lucy and Ethel steal his footprints from Grauman's Chinese Theater, Richard Widmark (Panic in the Streets) when Lucy ends up trespassing on his property while trying to pick a grapefruit from one of his trees, Harpo Marx (Duck Soup) and Van Johnson (The Caine Mutiny) from two episodes in which Lucy tries to deceive Caroline into believing she is hobnobbing with the stars on a regular basis, Cornel Wilde (The Naked Prey) who is hiding out in the hotel suite above the Ricardos, and Rock Hudson (Written on the Wind) in an episode when Lucy and Ethel go to Palm Springs to get away from the guys after an argument about their respective annoying habits. The digital colorization of the episodes is well-executed, benefitting from the availability of a new high definition restoration of the show. While a Blu-ray version of this program would have been preferred, Paramount seems to have given up on the format for television shows of any age after the first season or two (season two when it comes to this show).

Video


Paramount's single-layer DVD uses branching to allow viewers to not only watched the colorized program but also to access the individual episodes in either color or black and white. The interlaced image fares better in close-ups and medium shots than in long shots which lack definition.

Audio


The Dolby Digital 2.0 mono audio is clean and crisp, having been restored at the same time as the high definition masters created a couple years ago. Optional English SDH and Spanish subtitles are also included.

Extras


The sole extra - apart from individual access to the episodes in color or black and white - is an audio commentary by actress Doris Singleton, actor Keith Thibideaux, and actor Steve Kay for "Lucy and Superman" carried over from the episode on the season six DVD set.

Overall


While a Blu-ray version of this program would have been preferred, Paramount seems to have given up on the format for television shows of any age after the first season or two (season two when it comes to this show).


---
DVD Compare is a participant in the Amazon Services LLC Associates Program and the Amazon Europe S.a.r.l. Associates Programme, an affiliate advertising program designed to provide a means for sites to earn advertising fees by advertising and linking to amazon.co.uk, amazon.com, amazon.ca, amazon.fr, and amazon.de.