The Film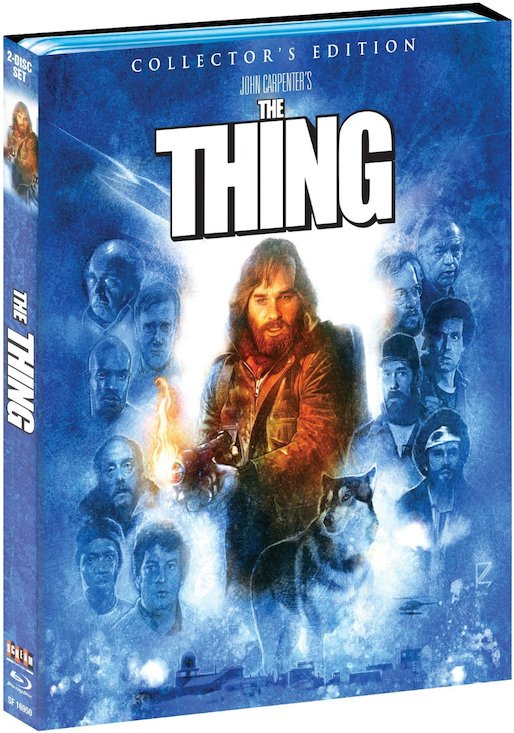 There are great actors and there are great directors, but when a marriage of the two is made those collaborations often produce some of the greatest pictures in cinema history.

Toshirô Mifune and Akira Kurosawa. John Wayne and John Ford. Robert De Niro and Martin Scorsese. Max Von Sydow and Ingmar Bergman. Clint Eastwood and Sergio Leone.

Kurt Russell and John Carpenter.

There is no hyperbole in saying that over the course of five filmmaking stints John Carpenter and Kurt Russell created some of the most iconic films and characters ever committed to celluloid. Three in particular – "Escape from New York" (1981), "The Thing" (1982), and "Big Trouble in Little China" (1986) – have only grown in popularity since their releases, which is somewhat ironic because none set the box office aflame at the time. Yet now, studio executives are practically tripping over themselves trying to find ways to reimagine or reboot most of Carpenter's filmography, the results of which always remind viewers that magic can't be recaptured. Carpenter knows this, too, but, hey, a free paycheck is a free paycheck.

Of their three celebrated works, it is "The Thing" that takes the edge. To me, it is the greatest horror film ever made; a stunning example of incredible levels of talent coming together and putting their all into a project. In addition to the immeasurable skills of Carpenter and Russell, it features a score by the Maestro himself, Ennio Morricone, gorgeous matte artistry by the legendary Albert Whitlock, stunning photography from frequent collaborator Dean Cundey, and the most jaw-dropping, gruesome special effects ever seen on screen, created by a 23-year-old Rob Bottin (with uncredited assistance by Stan Winston). Having all the talent in the world doesn't guarantee a film will show it, but in instances such as this, where the crew is an embarrassment of riches, failure seems impossible.

Much has been written about Carpenter's magnum opus; so much, in fact, that I don't need to labor on about subtext and meanings, nor does this review need multiple paragraphs praising every aspect of the picture – which I could easily do, since gushing about "The Thing" brings me endless joy. Carpenter gets all the deserved credit in the world for being one of the few directors to "do a remake right", but truthfully his film is more of a faithful adaptation of John W. Campbell's novella "Who Goes There?" than director Christian Nyby's 1951 "The Thing from Another World". It couldn't have come at a better time for the source material, either; Nyby's film was limited by special effects of that era, while a version made today would have been fraught with uncanny valley CGI (cough - "The Thing" (2011) - cough).

Bill Lancaster's script is a triumph, presenting twelve unique individuals isolated hundreds of miles from civilization, all of whom share tight familial bonds, forced into a claustrophobic situation brimming with paranoia, tension, and pure terror. Even if the story had been a rote slasher, all of these elements play perfectly within Carpenter's wheelhouse. Adding in an alien organism capable of imitating anyone or anything, and with no forewarning as to who is or is not a "thing", the intensity doesn't need to be coerced out of the script because it is already so very present. To this day, no matter how many times I have seen the film – and I have seen it a countless number – there are still moments that raise the hairs on my neck and draw me into the screen ever deeper. It is a rare film that can maintain the sensations felt during the first time you saw it, a testament once again chalked up to the brilliance of Carpenter and his upper echelon crew.

Video


Let's get to the real reason you're reading this review: the transfer. As someone who has owned the film on VHS, DVD, UK DVD, HD DVD, UK Blu-ray, and U.S. Blu-ray I can say with absolute certainty that Scream Factory's new image, culled from a 2K scan of the inter-positive, is a revelation. Approved by the "Dean of Darkness" himself, Dean Cundey, the picture is astonishingly clear, exhibiting the kind of clarity you'd expect from something made recently. Film grain, previously scrubbed away on Universal's release, has been restored to its proper glory. Colors are cool and hewed toward the blue end of the spectrum, appearing more in line with the film's aesthetic than ever before. Black levels are solid as a rock, never hazy or wavering in total darkness. Definition and fine detail blew me away like never before. Mac's flamethrower looks like it's about to blast a flaming hole right through the screen. Even better, Bottin's FX work only looks better under this kind of scrutiny. Sometimes prosthetics and latex show their age in this HD era; the opposite is true in this case, with more of the fine details in the FX work evident. I really can't say enough positive things about the picture here. Incredibly stunning work by Scream Factory; maybe their best catalog effort yet.

Audio


There are a few options on the audio front – English DTS-HD Master Audio in 2.0 stereo, 4.1 surround sound (from the original 70mm six track Dolby Stereo soundtrack), and a 5.1 mix. I toggled between the 4.1 and 5.1 mixes and found no discernible difference between the two, so I stayed with the 5.1 since it offers a slightly more robust experience. The soundfield feels big and expansive, with excellent separation of sound effects across the board. Dialogue is crystal clear, too. Morricone's score is an audible feast, completely enveloping viewers in his haunting melodies. Much like the video quality, I don't see how this could be improved in any way. Optional subtitles are included in English for the hearing impaired.

Extras


Prepare to be exhausted because Scream Factory has not only included every single bonus feature found on previous home video editions of "The Thing" but they have also created a number of fantastic new features that are worth fans' time.

DISC ONE:

There are three audio commentary tracks here – the first is a new offering, featuring director of photography Dean Cundey; the second audio commentary has co-producer Stuart Cohen; while behind door number three we have one of the all-time audio commentary classics, featuring John Carpenter and Kurt Russell.

"Theatrical & Teaser Trailers" (1080p) contains the following:

- Theatrical trailers features two, running for 3 minutes and 27 seconds.
- German trailer runs for 1 minute and 47 seconds.
- Teaser trailer runs for 1 minute and 22 seconds.

Three TV spots (1080p) run for 1 minute and 35 seconds.

A handful of radio spots run for 2 minutes and 27 seconds.

Still galleries (1080p) features a number of offerings:

- "Behind the Scenes" runs for 4 minutes and 47 seconds, featuring 57 images.
- "Lobby Cards & Press Stills" runs for 4 minutes and 18 seconds, featuring 51 images.
- "Programs" runs for 1 minute and 44 seconds, featuring 20 images.
- "Posters" runs for 1 minute and 59 seconds, featuring 23 images.
- "Storyboards" runs for 2 minutes and 34 seconds, featuring 30 images.
- "Production Artwork" runs for 1 minute and 24 seconds, featuring 16 images.

DISC TWO:

"Requiem for a Shape Shifter" (1080p) is an interview that runs for 28 minutes and 39 seconds. Carpenter sits down with longtime friend and collaborator Mick Garris for one of the best interviews he's given in recent years. Because of the relaxed discussion between the two, Carpenter opens up and gets into some minor details regarding the shoot that some fans may not have known.

"The Men of Outpost 31" (1080p) is an interview that runs for 51 minutes and 14 seconds. Most of the surviving crew, sans Russell, sit down and deliver some great anecdotes about their time on set. You get a great sense of the camaraderie between all of the guys.

"Assembling the Assimilation" (1080p) is an interview that runs for 11 minutes and 9 seconds. Editor Todd Ramsay talks about cutting together the film. It's informative if also a bit dry.

"Behind the Chameleon" (1080p) is an interview that runs for 25 minutes and 26 seconds. Most of the film's special effects technicians – of course, Bottin is absent – discuss some of the "simpler" effects in the film, such as the spaceship seen in the opening and some of the other sight gags.

"Sounds from the Cold" (1080p) is an interview that runs for 14 minutes and 53 seconds. Frequent collaborator Alan Howarth discusses the building of the film's sound design, while sound editor David Lewis Yewdall talks about some of the unique ways in which he made alien sounds.

"Between the Lines" (1080p) is an interview that runs for 15 minutes and 58 seconds. Alan Dean Foster, author of the film's novelization, talks about the process behind writing a screenplay adaptation. This is a pretty fascinating piece; definitely worth checking out.

"Network TV" broadcast version (SD) runs for 1 hour, 33 minutes and 45 seconds. This full-frame, rough copy features some alternate takes.

"John Carpenter's The Thing: Terror Takes Shape" (SD) is a documentary that runs for 1 hour, 24 minutes, and 3 seconds. This carryover from the olden days of DVD is still a fantastic watch, covering virtually every aspect of the production.

"The Making of a Chilling Tale" (SD) is a featurette that runs for 5 minutes and 14 seconds. This is a basic EPK on the making of the film.

"The Making of The Thing" (SD) is a featurette that runs for 9 minutes and 20 seconds. This is another EPK, similar to the previous one.

"The Art of Mike Ploog" (1080p) is a featurette that runs for 12 minutes and 21 seconds. This is a series of storyboards and production sketches created for the film.

"Back into the Cold" (1080p) is a featurette that runs for 11 minutes and 16 seconds. Todd Cameron of Outpost31.com visited the filming locations of the movie a few years back and he presents his own footage here, along with some photos, too.

A collection of outtakes (SD) runs for 5 minutes and 19 seconds. Don't confuse these as bloopers; this is a collection of various odds and ends that were snipped from the film. There's some good stuff in here.

"Vintage Featurettes" (SD) runs for 13 minutes and 20 seconds, featuring numerous short EPK featurettes made for the film.

Vintage product reel (SD) is a condensed version of the feature, running for 19 minutes and 38 seconds. There are some alternate cues and takes in here, making this an interesting curiosity to watch.

Vintage behind-the-scenes footage (SD) runs for 2 minutes and 2 seconds. This is some brief on-set footage shot during the making of the film.

Annotated production archive (SD) runs for 54 minutes and 12 seconds. Photographs and text take viewers through the production process of the film. A bit dry and redundant if you've already watched everything else included here, but a nice inclusion nonetheless.

Packaging


The two-disc set comes housed in a standard Blu-ray keep case, with each disc housed on a hub opposite the other. The cover art is reversible, allowing you to display Drew Struzan's iconic one-sheet image or the new artwork that also adorns the slip-cover.

Overall


"The Thing" is a perfect horror film and now, thanks to Scream Factory, is has a perfect Blu-ray release. Don't even think twice – buy it!
| | | | | |
| --- | --- | --- | --- | --- |
| The Film: A+ | Video: A+ | Audio: A+ | Extras: A+ | Overall: A+ |