The Film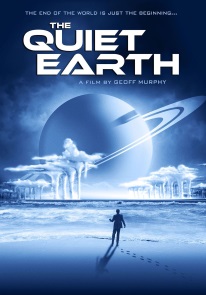 "How easy to believe in the common good when that belief is rewarded with status, wealth, and power," cries Zac Hobson (Smash Palace's Bruno Lawrence) to an esteemed audience of cardboard cutouts ranging from Winston Churchill to Margaret Thatcher to Adolf Hitler during his acceptance speech as president of "this quiet earth." A sober eighties post-apocalyptic alternative to the likes of Brian Trenchard-Smith's admittedly entertaining Ozploitationer Dead End Drive-in, the New Zealand-lensed The Quiet Earth – from the novel by Craig Harrison – was lost amidst the glut of more expensive or cheaper but more exploitative examples of the sub-genre in the eighties. This is regrettable since the film proves to be one of the more thoughtful and humanistic examples of a post-apocalyptic film, eschewing mutants, aliens, and vast destroyed landscapes for the inner devastation of its trio of characters and their meaningful attempts to accept each other for the faults pre-disaster that lead to their inexplicable survival. Waking up at a seaside hotel, Zac experiences a disturbing temporal distortion that has him seemingly stuck at 6:12 A.M. for an inordinate amount of time before the minute actually passes. As he drives through the countryside and back to the city, he can find little sign of human life, and what little evidence of human activity he does find suggests that people have fled or been snatched up in the middle of their daily lives (including a crashed airplane with no bodies amidst the fiery debris and safety belts still fastened in their seats). He finds Delenco, the satellite research unit where he works, equally empty and finds no response to attempts by the computer to reach various international linkups. The only other human he does discover is his colleague Perrin, his corpse incinerated at the control board, leading him to believe that something has gone catastrophically wrong with "Project Flashlight" a global energy grid as a nuclear energy alternative. At first intensely lonely, Zac returns to his home and waits by the phone for an answer to looping message he has broadcast over the radio asking for contact from any other survivors. Like most last men on Earth, his scavenging efforts turn from the survivalist to the materialistic and he decides to "move up in the world." Loneliness soon turns to near-madness, but no sooner does he go from declaring himself president to God than he meets the "last woman on Earth": in Joanne (Other Halves' Alison Routledge). In spite of her mockery of his Godhood and his scientific ideals ("An exclusive all-male club playing God with the universe"), she is as relieved to find him as he is of finding her, and it is not long before they fall into bed in the midst of scouring the countryside for other survivors (the bodies they find unfortunately suggest that there were others who were killed or took their own lives after discovering they were alone). Before thoughts of repopulating the Earth as a new Adam and Eve, they find a third survivor in Maori Api (Once Were Warriors' Pete Smith) who they both welcome with open arms (in a "group hug" that is genuinely heartwarming rather than cheesy). As the trio share stories of their last memories, Zac surmises that they may have survived because they were each at the moment of death when "The Effect" occurred, with Zac revealing that he had tried to kill himself when he realized that data had been deliberately withheld of the project's "phenomenal destructive potential." When Joanne makes it apparent that she also likes Api – in spite of her disgust of his own God-like behavior – Zac starts to feel like a third wheel. Each of them experience episodes that seem like vivid flashbacks to the "tunnel of light" they saw during at the moment, but Zac surmises that these are actually tremors signaling that "The Effect" is about to happen again.


Video


Released theatrically by the now-defunct Skouras Pictures in 1985 and on VHS by CBS/Fox in 1986 (followed by a Dolby Surround laserdisc in 1989), The Quiet Earth was previously available on DVD from Anchor Bay with an anamorphic transfer and an audio commentary by producer Sam Pillsbury () in the US and a fullscreen DVD in the UK. Restored in HD in 2015, the film made its Blu-ray debut in Germany, albeit in a 1080i50 encode with lossy 2.0 and 5.1 options in English and German. Film Movement's 1080p24 MPEG-4 AVC 1.85:1 widescreen transfer is startles with bold colors in the opening titles sunrise and crisp detail in the close-ups of its trio of leads. Long shots look a bit softer, but that may be a combination of some grain filtering and cinematographer James Bartle's heavy and deliberate use of lens flare in the night exteriors and sunny exteriors (and possibly some earlier flare-prone Panavision spherical lenses). Computer screens evince ghosting artefacts and the "effect" light shows are softer, but this is an effect of filming directly off early computer monitors and then-high quality video monitors.

Audio


The film's Dolby Stereo audio has been spread out to 5.1 in DTS-HD Master Audio and Dolby Digital options that give some depth to the score and some directional effects, but the mix was never as comparatively gimmicky as other post-apocalyptic eighties films mixed in Dolby Stereo. Unfortunately, there are no SDH subtitles which might have helped with some of the muttered lines of dialogue.

Extras


Film Movement has not carried over the Pillsbury commentary (odd since it has appeared on US, German, and Australian editions) in favor of a new commentary by Neil deGrasse Tyson and film critic Odie Henderson. Henderson points out images directly lifted from the film by the terrible official adaptation of I Am Legend and "geeks out" over the eighties tech while Tyson discusses the film's scientific facts and and inaccuracies, which seems persnickety for a science fiction film but some of the points he makes are interesting and he does discuss the moral dilemma of scientists who are aware that their work can be used or misused by the people funding their research. The commentary does lack the repeat listening value of other tracks, and one does wish the producer track had also been included. Other extras include the film's theatrical trailer (1:00) and an essay booklet by Teresa Heffernan who discusses the ways in which the film interrogates the post- of the post-apocalyptic genre.

Overall


Lost amidst the glut of more expensive or cheaper but more exploitative examples of the post-apocalyptic film in the eighties, this is regrettable since The Quiet Earth proves to be one of the more thoughtful and humanistic examples of the sub-genre.