The Film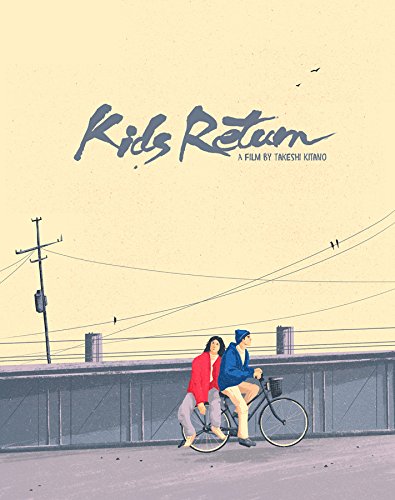 "Kids Return" 「キッズ・リターン」(1996)

Masaru (played by Ken Kaneko) and Shinji (played by Masanobu Ando) are high school students without a care in the world. They frequently skip class and fool around, but when they actually go to class they are busier throwing things and stealing money from weaker classmates. There are no authority figures in their lives - as the teachers could care less for them and their parents are never seen. But then one day one of the bullied classmates brings a tougher older brother to confront Masaru in Shinji. With the older brother having some boxing skills, he takes out Shinji with some simple punches to teach him a lesson. Distraught and weakened, Shinji decides to get some training for revenge - by taking up boxing at a local boxing club, and having Masaru also join in.

While the two are training and still getting into random trouble, their lives start to move in differing directions. After they encounter a yakuza boss at a ramen restaurant, Shinji becomes in awe of the yakuza gangsters. At the boxing club, the trainers start seeing that the quieter Masaru actually has some natural talent that could go to greater lengths. As they start drifting apart, what will it mean for their friendship?

"Kids Return" was the sixth film directed by Takeshi Kitano, and as the title suggests, was a "return" for him to the director's chair. On August 2nd 1994, the comedian extraordinaire was involved in a motorcycle accident that nearly killed him. He had severe nerve damage on half of his body that caused nervous twitches and paralysis, and was advised to take at least half a year off from work. His latest film being shot, "Getting Any?" was a farcical parody sex comedy and was released on February 2nd 1995 and was barely noticed. It was a hard sell of a movie in the first place and the only person that could have given it a real push in marketing was in the hospital undergoing physical rehabilitation.

Kitano reemerged to television screens but it was obvious that stars and the public were concerned for his well being even if he wanted to make audiences laugh. As for his film career, Kitano decided to make a film very different and unexpected from his previous works. For "Getting Any?" he wrote a semi-autobiographical film. Kitano grew up in Adachi Ward - the so called residential rough side of Tokyo, was a rambunctious kid (and continued to be so as an adult), and even took up boxing in his youth. The characters of Masaru and Shinji do not represent Kitano directly but was more influenced by the classmates and people he knew. It was as if the camera in the film was Kitano while the kids were the classmates that surrounded him. Besides the two main characters, some of the other characters parallel Kitano as well. The two boys in class who do "Manzai" comedy - the straight man/silly man duo style comedy, is directly what Kitano did in his early days in comedy as half of the comedy duo "Two Beat" - featuring his partner Beat Kiyoshi and the comedy persona of Kitano - Beat Takeshi. Kitano also had experience odd jobs including driving taxis, which is portrayed by the Hiroshi character. Kitano was never really part of a yakuza gang, but coming from a tough neighborhood, working with people of lower classes, and many of his violent antics have inferred that there must be some connection. Plus many of his own films have yakuza characters or yakuza settings involved. Even Kitano plays a yakuza member in the Sega video game "Yakuza 6" (2016).

"Kids Return" was Kitano chance to reflect on his youth - the carelessness and dreaming that nothing can stop you - something that he must have reflected on after the motorcycle accident heavily. Rather than the wild skit-like structure of "Getting Any", or the sparse mostly improvised "A Scene at the Sea", "Kids Return" was fully constructed and scripted before shooting and only few minor changes were made during production. The core friendship between Masaru and Shinji is interesting to watch but at the same time there are a lot of things unanswered such as where their parents are during the film, why they became such delinquents, and other minor details about them. Ken Kaneko who plays the quieter Masaru is almost like an observer for the most part with his deadpan stares - a face of innocence who got mixed with the wrong crowd, by following Shinji. Masaru does not seem to have focus or direction without a partner by his side. When Shinji gets punched out Masaru's days at school alone are exactly that - lonely and directionless. Later when he gets into boxing, without a mentor and trainer he would have been lost as well. Kaneko plays the character in an understated way both before boxing and after boxing and is truly the one to root for as an audience member to succeed. Interestingly Kaneko (whose given name is Kim Hyeon) also took up professional fighting in the K1 circuit in the 2000s, so possibly an influence from this film? Masanobu Ando as Shinji is the vocal one of the duo, and is the one that looks for trouble and danger. Ando's performance is great - not over the top but not understated either. His character's transformation from rambunctious kid to yakuza tough guy is a wonderful one. As vocal as he is in the film, it's interesting to see that one of his most well known and memorable roles was for Kiriyama in "Battle Royale" who never speaks a word (and also stars Kitano). Kitano wanted to cast unknowns for the leads and that is exactly what happened. Kaneko and Ando had a few TV dramas to their credits but for a feature film - this was the first for both of them.

While the film stands tall with the leads, it's surprising that the supporting roles are not given too much time. The role of the yakuza boss played by Ryo Ishibashi and his number one played by Susumu Terajima are familiar faces in Kitano films and make a mark in their small roles. As for others, there are subplots in the film that get very little screentime that it's a wonder why they were placed in the film at all. The manzai duo in the class was played by the real manzai duo Peking Genji but their side story of trying to make it big is very short and not worthwhile. The love story between Hiroshi (played by Michisuke Kashiwaya) and the waitress Sachiko (played by Yuko Daike is also underplayed and not central to the plot. The side stories paralleling and crossing the main story is not played out enough to give major arcs or care towards those characters, leaving much more to question rather than enjoy. These are definitely the weaker elements of the film. How did Hiroshi grab Sachiko's heart? How did the manzai duo start attracting an audience? These are things we would like to know but alas, you're left to your own imagination.

The film opened in Japan on July 27th 1996 and received positive notices. Critics in Japan were kinder to Kitano's return to the world of cinema in terms of maturity in filmmaking. Masanobu Ando won numerous awards for his portrayal of Shinji at various award events and the film won 4 awards at the Yokohama Film Awards. The awards and recognition did not translate into ticket sales and was not a big hit theatrically. It was enough for a sequel to be made in 2013 - "Kids Return: The Reunion", produced by Kitano's production company but without Kitano directing, which was met with lukewarm reception. Regardless of the reception in ticket sales, "Kids Return" has grown in public reputation over time and is still considered one of Kitano's most accessible films.

Note this is a region B Blu-ray which can only be played back on region B and region free Blu-ray players.

Video


Third Window films presents the film in 1080p in the AVC MPEG-4 codec in the 1.85:1 theatrical aspect ratio. The new high def master was provided by Office Kitano and is miles ahead of the older DVD presentations. Firstly noticeable is the heavy blue hue applied to the picture - "Kitano Blue" as it has been coined. The blue tone is much more pronounced than earlier DVD releases which seemed to have been missing the filter and gives a much more somber feeling to the film. The picture is free of damage, film grain is visible, and there are no major errors in the transfer. It looks absolutely stellar in presentation.

The film runs uncut with a runtime of (107:53).

Audio


Japanese DTS-HD Master Audio 2.0 stereo
The original stereo track is presented in lossless audio and it is also a wonderful experience. The third collaboratory score with composer Joe Hisaishi is uplifting and fun, rather than the somber and quieter works he is frequently known for. The main theme pulsates with a beat that goes well with the themes of timing - whether in boxing, comedy, or asking a girl out, and the stereo track especially gives a great wide dispersal of the music. A 5.1 track could have sounded better with separation, but the 2.0 track does the music justice. As for dialogue it is mostly center based and there are no issues of audio dropouts or audio damage.

There are optional English subtitles for the main feature in a white font. The subtitles are well timed and translated, though interestingly there are some passages like the teacher talking or some background chatter that go untranslated.

Extras


Audio commentary by film scholar Aaron Gerow
Yale professor Gerow who published the 2008 book "Kitano Takeshi" gives a feature length commentary for the film, newly recorded for this Third Window release. He discusses Kitano's personal backstory - growing up, professional career, and the motorcycle accident, as well as the making of the film and information on the actors and crewmembers. It's a good detailed commentary but there are a few dead spaces here and there.
in English DTS-HD Master Audio 2.0 with no subtitles

"Making Of" featurette (21:12)
This featurette was originally included on the Japanese Laserdisc of the film but was strangely missing from the later DVD issues in Japan and all other territories. Chronicling the shooting of the film starting from Autumn of 1995 and the 6 months of production, it includes valuable footage of the two new faces in front of the film cameras, outtakes, behind the scenes footage and interviews with various cast and crew. It also shows a lot of Kitano's process in the making including how he gives direction and how some scenes were slightly rewritten due to sudden inspiration at the locations. The boxing match scene had 1000 extras, there are glimpses of deleted scenes, and Kaneko really getting knocked out with a hard punch in the boxing match which was not planned. Ouch! The video and audio quality is extremely good on this featurette - much better than many mid-90s video featurettes that are common, including the making of documentary found on Third Window's "Kikujiro" release - in which they apologized for the lesser quality,
in 1080i 60hz, in 1.33:1 and windowboxed 1.78:1, in Japanese DTS-HD Master Audio 2.0 with optional English subtitles.

The film has been previously issued in Japan on Blu-ray with the same "Making Of" featurette and also in Germany as a bonus feature for the "Hana-bi" limited edition release. With the exclusive commentary the UK release is clearly the best version of the film currently available. I would have liked to have seen some retrospective interviews with the cast or the crew, or deleted scenes that were seen a bit in the featurette, but the extras presented are good in quality of information.

Packaging


The artwork for the release was created by Marie Bergeron who also did the previous 4 Kitano Blu-ray releases for Third Window. The first 1000 copies are packaged with a slipcover featuring identical artwork.

Overall


"Kids Return" was not a hit on its initial run but has later been regarded much higher by the public in Japan and by Kitano fans worldwide on its honest depiction of youth, hopes, despair, and fun. Third Window gives an excellent presentation in audio and video and gives good commentary and an essential making-of that has been missing since the Laserdisc years. Absolutely recommended.
| | | | | |
| --- | --- | --- | --- | --- |
| The Film: B | Video: A | Audio: A | Extras: B+ | Overall: A- |