The Film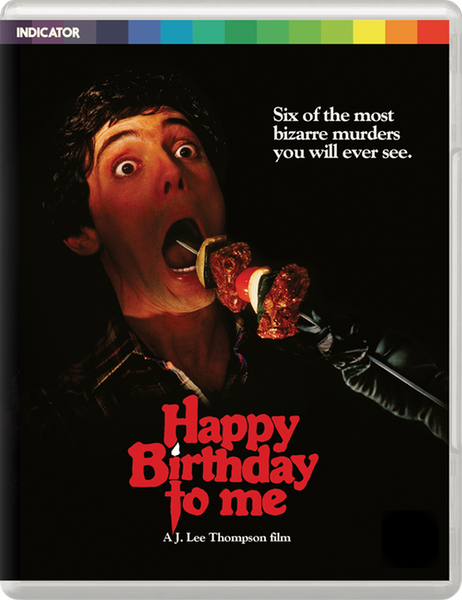 ***This is an A/V and Extras review only. For reviews on the movie from various critics, we recommend visiting HERE.***

Six of the most bizarre murders you will ever see.

Popular high school senior Virginia Wainwright (Melissa Sue Anderson) survives a freak accident, but suffers from memory loss and traumatic blackouts. As she attempts to resume a normal life, something terrible is happening - her friends are being ruthlessly murdered one by one. But will she be the next victim or is she the killer?

Director J. Lee Thompson's classic shocker was made during the period before the horror genre drenched itself in irony and self-reflexivity, and instead revels in the effective staging of the terrifying set-pieces which drive it towards its climax.

Pray you're not invited.

Video


Independent British distributor Powerhouse Films have released Canadian-American slasher movie "Happy Birthday to Me" on to Blu-ray for the first time in the United Kingdom using the original aspect ratio of 1.85:1. The transfer receives an AVC encode and is 1080p. It is Powerhouse's least convincing transfer to date, but still very good and with very few issues worth mentioning.

Unlike Powerhouse's previous releases, "Happy Birthday to Me" clearly comes from a slightly older source than the 2K and 4K remasters they have been using. This shouldn't cause the viewer much concern though, as it is still a great transfer for the genre and period. The print is pretty clean throughout with only the occasional speck noticeable against the dark skies. Colours look natural, especially skin tones, and apart from some very light crush in some of the darker elements of the shadows, there is great definition between various shades. The occasional splash of colour adds the required depth, particularly occasional greens of foliage and the blues and reds of clothing. The level of detail is consistently strong, most noticeably in facial close-ups, and internal scenes in both the pub and Virginia's house showcase a massively improved level of clarity in background details in comparison to previous releases on DVD (I have not viewed the US Blu-ray). Although I haven't viewed the Mill Creek US Blu-ray, I did read the thoughts of people on various forums and the only big concern I saw voiced on that release was the fact Mill Creek condensed two feature length films on to a single disc causing some compression issues. I saw no compression issues here on Powerhouse's disc to speak of. Considering the dark locations, there is surprisingly no issues with banding. I noticed no edge enhancement, no aliasing, no digital noise reduction, and no major damage. There is room for improvement in this transfer that could be achieved with a new 4K scan, but this is easily the best this film has ever looked on home media to my knowledge. Slasher fans will be very happy.

The feature is uncut and runs 110:47. The disc is region free.

Audio


Three audio options have been included:
- English DTS-HD Master Audio 5.1
- English LPCM 1.0
- English LPCM 1.0 (Alternative 2004 DVD soundtrack)

For my viewing, I opted for the original English LPCM 1.0 mono track which was exceptional and without issue. Dialogue was crystal clear throughout, volume levels were consistent, and despite the limitations, there were decent levels of depth (crowd at the football game, general chatter in the pub). I switched over the DTS-HD Master Audio 5.1 mix on a couple of occasions and that also sounded good and the need to make the surrounds OTT and enthusiastic have been avoided. Instead the surrounds make good use of the score, whilst everything else keeps true to the original intentions. As to be expected for a release licensed from a major studio (Sony), there are no issues with the audio as far as damage is concerned. There are no drop outs, scratches, or signs of background hiss. For a bit of fun, Powerhouse have also included the godawful disco style track that was present on the 2004 DVD. It's ridiculous, stupid, and a great addition to the disc. There is something here for purists and revisionists alike.

Optional subtitles have been included in English for the hard-of-hearing.

Extras


We start the extras with an audio commentary by The Hysteria Continues. In this commentary, Justin Kerswell, Joseph Henson, Erik Threlfall and Nathan Johnson delve not only into "Happy Birthday to Me", but into the slasher world in general. The lads clearly have a lot of love for this film (it was the first feature they covered in their now infamous podcast series) and throw out minutia right the way through that makes this an essential listen for any horror fan. Of course it would have been nice to get some involvement from someone who was in the film, but getting some self-confessed genre fans in on the action in the next best thing. Great stuff.

The rest of the extras are pretty self-explanatory:
Image Gallery
Theatrical Trailer (1:16)
US TV Spot #1 (1:01)
US TV Spot #2 (0:30)
US TV Spot #3 (0:30)
UK TV Spot (0:30)

The first pressing is limited to 5000 copies and includes a DVD copy as well as a superb 24-page booklet with extracts from the original press kit, advertising and promotion guide, and selected film reviews.

Overall


The slasher genre isn't for everyone, but this release must be on the "potential purchase" list of any discerning horror hound. It might not be as packed to the rafters with extras like previous Powerhouse releases, but at the time of writing it still has the best package to date by far.
| | | | | |
| --- | --- | --- | --- | --- |
| The Film: B- | Video: B+ | Audio: A | Extras: C | Overall: B- |