Little Men
R1 - America - Magnolia Pictures
Review written by and copyright: Eric Cotenas (25th January 2017).
The Film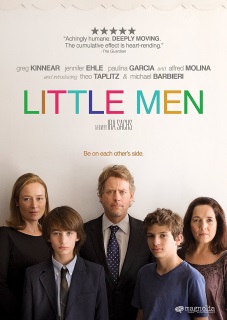 When his aged father dies suddenly, struggling actor Brian Jardine (As Good As It Gets' Greg Kinnear) inherits his Brooklyn family home. Although long estranged from his father, the inheritance could not have come at a better time since Brian's therapist wife Kathy (Zero Dark Thirty's Jennifer Ehle) has been supporting them while Brian promised to pursue more lucrative acting jobs but has ended up with the choice roll of Trigorin in a local community production of Chekhov's "The Seagull". Moving into the old family house makes things cheaper, and introverted son Jake (Theo Taplitz) makes unlikely but fast friends with Tony (Michael Barbieri), the son of Leonor (The 33's Paulina García) who has been renting the space below Brian's father's house as a dress shop for several years. Brian and Kathy question the way-below-market-value rental rate his father has been charging Leonor and make plans to raise it, but reluctant Brian's hand is forced when his sister Audrey (Mad Men's Talia Balsam) demands her share of the inheritance. Leonor puts off discussing the rent with Brian for as long as possible, but their eventual meeting ends in hurt feelings as Brian tries to frame his argument as part of the gentrification of the neighborhood and Leonor repeats comments his father made about Brian not being a man since his wife was supporting the family. Although they are unaware of the nature of the conflict, Jake and Tony realize that Brian and Leonor seem to be merely tolerating their friendship and discouraging them from spending more time together. When Jake and Tony learn that money has come between their parents and that Leonor may lose her shop, they both swear an oath of silence against their parents.

A film in which two children "go on strike" to teach their bickering parents a lesson seems like a setup for a zany comedy, but Little Men turns out to be a nicely understated family drama and the ploy is ultimately portrayed as a futile and "childish" attempt to frustrate and manipulate parents who themselves do not always behave in mature and constructive ways. Although told largely from the perspective of the two young characters, the older characters are generally well-rounded in their admitted imperfectness. We sympathize with Brian's reticence to be "mean" but also see Kathy's frustration (more so than that of Brian's sister) and desire for her husband to take some kind of decisive action rather than putting off the discussion. Leonor's motivations for her self-destructive remarks is more mysterious, and the film's decision not to explore it does not detract from the compelling performance of García. Brian's petty lashing out at Tony about the disappointments he is sure to face with his own desire to be an actor does not seem any worse than the undercurrent of emotional manipulation underlying the pressure for Tony to grow up and be man of the house in the absence of his father. Balsam and the always welcome Alfred Molina (Chocolat) – as Leonor's and Tony's family friend and legal advisor Hernan – are the only ones who feel shortchanged by the script; but this perhaps deliberate as more focus on both would bring to the surface the underlying issues of class and race with which film is only tangentially concerned. The end result is deliberately slight but reflective of the nature of some childhood friendships that are as intense as they are transitory (which are as much affected here by the familial conflict as peer pressure, the discovery of girls, and diverging interests).

Video


Artfully framed at 1.66:1, Magnolia's progressive, anamorphic presentation gets the job done with a deliberate filmic softness to the digital image, although some edge enhancement is evident throughout (possibly a side effect of the HD to SD downscaling).

Audio


The Dolby Digital 5.1 audio track is largely front-oriented apart with more surround input during the exteriors, school scenes, and a nightclub sequence. Optional English SDH and Spanish subtitles are provided.

Extras


The main extra is a making-of featurette (19:29) in which director Ira Sachs (Love is Strange) discusses the idea of intense youthful friendships and the various factors that affect them, writer Mauricio Zacharias discusses his usual working methods in collaborating on a script with Sachs, and both speak highly of documentary cinematographer Óscar Durán's (Apartment 143) ability to direct crowds of child and teenage extras as well as the preference for distancing medium and long shots. Production desigenr () and costume designer () contrast the worlds of the adults and children in terms of decor and color choices. One gets the sense that the older actors were looking for something in the script to grasp as they emphasize the underlying race and class issues. Also included are casting sessions for "Tony" [Michael Barbieri] (3:46) and "Jake" [Theo Taplitz] (5:54) along with the film's trailer (2:32).

Overall

---
DVD Compare is a participant in the Amazon Services LLC Associates Program and the Amazon Europe S.a.r.l. Associates Programme, an affiliate advertising program designed to provide a means for sites to earn advertising fees by advertising and linking to amazon.co.uk, amazon.com, amazon.ca, amazon.fr, and amazon.de.