The Film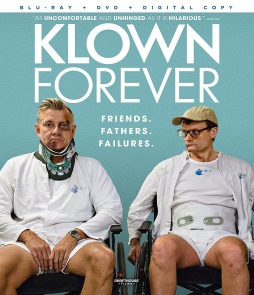 Five years after Klown, the feature film spin-off of the raunchy Danish sitcom comes Klown Forever reuniting comedians Frank Hvam and Casper Christensen as, respectively, comedian turned middle-class suburbanite Frank and wealthy, oversexed Casper. The pair have grown estranged since their lifestyles diverted with Frank raising a five-year old daughter and newborn son with long-suffering wife Mia (Mia Lyhne), and Casper living it up as a bachelor after the events of the first film destroyed his relationship with Iben (Mifune's Iben Hjejle), mother of his now teenaged daughter Cillie (Simone Colling). With Frank the looming high-profile publication of Frank's book about their friendship called "Friends Through Storms," Frank hopes to rekindle his friendship with Casper who has made himself persona non grata with Mia by crashing their son's christening and "boinking" Mia's young cousin and prospective nanny in their daughter's bed (and covering his crotch with her teddy bear). With Mia and her mother (Italian for Beginners's Elsebeth Steentoft) – blinded in one eye by Frank's ill-advised (by Casper, of course) to romance Mia with the gift of a "pearl necklace" (look it up) – push Frank to "find a new friend" like dull celebrity chef Lars (Lars Hjortshøj) whose relationship with elegant Tina (Tina Bilsbo) is the kind to which Mia aspires, Frank is at first ambivalent when he learns via a TV interview that Casper has sold his mansion and is intending to break into Hollywood. As he reads through the final proof of his manuscript, however, he realizes that their friendship is too special to throwaway and announces to Mia (who has invited her parents to move in indefinitely to help care for the baby) that he is going to Los Angeles talk Casper into coming back. Arriving in Hollywood, Frank finds Casper and sexpot daughter Cillie acclimatized to the celebrity poolside lifestyle, throwing party after party to establish himself as a personality and having his sex and drugs needs attended to by new best friend "Battle Cat" (Tenacious D In The Pick Of Destiny's JR Reed). While trying to convince Casper to sit down and read his manuscript, Frank follows along on a series of sexual misadventures, including near-bestiality with an amorous dog (acquired by Casper to brand himself as "The Great Dane with the Great Dane"). Upon returning to Denmark, Frank worries that his wife will find out about one of his misdeeds, and betrayed Casper makes a very "indecent proposal" to secure his own silence. A bigger film than Klown, Klown Forever nevertheless adheres to the same formula of Frank's and Casper's adventures away from Mia, with Casper driven by his libido and Frank often compounding situations by trying to lie his way out of them. As hard as it tries, the film feels less fresh than the first spin-off and just as episodic as the series. The laughs are fewer and farther between, but Hvam and Christensen do prove that they will go to just about any lengths for comedy. Game of Thrones' Nikolaj Coster-Waldau cameos in his native Denmark while Maroon 5 singer Adam Levine and Wedding Crashers' Isla Fisher provide the Hollywood guest appearances.

Video


Drafthouse provides a strong 1080p24 MPEG-4 AVC 1.85:1 widescreen presentation of what is actually a low budget film, with a warm bias to the California scenes and a colder, more neutral one for the Danish sequences.

Audio


Audio options include DTS-HD Master Audio 5.1 and 2.0 stereo options, and the former is recommended since this film takes advantage of the soundscape with music, crowd noise, and atmospheric effects to give a "bigger" feel over the series and the first film. Optional English subtitles are provided.

Extras


Drafthouse's Blu-ray/DVD combo release of the first Klown movie was arrayed with a healthy amount of special features devoted to the film including a commentary and behind the scenes featurette, as well as an episode from the TV series directed by Lars Van Trier (Melancholia) whose Zentropa company produced the series. Drafthouse's combo of this film, however, offers up only a series of short deleted scenes which were used as short teasers to promote the film. The company has, however, included in this package three subtitled episodes from the television series - "London Kashmir" (25:42) and "Merry Christmas, Frank" (24:19) from the third season, and "The Wizard of Frederiksberg" (25:09) from the sixth season - which should be watched before the film as a primer to the series' and films' brand of humor and comic situations. The theatrical trailer (2:08) is also included. Packaged with the Blu-ray and DVD is a booklet, but there is no text apart from disc credits and some racy photos of Frank and Casper.

Overall


A follow-up to the first Klown series spinoff, Klown Forever tries hard to please but does not feel quite as fresh as the first film.