Goat
R1 - America - Paramount Home Entertainment
Review written by and copyright: Eric Cotenas (16th January 2017).
The Film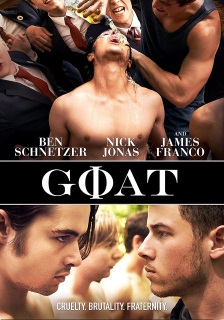 Visiting his big brother Brett (singer Nick Jonas) at college, high school senior Brad (The Book Thief's Ben Schnetzer) leaves a party early and is asked to give a lift to two guys who claim to have been at the party. Directed out into the middle of nowhere, Brad is brutally beaten and has his car stolen. The investigation goes nowhere as Brad is unable to describe his attackers and the police find the circumstances by which he came to give the assailants a ride suspicious. Rarely straying outside of his bedroom for the remainder of the summer, Brad broods over the damage done to his face and why he did not fight back. Although he initially considers blowing off the semester despite being accepted, Brett changes his mind after Brett drags him to a lake party where the guys admire his battle scars and love interest Leah (Project Almanac's Virginia Gardner) seems to encourage his interest. Pledging his brother's fraternity Phi Sig – alongside timid roommate Fitch (The Wolf of Wall Street's Danny Flaherty) – Brad does not expect to be handed membership because of Brett, but is warned that pledgemaster Dixon (Dirty Grandpa's Jake Picking) is looking for a reason to get rid of him in the process of weeding out the weak of the herd (the pledges being the titular goats). Tired of always being frightened and still trying to get over his assault, Brad is unprepared for the brutality of "Hell Week"; and, while he tries to soldier through the initiation rites, the brutality hits too close to home when he sees it inflicted upon Fitch and even more game fellow pledge Dave (Mortdecai's Austin Lyon). Brett is similarly concerned - he asks Dixon in private "Is this pledge getting weirder this year?" – and Brad comes to resent his brother's attempts to protect him and to discourage him from continuing on with "Hell Week", although Brett may be as much concerned for his own reputation as he is for Brad's emotional well-being. Based on the memoir of Brad Land and directed by documentary filmmaker Andrew Neel (New World Order) from a screenplay by the inconsistent David Gordon Green (All the Real Girls), Goat uses a plot that could have fueled a fraternity comedy, a "conspiracy of silence" college-set thriller, a slasher, or even a gay porn to examine a toxic subset of fraternity in its various forms (Dixon's reasoning for the violence he facilitates is ranges from tradition to "J-town put a cigarette out on my ass last year in front of the Tri Delts") but falls short of saying anything fresh on the subject. The frat party and pledging scenes look and sound no different stylistically from a thousand other films, and a guest appearance from producer (The Adderall Diaries' James Franco) does not get the satirical poignancy it intends in showing a middle-aged man pathetically reliving his glory days and ending up passed out drunk on the frat house's lobby couch (presumably creative license explains the populating of the fraternity with people with names like Baity, Dixon, Lando, Fitch, etc). The subjectivity of Brad's experience allows for episodic gaps in the storyline (that Leah disappears from the film after the first act without explanation may actually be suggestive of how eager Brad is to lose himself in a new persona that he so easily falls into bed with a sorority girl) along with some guesswork on goings-on outside of his purview but the real final outcome – as described by Land in interviews and presumably in the book – would have been preferable in its anti-climacticness to the film's punchout and ambiguous closing scene which may be the result of the open-ended exploratory nature of the memoir.



Video


Although a barebones package, Paramount has given this film a high-bitrate, dual-layer, progressive anamorphic 1.78:1 encode free of any compression issues in the film's many dark and harshly-lit sequences (with some noise in the headlight-lit attack sequence probably part of the original HD photography).

Audio


The Dolby Digital 5.1 audio track makes full use of the surrounds with the many party and hazing scenes and depth to the score, source music, and atmospheric effects. A Spanish 5.1 dub is also included along with English SDH, French, and Spanish subtitles. Selecting the Spanish track and no subtitles activates an additional Spanish track that translates onscreen text. English Closed Captions are also included.

Extras


There are no extras or start-up trailers.

Overall


Goat examines a toxic subset of fraternity in its various forms but falls short of saying anything fresh on the subject.

---
DVD Compare is a participant in the Amazon Services LLC Associates Program and the Amazon Europe S.a.r.l. Associates Programme, an affiliate advertising program designed to provide a means for sites to earn advertising fees by advertising and linking to amazon.co.uk, amazon.com, amazon.ca, amazon.fr, and amazon.de.