The Film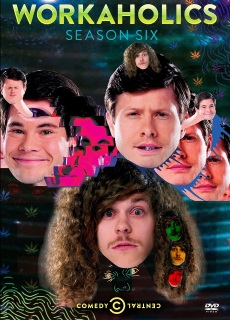 Narcissistic Adam DeMamp (Modern Family's Adam DeVine), pretentious Anders (How to Be Single's Anders Holm), and stoner Blake (Epic's Blake Anderson) are back in the six season of Workaholics, and it seems as though they are a year or so behind some of the topical issues they are lampooning in this set of ten episodes for Comedy Central. In "Wolves of Rancho" (21:21), the trio get transferred to the Rancho Cucamonga branch of TelAmeriCorp hoping to emulate the flashy success of former co-worker Cushing Ward (The Hunger Games' Liam Hemsworth) under the leadership of charismatic JP Richman (Dan in Real Life's Dane Cook) whose motivates his team with cocaine, sushi, prostitutes, hair gel, essential oils, and mobile botox injections in an amusing low-budget take on The Wolf of Wall Street. When the three are sentenced to attend Narcotics Anonymous meetings in "Meth Head Actor" (21:22), Adam sees his opportunity for fame (or at least fame-whoring) by tricking Rolling Stone journalist Logan (Sanatorium's Ben Rodgers) into thinking he is a hardcore meth addict for a cover story. Meanwhile, Blake tries to get his acting teacher (NewsRadio's Andy Dick) off drugs and back onto the stage as "MacBreath." Blake and Jillian play house in "Save the Cat" (21:21) when Jillian (Jillian Bell) rescues a cat from a dumpster, but she starts to have doubts about Blake's fitness as a father when Adam and Anders throw a party and mix up the marijuana and the catnip. The gang take on Men's Rights in "Death of a Salesdude" (21:21) when TelAmeriCorp switches to marketing MenCo. products like the male intimacy endurance spray to FemCo's Boobillow. When the women become the big closers and the men are relegated to support staff, Blake is sexually harassed by Jillian, Anders discovers a link between his "endurance" and sales ability, while attention whore Adam is the only one who enjoys being objectified (although we do learn here that he absolutely loathes poop jokes). When Blake raids through the 420 party fund on a loan for his cyber-girlfriend in "Gone Catfishing" (21:22), Adam and Anders suspect he is being catfished and employ co-worker Montez (Erik Griffin) in a reverse catfishing operation on the surprisingly hot Erin (Pitch Perfect's Brittany Snow).

The guys take on "old media paradigms" they don't understand in the first place in "Going Viral" (21:21) when media marketing expert "Trilly Zane" (Kick-Ass' Clark Duke) challenges the office to boost sales by branding their social media presences; in reality, tailoring their images to market specific TelAmeriCorp products, with Adam a Dan Bilzerian caricature hawking the The Sleeve Cleaver which turns any shirt into a tank-top with one slice, "human khakis" Anders doing a series of Matthew McConaughey-esque Lincoln car commercials espousing the values of conservatism to sell 9/11 memorabilia on LinkedIn, and "super-chill millennial teen" Blake Snapchatting Rad Land paddleboards to the EZ Egger. In "Night at the Dueseum" (21:22), Anders tricks Adam and Blake into going to the museum's "Vikings of Scandinavia" exhibit for his "Ders' Day" celebration by convincing them he is there to steal Erik the Red's helmet. While he is buying a plastic replica helmet, however, Adam and Blake do some heisting themselves and "Indiana Jones" a peyote pipe. Their attempts to put the pipe back after hours lead to parodies to Night at the Museum as well as Jurassic Park's raptor chase. Boss Alice (The Back-Up Plan's Maribeth Monroe) is overshadowed when her cool lesbian sister Juliette (Made of Honor's Whitney Cummings) stops by in "The Fabulous Murphy Sisters" (21:22) and charms the office with promises of a skydiving expedition (and teaching the guys how to please a woman with a kiwi fruit). After crushing their car while training for a timbersports competition, the gang open up a casino in their living room in "Always Bet on Blake" (21:22) only to lose their shirts (and the house). Closing out the season is "The Nuttin' Professor" (21:16) where the trio's deep discussion about what is wrong with contemporary pornography leads them on a quest to find "The Nuttin' Professor", the fabled porn film of their youth whose star Dan Yella taught them everything they know about sex (insert joke here). They find out that the film exists nowhere online and that only one VHS tape seems to remain available. Their decision not to masturbate until they have the tape in their hands leads to some extended blue balls when they discover that they are not the only ones after the tape in an episode that is not so much zany as "everything but the kitchen sink." It goes without saying that there is not much in the way of story arcs for any of the characters over the season, but at least Montez and Jillian get standout episodes to do while one can only hope that the other cast members have more to do on stage or on other shows to fill out year around shooting seasons of Workaholics. Four out of ten good episodes ("The Wolves of Rancho", "Death of a Salesdude", "Going Viral", and "Night at the Dudeseum") is not bad if you are binge-watching, but the less-interesting episodes are short enough and do feature a couple laughs.

Video


As with several other series, Paramount has abandoned the Blu-ray format with this current season, but their progressive, anamorphic 1.78:1 widescreen standard definition encodes so as much justice to the series' visuals as HD with a few exceptions (it would have been nice to see Night at the Dudeseum in high definition as it seems to be the visual showstopper of the season). The Rancho scenes of the first episode are framed at 2.40:1 with more aggressive color grading while there are some field-blending issues with the Snapchat/Instagram/LinkedIn viral videos which were presumably actually shot on mobile devices. Both discs are dual-layer even though the material amounts to less than two hours per disc.

Audio


Audio options include Dolby Digital 5.1 and 2.0 stereo tracks, although the surround only gets sporadic workout during "cinematic" set-pieces. For some odd reason, the English SDH subtitles for the first episode are censored (substituting "..." for various iterations of "fuck") while the rest of the episodes are unaffected.

Extras


All episodes are accompanied by "Drunkumentary" commentary by DeVine, Holm, and Anderson that occasionally gets raunchier than the episodes themselves. Despite their apparent inebriation, the trio do get some interesting information across like the necessity of building sets for Night at the Dudeseum when the location would not allow them to stage certain bits (the "display" poses) and the costs racked up when DeVine's sword actually made contact with one of the articulated dinosaur costume heads. We also learn thatthey may be the only people who mourn the cancelling of the NBC sitcom Whitney. Deleted Scenes (6:10) and Bloopers (15:51) on disc two are divided up by episode, with the latter consisting of a lot of the comedians going off-script and taking some exchanges in dirtier directions.

Overall


Four out of ten good episodes is not bad if you are binge-watching, but the less-interesting episodes are short enough and do feature a couple laughs.