The Film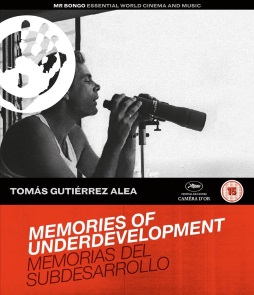 Don Quijote Award and FIPRESCI Prize: Tomás Gutiérrez Alea (win) - Karlovy Vary International Film Festival, 1970
Richard and Hilda Rosenthal Foundation Award: Memories of Underdevelopment (won) and NSFC Award (Best Actor): Sergio Corrieri (5th Place) - National Society of Film Critics Awards (USA), 1974

"All those who loved me and bugged me up until the last minute have left," writes Sergio (I Am Cuba's Sergio Corrieri) after seeing off his parents and estranged wife Laura who are fleeing Havana for the United States following the failed Bay of Pigs invasion. A middle-class would-be intellectual trying to live "in the European style" off the rent of the space that was once the furniture store passed down to him by his father, Sergio has finally decided to write a book if only to see if he actually has something to say. He spends much of his time, however, strolling the streets of Havana disdainfully observing in "the people" the characteristics that form his definition of underdevelopment ("an inability to establish links to store experience and grow"). This applies specifically to the women in his life: among them, his wife Laura whose dazzling beauty he attributes to his own efforts and material expenses, his housekeeper Noemi (Lucía's Eslinda Núñez) whose description of her Baptist baptism ceremony becomes erotic fodder for her employer, and Elena (Cecilia's Daisy Granados), a country girl who comes to Havana to become an actress. Sergio gives Elena some of Laura's dresses as prelude to getting her into his bed, after which she accuses him of "ruining" her. When she returns infatuated, Sergio begins the process of trying to acculturate her to his European style as he did Laura (a relationship that ultimately degenerated into sadistic mind games on his part and her determination to become Americanized in language, materialism, and finally emigrating) but ultimately finds fault with her ("She makes me feel underdevelopment everywhere"). When Sergio distances himself from Elena and starts avoiding her, her angry brother (René de la Cruz) and parents publically accuse him of taking advantage of her, followed by an accusation of rape ("depriving her of her virginity") when he refuses to marry her.

Based on the novel by Cuban writer Edmundo Desnoes, Memories of Underdevelopment is an intriguing portrait of alienation during a period of social and political revolution as seen subjectively by a quite flawed protagonist. Sergio holds himself apart from the old order's bourgeoisie and the riffraff he calls "the people" – even Elena observes that he is neither for nor against the revolution – and defines his inability to adapt as "consistency" in contrast to those who "spend all their talent in adapting to the times." Although he disdains the provinciality of Havana – once the "Caribbean Paris" before the terrorist attack that burned down the big El Encanto department store – he remains in the country when his wife and parents flee, hating them and his only friend Pablo (A Successful Man's Omar Valdés) who he likewise comes to detest and feel relief in his departure. He is largely unaffected by the revolution's social changes which go largely unnoticed by him until the American embargo isolates him definitively. Desnoes himself appears in the film as part of a panel on "Literature and Underdevelopment" –with Haitain René Depestre, Italian Gianni Toti, Argentinian David Vinas, and moderated by Cuban critic Salvador Bueno – and is subject to criticism by Sergio (both of whom are preoccupied with their cigars in the midst of heated discussion among the others) who observes without irony in voiceover that "[Desnoes] would be nothing abroad… But here you have a place." The closest Sergio comes to self-awareness is in the aftermath of the rape case when he observes "I've seen too much to be innocent. Their mind is too tangled to make them guilty." Director Tomás Gutiérrez Alea (Strawberry and Chocolate) employs a hybrid visual style of documentary montages that merge separate archival picture and audio recordings to recreate historical events, French New Wave nonlinear editing, and monochrome photography seemingly influenced by the cool urban alienation of Michelangelo Antonioni. The film's racy displays of nudity and eroticism take place a step removed, in cutaways to Sergio's imagination (including bits that may be flash-forwards or just what Sergio imagines an ensuing encounter will be like) and as a series of censor trims from foreign films that Sergio's filmmaker friend has discovered and stitched together with the intent of making it part of a film that he believes is unlikely to be censored by the new regime.

Video


Previously released on DVD in 2008 by Mr. Bongo - and also available in the 50 Years of the Cuban Revolution DVD boxed set with I am Cuba, Strawberry & Chocolate, and Lucia - the company's 1080p24 MPEG-4 AVC 1.66:1 widescreen Blu-ray benefits from a new 4K transfer restored by Cineteca di Bologna. It is not quite the stunner one would hope for since the original camera negative had succumbed to vinegar syndrome with the partially deteriorated third reel and the four reel completely unusable, requiring the substitution of a vintage IP for these parts. The damage, however, is faint, and the slight graying of the film's shadows is not distracting, while the haloing in the archival footage is hard to distinguish from the source's faults.

Audio


The audio's optical track was similarly effected the fading of the film element, and the restorers made an effort to digitally reduce a certain raspy hiss underlying the dialogue, music, and effects. The ITA (Italian) language tag that appears on the onscreen display for the Spanish LPCM 2.0 mono audio makes one wonder if the encode has been lifted from an Italian Blu-ray release (as was the case with the authorized Mr. Bongo discs of The Saragossa Manuscript and The Hourglass Sanatorium which lifted their transfers directly from the Polish Blu-rays). The English subtitle are optional.

Extras


There are no extras.

Overall


Memories of Underdevelopment is an intriguing portrait of alienation during a period of social and political revolution as seen subjectively by a quite flawed protagonist.