The Film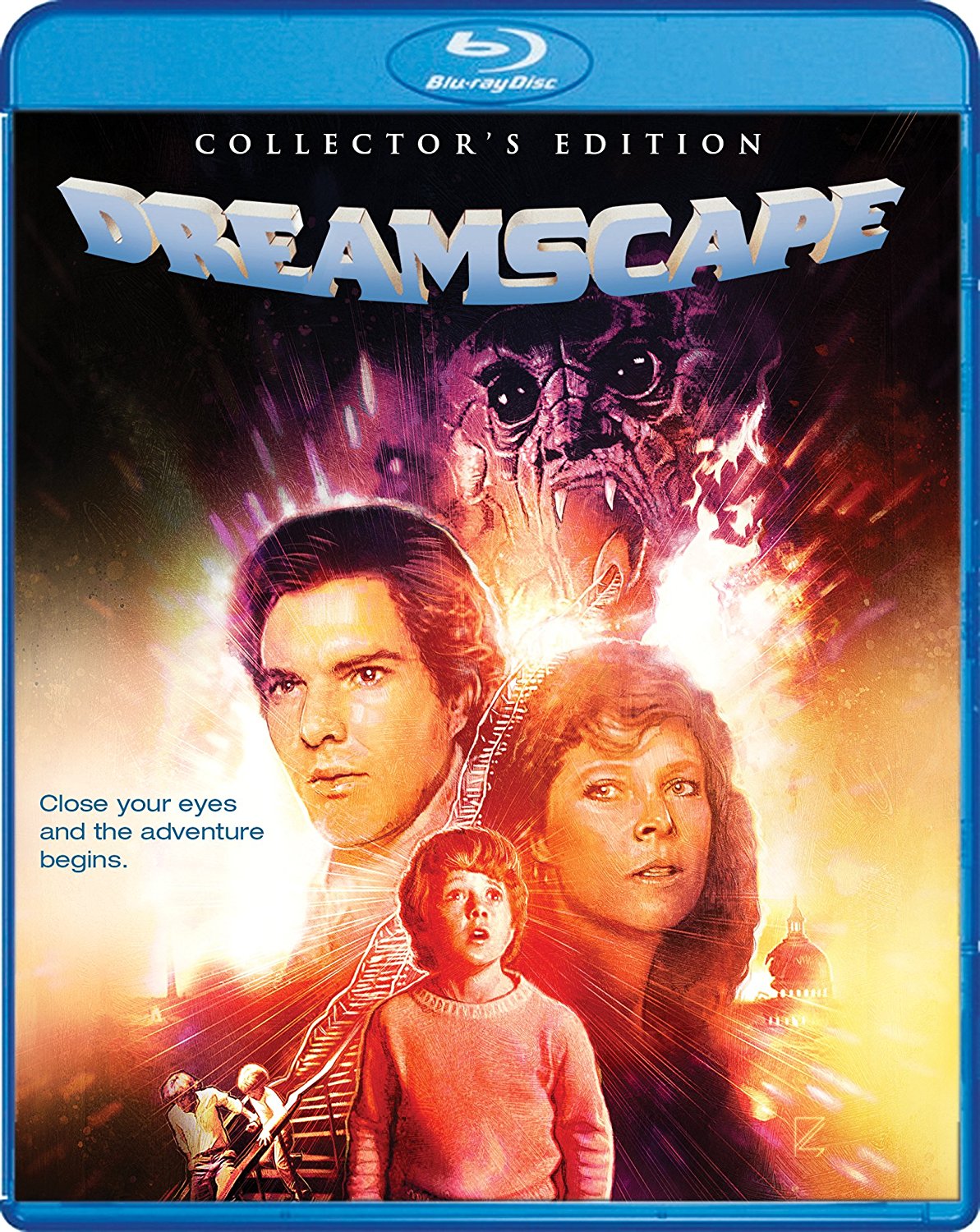 There is a bizarre irony in the fact that filmmakers have more tools at their disposal to be creative than ever before, yet the movies that look and feel most inspired come from a time when ingenuity and a scrap-and-build ethos were all creatives had to use. This is an argument I have made before – as have plenty of old-school film aficionados – and it all comes down to tangibility. Until the day comes when our brain is truly incapable of perceiving digital trickery from hand-crafted practical effects, nothing produced by a computer can hold the visual weight of something you know is there, up on screen.

Director Joseph Ruben's "Dreamscape" (1984) takes place in the most abstract of environments: the dream world, a place where anything is possible. Think of your own dreams and how they often play out – a realm where surrealism trumps grounded reality. In "Dreamscape", agents of the government are gifted with the ability to enter the dreams of people in peril (as well as those who are not), wrestling with nightmarish visions and twisted versions of our world. Each entry into the dreamverse plays like a mini movie, different from the last and packed with minutia. Similar ideas have crept into film before (such as "The Dungeonmaster" from that same year) but what sets "Dreamscape" apart is a killer cast more than capable of up-selling the B-movie material.

Alex Gardner (Dennis Quaid) is a man with psychic abilities who was once part of a scientific research study back in his teens before he left the project. Now an adult, Alex uses his exceptional skills for financial gain (although he's still in the hole to a loan shark) and to seduce women – petty achievements considering his capabilities. Alex has avoided returning to government work for years, but when Snead (Redmond Gleeson), his all-too-forgiving loan shark, tries to shake him down Alex willingly jumps into a car with a couple government suits who take him back to the institute. There, he is reacquainted with Dr. Novotny (Max von Sydow), his old mentor who requests Alex's help with a new venture: entering the "dreamscape" within a person's subconscious in an effort to cure them of personal problems. One man has marital issues. Another, a young boy, has recurring nightmares. Reluctantly, Alex agrees to assist and finds he is a natural at this sort of projection.

The project is subverted, however, when Bob Blair (Christopher Plummer), a high-ranking government official, clandestinely introduces new parameters to assassinate people in their dreams. Unlike in real life, if you die in these dreams you die permanently. Bob's protégé is Tommy Ray Glatman (David Patrick Kelly), a young man who was the institute's top showman before Alex returned. Tommy, however, is not as naturally gifted as Alex and a rivalry ensues. Tommy is also stone cold, having killed his own father years prior. Dr. Novotny and Dr. Jane DeVries (Kate Capshaw) want Alex to help the President (Eddie Albert), who has been plagued by visions of nuclear war and death that could have serious repercussions on his presidency. Blair, seemingly on the President's side, secretly orders Tommy to infiltrate the President's dreams and kill him before the nation can be "weakened" by a nuclear arms pact. Alex is the only hope left to combat Tommy, as the two face off in a battle where the only limit is that of the imagination.

The dream sequences here are top notch stuff, filled with a combination of flashy optical effects and stop-motion animation, but none of this would be enough to carry the film alone. It is because of such a stellar cast rife with A-list talent, anchored by two titans of cinema in Max von Sydow (who sports one well-coiffed 'stache) and Christopher Plummer. Von Sydow is an accomplished actor who does one of two roles exceptionally well: kindly mentor or dastardly villain. Here, he is the former as Alex's altruistic guide whose only intention is to aid those in need. He is as affable and genuine as always. His polar opposite is Plummer, who plays the sort of mustache-twirling villain that is cold and calculating, steely in his resolve and seemingly without emotion. David Patrick Kelly has a knack for playing characters who seem genial enough but are unhinged in such a way as to be detached from reality; a true sociopath. He is Alex's wannabe foil, though in reality he poses little threat to Quaid's character who is calm, cool, and so effortless in his abilities that he exudes the kind of confidence Tommy so clearly yearns to acquire. And then there's Kate Capshaw who manages to go an entire film without grating on my nerves (she destroys "Indiana Jones and the Temple of Doom" (1984) in her every scene).

Ruben stages the dream sequences with distinct visuals, giving each the feeling of being a fleeting feature within the big picture. The most memorable of these are the nightmares of Buddy (Cory Yothers), who is suffering from traumatic visions of a "Snakeman", which has been brought to life via a combination of puppetry and stop-motion animation. When Alex enters Buddy nightmare it looks like something out of an early German Expressionist film, with high slanted walls and stark lighting. Ruben also co-wrote the screenplay with a very notable name: Chuck Russell. Russell's name should be familiar to horror fans and there is no doubt his involvement is a big part of the film's success. Russell would go on to tackle another famous dream world a few years later with "A Nightmare on Elm Street 3: Dream Warriors" (1987), arguably the best sequel in that franchise.

1984 was the year that the "PG-13" rating was introduced to cinema, with "Dreamscape" being the second title to be released as such. There were a number of movies before this that fell into the grey area of "not quite R but definitely not PG", and with the elements of sci-fi, fantasy, and horror so prevalent here this is definitely not something for the young and squeamish. Image had previously issued "Dreamscape" on Blu-ray, featuring a subpar transfer and a lack of bonus material, leaving the door wide open for Scream Factory to swoop in and give this cult classic the sort of treatment it deserves.

Video


The previous Blu-ray release for "Dreamscape" came from Image and their upscaled 1080i picture was widely regarded as very poor. Scream Factory's edition boasts a new 2K scan, but with no mention of what elements were used. Still, this is a clear upgrade over the old interlaced disc with tighter contrast, a smoother image, better color saturation, and sharper details. The 1.85:1 1080p 24/fps AVC MPEG-4 encoded picture is still far from perfect, though. All of the best looking scenes show up in the daylight, but anything taking place within the dreamscape is usually a bit soft and muddy. No aspect of the image is too impressive but overall this is likely going to be the cleanest and sharpest the picture can get.

Audio


Audio comes in the form of an English DTS-HD Master Audio track in either 2.0 stereo or 5.1 surround sound. Dialogue is clear and balanced, with no hissing or pops. The multi-channel mix offers a very strong track, with lots of discreet placement and a wide canvas for legendary composer Maurice Jarre's killer electronic score. Subtitles are available in English SDH.

Extras


There are plenty of new bonus features included here – even an interview with Dennis Quaid himself! Also expect to find a documentary, interviews, test footage, and more.

The film's audio commentary track features producer Bruce Cohn Curtis, co-writer David Loughery, and special effects artist Craig Reardon.

"Dreamscapes and Dreammakers" (1080p) is a comprehensive documentary that runs for 61 minutes and 50 seconds. This is one of those behemoth making-of pieces that covers every possible aspect of the production fans could want to know, filled with numerous interviews and all sorts of production notes.

"Nightmares and Dreamsnakes" (1080p) is a featurette that runs for 23 minutes and 23 seconds. This is focused on the film's FX work, including that most memorable creature, the Snakeman.

"Dennis Quaid – The Actor's Journey" (1080p) is an interview featurette that runs for 14 minutes and 50 seconds. I'm not sure what sort of "journey" this is, but it's great to hear Quaid's most recent thoughts.

"Bruce Cohn Curtis & Chuck Russell – In Conversation 2016" is an interview featurette that runs for 23 minutes and 31 seconds. The two men sit down for a great interview that covers a wide range. This is a good one.

Snakeman test footage (1080p) runs for 2 minutes and 16 seconds.

A still gallery (1080p) runs for 2 minutes and 32 seconds.

The film's theatrical trailer (1080p) runs for 2 minutes and 13 seconds.

Packaging


The single disc comes housed in a standard Blu-ray keep case. The cover art is reversible and there is a slip-cover included on first pressings.

Overall


Tons of fun and spanning multiple genres, "Dreamscape" is an entertaining, well-made cult classic full of strong performances and lots of nostalgic effects work. Scream Factory's disc is a clear winner, even if the video may not be a revelation by some standards.
| | | | | |
| --- | --- | --- | --- | --- |
| The Film: B+ | Video: B | Audio: A- | Extras: A | Overall: A- |