The Film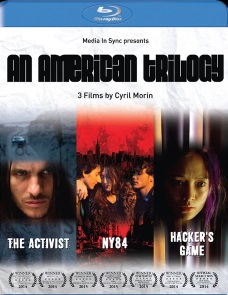 In The American Trilogy, composer turned director Cyril Morin (Borgia) explores common themes of love, sacrifice, corruption, and redemption during three different time periods. The Activist is set in 1973 South Dakota at the height of the American Indian Movement's occupation of Wounded Knee. On the run after an assault on the people he believes murdered his activist wife Anna Ward (187 Shadow Lane's Tonantzin Carmelo) in a mysterious road accident, white AIM lawyer Marvin Brown (Jackie's Chadwick Brown) and Anna's cousin Bud (Dances with Wolves' Michael Spears) are arrested in a sting and jailed in a remote two-man precinct by officers Henry Frasier (The Rockville Slayer's Circus-Szalewski) and Frank McCarthy (Cellular's Ron Roggé). Although Henry has been too distracted during his day watch with his ailing wife's long hospital stay, he soon comes to wonder just why Marvin and Bud have been held for over a month without a hearing. Marvin and Bud are too cynical about the government's handling of Native Americans to question things, and Frank – an ex-military man who feels disrespected as a soldier and a cop – is too contemptuous of the AIM and disguises his hatred under the guise of "just following orders." When Nixon aide James Carson (Live by Night's Anthony Palermo) visits the prisoners, he orders the officers to give them a radio and access to council in the form of green attorney Claire Chapman (Found Footage 3D's Alena von Stroheim) who achieves more than she was perhaps meant to when she probes Anna's accident and comes up with forensic proof that it was intentional. Since Anna was driving Marvin's truck, he starts to wonder whether she was the intended victim or himself. When a democratic senator (After the Rain's Henry LeBlanc) also visits with the same goal, Marvin refuses to betray Anna's cause; however, when Carson returns to press Marvin into negotiating a peace treaty between the AIM and the government, Marvin suspects the man has reasons other than avoiding a massacre for getting the AIM off of the occupied land and that they are being kept in jail for a specific purpose. A visit from Marlon Brando himself (Skateland's King Orba) following his rejection of the Academy Award to highlight the treatment of Native Americans bolsters Marvin's and Bud's resolve. When the notes for articles Anna's was working on before her death disappear, Marvin, Bud, and Claire come to realize that they conversations have been bugged while Henry and Frank must decide which side they are really on.

In NY84, the perfect union of bisexual aspiring singer Kate (The Heart Machine's Sam Quartin), aspiring photographer Anton (The Canyons' Chris Schellenger), and aspiring poet Keith (Is That You?'s Davy J. Marr) flourishes in an early eighties Manhattan of bohemian artists, cocaine, nightclubs, and polyamorous hookups. As the Gay-related Immune Deficiency virus (later AIDS) becomes a topic of discussion in the media, there is initially optimism among the trio's afflicted friends that medical research will soon come up with a cure. By the mid-eighties, Kate, Anton, and Keith grow apart with Anton having become a popular artist and Keith having contracted AIDS and volunteering himself for medical testing. As Keith's health deteriorates, Kate goes in search of Anton who has pulled a disappearing act at the height of his work's popularity. In Hacker's Game, hacker Soyan (Schellenger again) is called into the firm BL Reputation Management by its CEO Russell Belial (The Activist's Orba) and executive Lena Leibowitz (The Activist's von Stroheim) who reveal the evidence of his hacking of their files after a massive registration drive and offer him a job in place of prosecution. Specializing in cleaning up evidence of misbehavior or shady pasts of their clients, the company could use his services to make sure find ways of insuring that there is no trace in cyberspace of things their clients do not want the world to know about. Soyan wows them right away when given the case of an executive's wife who made softcore films in the nineties by forging unsubstantiated news about her alter ego's death while establishing a paper trail for her current identity. Soyan seems to be easily seduced to the dark side by Belial with the promise of luxury perks and does not ask question when his new boss asks him to apply his skills to tracing the whereabouts of famed "internet hactivist" Angela King whose pursuit of social justice has cost much damage to major corporations profiteering form the instabilities of the third world. When the plane King is traveling on is blown up, Belial tells a concerned Soyan that they were not directly responsible for it but merely aided one of King's many enemies to the benefit of their own clients. Belial worries about his hold on Soyan when the younger man meets fellow hacker Loise (Oldboy's Pom Klementieff) who applies her skills towards facial recognition of victims of mass murder via their online presences who has been engaged by human rights attorney Alice (Gayla Johnson) who is building a case against one of BL's biggest clients suspected of illegal arms dealings. Belial seduces Alice who abandons her case. When Loise persists in her investigation, Belial and Lena try to turn Loise and Soyan against one another and are prepared to eliminate one or both if necessary.

Told in three different styles – The Activist as a seventies paranoia thriller, NY84 as a nineties gay indie (albeit set in the eighties), and Hacker's Game a contemporary take on the high tech cyber thriller – Morin's American trilogy is one of diminishing returns after an impressive beginning (whether one sorts NY84 and Hacker's Game by the order in which they were made or by the decades in which they take place). While no sleeper masterpiece, The Activist as speculative historical fiction is ambitious with engaging performances ranging from understated to earnest if a little uneven and an assured low-key style. It's only real stumbling blocks are the way in which a villainous character all too easily and quickly falls apart and the ending which seems more cynical in a contemporary sense rather than despairingly downbeat in the manner of films made during the period in which it is set. Whenever NY84 moves away from the documentary-esque sequences interviewing fictional AIDS doctors, caregivers, and patients, it often leaves the viewer cold. Kate, Anton, and Keith are beautiful people who become beautiful victims who move through the film's montage sequences to the music. The first time they speak to each other roughly twenty minutes into the film it is the joint recitation of lines from Baudelaire to one another. When Anton "disappears" into his career and then out of the country, Kate and Keith have some tender and self-deprecating exchanges in the hospital before his death but it is nothing we have not seen before in half a dozen other movies about AIDS (ditto for Kate's reunion with Anton). The film's most moving scenes feature instead Anton's dying agent (Ray Field) and his companion turned caregiver Francisco (Drew Michael Gardner). Kate's finds transcendence from emotional suffering through her art, and her vocal performances are stirring but one cannot help but feel as though they take up as much room as the montage sequences do in the absence of a genuine treatment of the basic storyline. Hacker's Game probably should have been treated as a nineties cyber thriller as the deliberately spare contemporary settings look cheap and the realistic visual depiction of cyber hacking is not particularly compelling (especially when the widespread effects of the hacking occur entirely offscreen). Schellenger and Orba are engaging but Klementieff is wooden and von Stroheim's ambiguous character is serious underwritten. Lacking a true emotional core where there was obviously meant to be one, Hacker's Game needed a couple extra script drafts more so than a healthier budget. The three films are interesting on their own terms but too uneven as a trilogy to say anything concrete about America.

Video


The three 1080p24 2.35:1 widescreens films are split between two BD-Rs (which my Philips player had no problem loading but which would not load at all on my Sony unit). Perhaps as much due to the HD videography as the encoding, the HD images do not always impress in long shots while medium shots and close-ups evince some enhanced textures in clothing and skin. The Activist fares best because it seems to have been made with more time and care while NY84 has a deliberately variable palette of sharpness, saturation, simulated grain, and motion, and Hacker's Game has a flatter overall appearance due to the lighting and white-walled sterile environments.

Audio


Audio options for all three films include lossy Dolby Digital 5.1 and 2.0 stereo tracks as well as optional French and Spanish subtitles. The language tag on the 2.0 tracks suggests that perhaps the French or Canadian edition of the trilogy has a stereo French dub in place of the English downmix but that has not been confirmed. The Activist is largely front-oriented with conservative use of the surrounds while NY84 and Hacker's Game are more active mixes.

Extras


Extras are limited to trailers for all three films with optional French and Spanish subtitles for The Activist (1:21) and Hacker's Game (1:40) but none for NY84 (2:05) and the featurette "An American Trilogy" (21:50), a visual essay narrated by Morin covering the overarching themes of the three films, as well as his comments on the casting, music, and stylistic choices.

Overall


The three films comprising An American Trilogy are interesting on their own terms but too uneven as a trilogy to say anything concrete about America.