The Film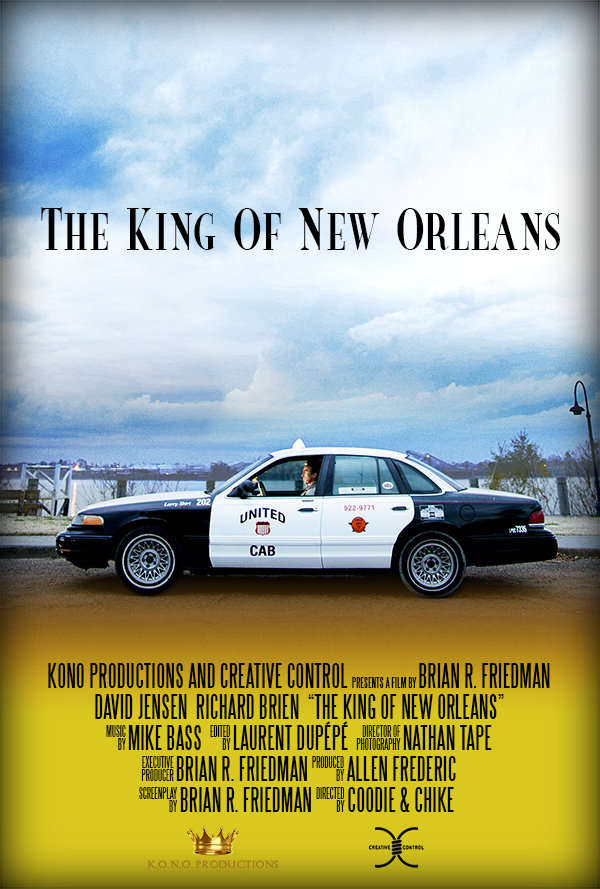 I have never had the pleasure of taking a trip to New Orleans, but if I ever did, then I want Larry Shirt (David Jensen) to pick me up at the airport, offer me a cold beer from the cooler, and have him chauffer me around the Big Easy. Larry Shirt is that one in a million cabdriver that actually listens to what his passengers have to say and in "The King of New Orleans" we get the pleasure of riding shotgun with him as he does much more than just earn a living. As the film begins we see a montage of the various passengers that enter his cab; these are the city's real entities, and they range from ordinary tourists to the more interesting denizens of the city. Amongst the hustler's, recently released jailbirds and musicians, Larry makes the acquaintance of Bobby Cohn (Richard Brien); a Harvard student that is facing some hard times after a personal crisis has resulted in his expulsion from the prestigious school. Feeling down and out, Bobby has made his way back home in shame, hoping to get his act together and to forget the girl that broke his heart. The cab driver and the ex-student exchange some words and Larry in an act of kindness tries to council the boy, reminding him that he is still young and has a long way to go yet. Later on while cleaning his cab from a long night of fares, he discovers the boy's journal, inadvertently left behind and stuffed into the seat. Instead of just tossing the notebook in the trash, he promptly drives over to Bobby's house and again we see Larry try to cheer the boy up with some sound advice. "You know, you remind me of my son, college boy, smart too" says Larry and off he goes to pick up more fares.

As Larry escorts a number of people around, we are privy to what a hack's life must be like: socializing with other drivers, eating some tasty fast food, drinking some brews, talking about the Saints. This is an ordinary life examined extraordinarily as we witness Larry making the rounds, never knowing who he is going to find flagging him down. Each interaction feels pretty authentic as the film makers have used mostly ordinary people and they speak freely and it all seems unforced. The camera work is interesting but never evasive, supplying us with plenty of shots from various points of view, both Larry's and the passengers. As I watched the film I couldn't but help and wonder who the audience for the film would be and whether or not some of the subtleties of the city were lost on me, because at heart this film is more than just a feature about a cabdriver and his passengers. The city plays a huge unspoken role in the film as we already know that the hurricane is on its way and that untold destruction is going to be the result. Leading up to the storm we see Larry experiencing some personal issues himself, but Larry is a survivor and it will take more than a hurricane to change his life. At one point while watching his beloved Saints with some friends, Larry clutches his chest, wincing in pain. 911 is called and an ambulance is dispatched. Larry's doctor tells him that he has both good news and bad news; the good is that he didn't have a heart attack, the bad is that his next cheeseburger could be fatal. Turns out that Larry's veins are clogged and a major change in his diet is the only thing that will save him. We see Larry trying hard to change, eating salads, but not feeling too fulfilled. I could totally relate to this part of the film and understand all too clearly how difficult it is to change one's dietary needs. Change is knocking on the door and Larry heeds the call, but for how long and is it worth it?

Meanwhile as Larry's life progresses we see more and more of his personal life. We can tell that driving a cab is his true vocation, he is his own boss, sets his own clock, lives by own rules. This is a man that truly loves his independence and the filmmakers slowly and carefully disclose bits and pieces of what makes Larry Shirt a man and worthy of our attention. The father-son relationship between Bobby Cohn and Larry at times feels a little false and untrue, but for the most part, we are absorbed by the greater pieces of the puzzle. We see Larry's obvious concern regarding a friend of his that suddenly loses it after Katrina and goes on an angry rampage. The stress of the hurricane has effected everyone but not all in the same way.

In one of the more poignant scenes we see Larry pick up a woman and takes her to her son's house in the lower wards. He asks her if she is going to evacuate and the woman responds wearily that no, that she and her son will just sit it out and hope for the best. After Larry drops her off and refuses to accept payment for the ride, we see the son sitting on the porch of his house and he is in a wheelchair. The fact that the man is disabled had not been mentioned and we as viewers are left to ponder, rather uneasily, just what is going to happen to these two citizens of the big city. In one of the odder scenes Larry picks up a couple that are clearly tourists and they want to tour the wreckage of the lower wards, so that they can take photographs. Larry, clearly uncomfortable, does his best to oblige his passengers and they pose together in front of the very house that the woman and her disabled son were at. The house is now abandoned and we are not told whether or not they survived the storm. Suddenly I felt very embarrassed to be white and sitting comfortably at home watching this film; I experienced a moment of epiphany as the true devastation was brought into my life and I was grateful to be safe and untouched.

Life goes on for Bobby Cohn as we see in the later part of the film as he gets his life back on track and once again he and Larry run into each other. Life goes on for Larry Shirt as well, succumbing to temptation as he stops to enjoy a burger once again, but then he realizes that the food will do more good for a stray dog on a corner. Larry Shirts is truly the King of New Orleans and David Jensen is fantastic in a performance that begs to be watched repeatedly.

Video


Presented in widescreen 1.85:1 anamorphic, the images are crisp and clean with blacks being fairly vivid and the color presentation is warm but not artificial feeling. Flesh tones are realistic and dynamic, the night time shots of the city are very pleasing to the eye and the city as a whole is displayed mostly though shots of the moving vehicle.

Audio


The audio is Dolby Digital 5.1 surround sound. The sound is very nice with plenty of instrumental background music, mostly jazz, playing between dialogue scenes. We do hear a lot of DJ Johnny Rock coming in over the airwaves from the radio station and that acts as a counterpart to the dialogue between Larry and the passengers. At times the callers from the radio fill in the silence of moments where Larry is alone and contemplative.

Extras


No extras included

Packaging


Packaged in a standard DVD keep case.

Overall


A deeply personal film about two men and their inherent love of a city, both before and after Hurricane Katrina. David Jensen's performance is absolutely realistic and believable as cabdriver Larry Shirt. The film is both a monument and tribute to both the city and its people and their tenacity and capacity for love and survival.
| | | | | |
| --- | --- | --- | --- | --- |
| The Film: A | Video: A | Audio: A | Extras: F | Overall: B- |