The 9th Life of Louis Drax [Blu-ray]
Blu-ray A - America - Lions Gate Home Entertainment
Review written by and copyright: Eric Cotenas (21st February 2017).
The Film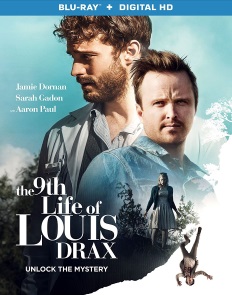 Accident prone from birth, Louis Drax (Aiden Longworth) has had his ribs crushed by a light fixture as an infant, been electrocuted, suffered food poisoning, and had allergic reactions to bees and spiders. On the occasion of his ninth birthday, an idyllic picnic with his parents Natalie (A Dangerous Method's Sarah Gadon) and Peter (Breaking Bad's Aaron Paul) takes a turn when Louis falls from a cliff into the water below, breaking every bone in his body, and drowning; whereupon, in his comatose state, he meets a faceless sea monster who endeavors to help him "solve the mystery, the strange mystery of the amazing accident-prone boy." In the conscious world, detective Dalton (Deadwood's Molly Parker) is investigating Louis' "accident" as attempted murder by his father who has disappeared. In charge of the comatose Louis' case is Dr. Janek (Outpost's Julian Wadham) who calls in young Dr. Allan Pascal (Fifty Shades of Grey's Jamie Dornan) who is advancing radical theories about the comatose brain. Although his colleagues believe that Louis will likely remain in a persistent vegetative state for the rest of his life, Pascal believes that he can find a neural path to "coax" Louis out of "hiding," which gives hope to devoted Natalie who becomes a fixture in the coma ward and a distraction to Pascal's troubled marriage to Ellie (Ostara Gardy). Louis' reflection on his short life reveals a troubled boy apart from his accidents whose inability to get along with classmates and practice of killing his pets after they have outlived their lifespans – the "law of disposal" as he calls it – put him in the care of psychiatrist Dr. Perez (Flatliners's Oliver Platt). His recollections also reveal a close relationship with his father (actually his stepfather) and the belief that his parents would have been happier had they not married because of him (Peter having been helplessly drawn away from his happy first marriage by Natalie through no fault of her own). As Pascal finds himself attracted to helpless Natalie and the long-suffering woman clings desperately to him, the two begin to experience strange occurrences. Natalie receives a letter purporting to be from Louis warning her away from Pascal, and Pascal starts having nightmares from his childhood and sleepwalking. While the police believe that the elusive Peter or someone on the coma ward staff is behind the threatening note while Pascal starts to wonder if Louis is trying to reach out to him through his subconscious.

An adaptation of the novel by Liz Jensen by actor Max Minghella (The Social Network), The 9th Life of Louis Drax is another tired slice of magical realism told through perhaps the most annoying "precocious" child character since Extremely Loud and Incredibly Close. One of the biggest problems of the film is its attempt to tell the story both from Louis' naïve point-of-view and from that of Pascal, a scientist is anything but objective and all too easily seduced by Natalie's fragile beauty and all too willing to take advantage of a woman he sees as having "been through hell." Although most viewers will suspect something off in one of the principal characters and even more attentive viewers will have diagnosed that character with a certain syndrome that never seems to enter the minds of its clinically-trained characters (even those supposedly possessing more objectivity than Pascal). Neither the fantasy sequences inside Louis' head nor the scenes of scientific analysis are particularly compelling (glossing over Pascal's supposedly unique and radical beliefs and making nothing of the fascinating notion that Pascal is either being controlled in his sleep through Louis or that his own subconscious is trying to expressions suspicions that he consciously denies), nor are the police procedural scenes. Although Dornan has received praise for his work on the series The Fall, his bids for American acceptance with this film and Fifty Shades of Grey find him rather bland and uninvolving a performer playing an incredibly unsympathetic protagonist. Paul, Parker, Wadham, and Barbara Hershey (The Entity) – as Peter's mother who offers up a different take on the same events that Natalie has conveyed to Pascal – are thoroughly wasted while Platt plays the same quirky intellectual character he has played before on film and television (most recently as one of the regulars of NBC's Chicago Med). The climactic revelations that shed tragic light on Louis' relationships with both of his parents should be moving but the film's preciousness will have alienated the audience long before.

Video


LionsGate's 1080p24 MPEG-4 AVC 2.40:1 widescreen presentation looks as spectacular as expected when it comes to the digital effects and the visual affectations like the glowing whites of the otherwise dreary real-world scenes in which saturation is dialed down compared to the warmer and more colorful flashbacks.

Audio


The DTS-HD Master Audio 5.1 track is active throughout from the more naturalistic sound design of the flashbacks and waking life scenes, the more fanciful effects inside Louis' brain, and the unsettling undertones of the coma ward's machinery. Optional English, English SDH, and Spanish subtitles are also included.

Extras


The sole extra is the short EPK "Making Of" featurette (2:46) that intercuts clips from the film with some very general comments from the cast. Very unimpressive for such a self-important film.

Overall

---
DVD Compare is a participant in the Amazon Services LLC Associates Program and the Amazon Europe S.a.r.l. Associates Programme, an affiliate advertising program designed to provide a means for sites to earn advertising fees by advertising and linking to amazon.co.uk, amazon.com, amazon.ca, amazon.fr, and amazon.de.