The Film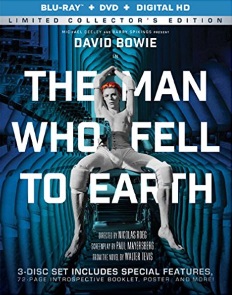 Alien is sent to Earth under the persona of British citizen Thomas Jerome Newton (The Hunger's David Bowie) who pawns a series of gold rings to get him from New Mexico to get to patents lawyer Oliver Farnsworth (Catch-22's Buck Henry) to whom he presents a series of revolutionary basic patents that he uses to establish the World Enterprises Corporation in order to accumulate vast wealth with the end goal of developing a way to ship water back to his dying planet. The company soon becomes a major player, competing with the majors in several areas of technological development. When burned out university science teacher Nathan Bryce (Coming Apart's Rip Torn) becomes acquainted with one of the company's products – a fully automatic and self-developing camera one of his coed students uses to film their dalliance – he starts researching the company, doggedly attempting to interview Newton and Farnsworth until he finds himself hired by the company towards developing a new rocket fuel. Newton leaves the daily running of the company to Farnsworth and revisits New Mexico where he plans to move the company. When he meets lonely hotel maid Mary Lou (Fat City's Candy Clark), she introduces him to the pleasures of alcohol, sex, and television and she becomes his girlfriend. He continues on his mission, giving orders to Farnsworth to sell off interests in the company towards moving in other directions, and builds a lakeside house in New Mexico for himself and Mary Lou while using his various addictions to shut out memories of (or communications from) his dying world and his wife and children. Bryce is the one who starts to suspect something alien about Newton who confirms that he is a "visitor" who has learned the ways of Earth through its television broadcasts. When he reveals his true self to Mary Lou, she goes into shock and he leaves her. Newton is unaware that Farnsworth has been fending off competing businesses and the government (personified by Never Say Never Again's Bernie Casey) who are interested in Newton and the company. On the eve of his much publicized rocket trip into space, he is whisked away to a derelict hotel, the inside of which has been turned into a sprawling, luxurious prison where he is kept sedated on a diet of alcohol, television, and other diversions while scientists subject him to painful tests in order to determine his alien nature (and hopefully profit from the technological advancements of his world).

Based on the novel by Walter Tevis (The Hustler) and directed by Nicolas Roeg (Don't Look Now) – from a screenplay by Paul Mayersberg who also scripted Roeg's Eureka – The Man Who Fell to Earth is a science fiction film in the classical sense, less concerned with special effects than holding a mirror up to humankind to show the ways in which they might seem alien in exotic and threatening ways to visitors ("We'd have probably treated you the same if you'd come to our place," says Newton in the aftermath of his imprisonment). "Maybe I'm not my own boss the way I used to be, but 'So what?', muses Farnsworth after being appointed president of Newton's company, and the film finds three of its principal characters adapting in different ways to not being one's own boss. Farnsworth, who once worked very comfortably and successfully from home in the company of his stereo system, is thrust into the cutthroat business world and a more materialistic lifestyle only to severely and fatally underestimate his competitors. Bryce thrives once he starts working for Newton as the former academic lecher's mind develops "a libido of its own and I didn't need the stimulation of legs and so forth." Newton, already addicted to television, alcohol, and other sensory pleasures, becomes more so in his comfy prison as to be useless to his captors and he ends up turning a recording of alien language messages once meant to go to his dead home planet into a highly successful experimental music album and ends up looking very much the part of an alcoholic, drug-addicted rock star under the closing credits. The cast also includes Apollo 13 commander Jim Lovell as himself as well as uncredited appearances from Terry Southern (author of Candy, the 1968 film of which was scripted by actor/screenwriter Henry) and tragically short-lived exploitation actress Claudia Jennings (Truck Stop Women) as Casey's wife.

Video


Released theatrically by Columbia Pictures' sub-division Cinema 5 in an R-rated version running twenty minutes shorter, and that version was later distributed on panned-and-scanned tape and laserdisc by Columbia even though the uncut version had shown up on pay-per-view cable). The uncut version showed up on a four-sided laserdisc set in 1993 from The Criterion Collection – with commentary by Roeg, Bowie, and Henry – and has remained available in the digital age starting on non-anamorphic DVD from Fox Lorber in 1997. Anchor Bay gave the now-Studio Canal-owned title an overhaul for their 2003 two-disc anamorphic DTS-ES THX-approved edition that dropped the Criterion commentary for a twenty-four minute featurette. Anchor Bay dropped the second disc for a as part of their short-lived "Cult Fiction" series to sell overstock in 2008 following Criterion's more definitive 2005 two-disc set – mastered in high definition from the original IP – which carried over the commentary track along with new interviews with Mayersberg, Tevis, actors Clark and Torn, production designer Brian Eatwell (Walkabout), and costume designer May Routh (Ronin) along with a thirty-two page booklet and a paperback reprint of Tevis' novel (their 2008 Blu-ray dropped the paperback and cut down the booklet).

When rights owner Studio Canal chose not to renew Criterion's license in favor of a deal with LionsGate, the Criterion editions went out of print and LionsGate initially only made half-hearted efforts to bring some of the studio's titles Blu-ray with a "Studio Canal Collection" that included Blu-rays of Ran, Contempt, and The Ladykillers while The Man Who Fell to Earth became quietly available from LionsGate in 2014 through Amazon's MOD (manufactured-on-demand) DVD-R service. Although the film has been available on Blu-ray in European territories licensed by Studio Canal (and in the UK from the Studio Canal-owned Optimum Releasing), LionsGate's Blu-ray/DVD combo is derived from the film's fortieth-anniversary 4K restoration of the film's original negative approved by cinematographer Anthony Richmond (Candyman) – although it is referred to as just a "Limited Collector's Edition" since it did not come out until 2017 (while Studio Canal's 2016 limited four-disc Blu-ray/DVD/CD soundtrack combo and standard single-disc Blu-ray upgrades were labeled as anniversary editions). The 1080p24 MPEG-4 AVC 2.35:1 widescreen is less warm than the previous transfer (with Bowie's flaming red hair looking a bit darker) but also brighter with some possibly overexposed highlights blowing out and the aberrations of the seventies Panavision lenses reveals some peripheral softness with greater clarity here but the expected pop depth and detail is not present perhaps out of a combination of filtering and unrealistic expectations of how much the new restoration would improve on Criterion's already great-looking Blu-ray (as well as compression since the decision to include three hours of extras in a mixture of SD and HD required a lower bitrate for the two-and-a-half hour feature). Presumably the UK anniversary editions suffer similarly since they too include the extras on the same disc (while the DVD sides of the packages put the extras on an extra disc).

Audio


The Man Who Fell to Earth pre-dated Dolby Stereo but it was released with magnetic stereo soundtrack that was upmixed for Anchor Bay's surround sound tracks and encoded in two-channel for the Criterion editions. LionsGate have also elected not to upmix the track, and the DTS-HD Master Audio 2.0 stereo track reveals an at first conservative use of the soundstage with directionality coming from the visitor's experience of the world while the human characters seem to only experience an aural overload in the throes of ecstasy (for instance the sequence in which Bryce chases a naked coed around the room and tackles her on the bed intercut with Newton as the audience for a floorshow in a Japanese restaurant filling the soundtrack with music, Bryce's grunts, and the slashing of the Japanese performers' swords through the air). The scoring of The Mamas & The Papas' John Phillips and Go's Stomu Yamashta (Images) receives more consistent depths and spread. Optional English SDH and Spanish subtitles are also provided.

Extras


LionsGate's Blu-ray has not carried over the Criterion editions' essential extras; instead they have carried over four interviews from the later Studio Canal-licensed editions with Roeg (33:28), Richmond (21:48), Mayersberg (31:50), and Clark (37:47) while shooting new interviews with Routh (14:44), still photographer Daniel James (8:38), producer Michael Deeley (16:26) – who later produced the sci-fi classic Blade Runner and Fifty Shades of Grey director Sam Taylor-Johnson (11:20) who is a fan of the film. In the featurette "The Lost Soundtrack" (16:44), composer/arranger Paul Buckmaster (Twelve Monkeys) recalls Bowie was originally going to score the film and that he had worked with him on arranging some cues but Roeg rejected them before they were fully orchestrated (producer Deeley suggests that Bowie did not have the energy to do it while focusing on both sides of his performance) in favor of Phillips whose contribution is discussed here by biographer Chris Champion. Also included is a short 1977 Bowie interview from French television (8:20) and the film's theatrical trailer (2:21) although sadly not the soundtrack CD from the UK limited edition. The standard keepcase housing the three discs (Blu-ray with the film and extras, DVD with the film, and DVD with the extras) is presented in cardboard slipcase featuring a seventy-two page booklet with an essay by David Jenkins that makes a case for Bowie as an actor before the film with his background as a mime and his theatrical concept albums (including his Ziggy Stardust character), an essay on the soundtrack by Chamption, stills and annotated script pages as well as four photo cards, a fold-out poster, and a miniature pressbook.

Overall


LionsGate's limited edition of this spectacular film is impressive in some areas but fans may want to hold onto the Criterion edition as well for a combined definitive experience.