The Film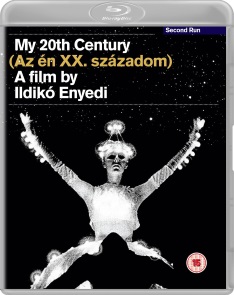 Golden Camera: Ildikó Enyedi (won) - Cannes Film Festival, 1989

Born in a Budapest slum at the very moment Thomas Edison (Mephisto's Péter Andorai) unveiled his new invention the light bulb to the world in Menlo Park, identical twins Dora and Lili soon lose their mother (Tato's Dorota Segda) and spend their childhood scrounging for food as match sellers. Falling asleep together in the cold one Christmas Eve at the age of eight, the two girls are carried off separately by two gentlemen never to see one another again. New Year's Eve 1900 finds the grown twins (Segda again) aboard the same Orient Express train. Dora is a glamorous but dissolute vamp who seduces and swindles men out of money for her love of jewelry and beautiful clothing, while Lili is a revolutionary sent on a highly confidential mission. Both get off the train in Budapest, the forgotten city of their birth, Lili by assignment and Dora out of boredom. As Dora luxuriates in hotels and peruses jewelry stores and clothiers, Lili visits libraries, museums, and lecture halls. As Dora swindles a jewelry store for a valuable necklace and prepares her escape, Lili makes her contacts and sets about constructing a bomb for a very public event. The ambitious feature directorial debut of Hungarian female filmmaker Ildikó Enyedi (Simon, the Magician), My 20th Century portrays the birth of modernism in all of its contradictions, particularly for the female sex. Lili and Dora at first appear to embody the dichotomy of the virgin and the whore, with Dora able to enjoy the diversions of modernism from an automated breakfast in bed to Edison's kinetoscope (the one-at-a-time peephole viewer suggestive of voyeurism and anticipating peep shows), Lili sits in on a lecture "Gender and Character" by Otto Weininger for the Hungarian Feminists Association as the bespectacled, docile-looking young man (Brother of Sleep's Paulus Manker, who would also direct himself as Weininger in Weininger's Last Night) first reasons out why women should be allowed the vote before arguing that "emancipation of women can be demanded even without believing that men and women are on equal footing in moral and intellectual terms," that the men are defined by ego and women by its absence, and that "women's being dissolves in sexuality" the fundamental identity shared by both "the mother and the bitch." Neither twin, however, can be reduced to such a dichotomy; Dora certainly has an ego and the wherewithal to view her own life with a sense of detachment, while reserved but revolutionary Lili is virtually shamed into sex but not fundamentally changed by losing her virginity). Both make the acquaintance of naturalist Z (Nostaghia's Oleg Yankovskiy) – whose enjoyment of the world encompasses both the "primitive"(a visit to Burma to regale the natives with the wonders of electricity) and the modern even in its non-bourgeois aspects (before meeting Lili he finds her copy of Peter Kropotkin Mutual Aid: A Factor of Evolution in the snow, dries it off over his coal stove, and reads it) – who mistakes them for the same woman. Dora falls into bed with him right away, while Lili is later shocked by his overfamiliarity but eventually is shamed into relenting. As Dora and Lili finally meet, distinguishing each other from their own reflections in a hall of mirrors, the film's focus shifts back to Thomas Edison as he demonstrates his telegraph's ability to send a message around the world in five minutes as the world becomes that much smaller.

Video


Derived from a 2009 high definition restoration, Second Run's 1080p24 MPEG-4 pillarboxed 1.33:1 presentation has its share of faint scratches and reel changes marks, but the uneven texture of the film is as much due to conception as it is to the archiving. The archival film footage is variable while the original parts of the film were shot on a monochrome film fabricated by Kodak with a much lower sensitivity rating than the monochrome stock they were manufacturing at the time, requiring a lot more light which made the lenses prone to flare.

Audio


The Hungarian LPCM 1.0 mono track is clean, dominated as it is by dialogue, voice-overs, and music from sources of varying quality. The optional English subtitles are without any obvious errors.

Extras


The sole video extra is an interview with director Ildiko Enyedi (27:23) who reveals that she was the only female student admitted to her film school class that year (females still considered a distraction to the male students at the time), and that she did not receive a diploma because her thesis film was banned by the Communist government. Nevertheless, she wrote a screenplay for a debut feature that was impractical and expensive, but initial funding from Hamburg caused the Hungarians to take notice and My 20th Century wound up being the film in which she had the most creative freedom during the shoot and the editing. Also included is a twenty-page booklet by critic Jonathan Owen who provides context to Enyedi's early cinematic homages, the sometimes dense philosophical and period scientific references, and provides some background on Enyedi's subsequent career.

Overall