We Don't Belong Here
R1 - America - Sony Pictures Home Entertainment
Review written by and copyright: Eric Cotenas (11th May 2017).
The Film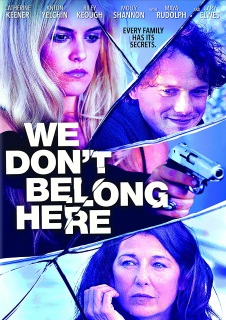 You do not have to look search the closets for the skeletons of the Green family. Son Maxwell (Green Room's Anton Yelchin) and youngest daughter Lily (Last Man Standing's Kaitlyn Dever) are bipolar – the latter recuperating in the psych ward after surviving a likely suicidal three-story fall from a hotel window – disowned middle daughter Elisa (Lovesong's Riley Keough) is a successful singer who has channeled her barely-contained neuroses into her art, and smug elder sister Madeline (Annie Starke) has only her relative mental health with which to feel superior. Widowed matriarch Nancy (Into the Wild's Catherine Keener) is disengaged to varying degrees with each of her children ("I just want the family I came here with… I feel entitled to that, that's all"), her especial concern for Max's sexuality seemingly hypocritical in light of her secret relationship with longtime best friend Joanne (Away We Go's Maya Rudolph). Unaware that Max is in the hospital, Nancy consults psychics and presses her other children, believing them to be concealing information from her out of resentment. Although Madeline has noticed that Lily has stopped taking her medications, only their grandmother (Tootsie's Debra Mooney) – who also habitually dumps her meds – knows the extent of Lily's mental deterioration of which her own therapist (Never Been Kissed's Molly Shannon) seems shockingly ignorant. When not seeking oblivion by getting stoned with stoner love interest Davey (Austin Abrams), Lily immerses herself in her memories of Max and the journal left behind by Elisa that reveals them both to have been molested as children by an evil man named Frank, and a perhaps illusory chain of clues leads her to local bookseller Frank Harper (The Crush's Cary Elwes) who she comes to hold responsible for everything that has gone wrong with her family (including her own possible violation during her blackouts in the woods). After Max is released from the hospital, he goes to stay with Elisa – who has just thrown her emotionally abusive boyfriend (The Chumscrubber's Justin Chatwin) out – and requests that she take him home for an emotionally-devastating family reunion. Something of a Boston-set Southern Gothic, We Don't Belong Here is beautifully-shot, well-cast, and would be more emotionally compelling if not for the insistence of first-time writer/director Peer Pedersen on being as facetiously "clever" as ambiguous. Seemingly told mostly from the skewed point-of-view of Lily, it invites the idea that her mother and siblings (at least as depicted here) are other facets of her own personality while a semi-Groundhog Day re-cycling of events and dialogue allows for alternate ways for Lily or one of the others to work through the trauma but it feels too much like cinematic game-playing for anything in the third act to actually be moving despite the work of the cast (particularly Kenner). The film feels almost in some ways more like a parody rather than an examination of the hereditary mental illness and familial dysfunction in which the seamless transitions to events as experienced by each of the characters might have felt more organic in exploring the intersections of their psychological states. Of the supporting cast, Shannon is rather distractingly cast as comic relief while Rudolph and Elwes are largely wasted. The film is dedicated to the memory of the late Yelchin, We Don't Belong Here and was the last of five of the actor's films released posthumously.


Video


Sony's barebones DVD only just edges over to a second layer with a mid-bitrate progressive, anamorphic widescreen encode that gets the job done with the film's largely bright and sharp photography with some minute compression noise in the dark woods and the saturated blue gel lighting of Elisa's song recording sequence.

Audio


The English and French Dolby Digital 5.1 tracks are included while optional subtitles are available in English, English SDH, Chinese (Simplified), Chinese (Traditional), French, Korean, Portuguese, Spanish, and Thai.

Extras


There are no extras.

Overall

---
DVD Compare is a participant in the Amazon Services LLC Associates Program and the Amazon Europe S.a.r.l. Associates Programme, an affiliate advertising program designed to provide a means for sites to earn advertising fees by advertising and linking to amazon.co.uk, amazon.com, amazon.ca, amazon.fr, and amazon.de.