The Film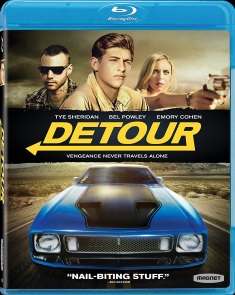 Straight-laced law student Harper (The Tree of Life's Tye Sheridan) hates his stepfather Vincent (True Blood's Stephen Moyer) who he believes is responsible for the drunk-driving accident that put his mother (who was apparently the driver) in the hospital on life-support. Vincent has not been to the hospital to visit his wife and is planning a business trip to Las Vegas on the morning when they are to learn whether she will remain on life support. Getting drunk after class at a dive bar, Harper ends up spilling his story to two-bit criminal Johnny Ray (The Place Beyond the Pines' Emory Cohen). He asks Johnny how much he would charge (hypothetically) to teach his stepfather a lesson. When Johnny turns up on his doorstep the next morning with his prostitute girlfriend Cherry (The Diary of a Teenage Girl's Bel Powley) – who recently shot a client who cut her face – in tow, Harper claims he was drunk and did not mean the things he said. Johnny insists, however, that Harper meant everything and intends to make sure he follows through with the job. At this decisive moment, the film splits itself into two parallel realities in which, respectively, Harper changes his mind and gets in the car with the two bound for Vegas, and another in which Harper remains at home. On the road, Harper witnesses Johnny's abusive treatment of Cherry. His attempts at being gallant are met with scorn by both of them. Once Harper and Cherry are alone, however, she warns him that he should get away while he still can since his association with Johnny will not end with the payout, and that he will continue to blackmail him so long as he is useful. In the other reality, Harper overhears his father talking to someone he believes is the older man's lover about the upcoming trip. Rifling through Vincent's belongings, he discovers his mother's amended will which bears her signature beside a date in which she and Harper were away on vacation. He attempts to set his stepfather up to get arrested at the airport by planting a knife and a bag of marijuana supplied by schoolmate Paul (Finding a Family's Jared Abrahamson) but his plan is discovered. Vincent denies Harper's accusations of infidelity and claims that he forged the will to make it easier for Harper to get his inheritance should anything happen to his mother and himself. The two get into a violent altercation and Harper stabs Vincent. As he tries to figure out what to do with the body in one reality, Harper, Johnny, and Cherry may not even make it into Vegas in the other what with crime lord Frank (Isolation's John Hannah) after the money Johnny owes him after a drug deal gone bad and wanting Cherry for his own stable of prostitues, and a run-in with a CHP officer (Edge of Darkness's Gbenga Akinnagbe) who winds up in the trunk of their car with something else worth killing over.

Thwarted expectations are the norm for film noir but Detour from Christopher Smith (Creep) scuttles the very narrative structural devices it sets up early on: from the opening class lecture that seems to making a thematic statement for the film: "Know the rule of law, and you can bend it. Understand its workings, and you can turn first degree murder into second degree murder. Second degree into manslaughter" which has the viewer waiting in vain for Harper to do more than half-ass his way through the untenable circumstances of both realities. Johnny's unwieldy hypothetical to Harper – if he could split himself into two sides, one that would go and kill his stepfather while the other half remained ignorant of the crime – seems to come out of left field solely for the unnecessary purpose of setting up the split in the narrative which could have just as easily been achieved when it actually happens onscreen (or on splitscreen) since modern audiences are suitably savvy to this kind of speculative narrative trickery. It appears as though the mines in the middle of the desert will be where the parallel stories converge, especially when it seems as though Harper is aware that the site is being used for a music festival in one reality but not in the other, setting up a climax (or two) that never happens. When the two do converge, however, it is a bit more clever only to move onto Vegas for some scenic production value and an even more protracted wrap up (which does make one better appreciate what Smith was able to do with the more twisty narrative of Triangle). The film also appears as though it is planning to do more than casually reference its namesake in Edgar G. Ulmer's Poverty Row film noir Detour (1945) what with a clip from the film on TV and a character named Dr. Ulmer with a couple pseudo-Expressionistic camera setups (including a seeming deep focus setup that is actually achieved using splitscreen as a high-tech take on the Ulmer's trick of building an oversized coffee cup to place in the foreground in front of his actor for one moody setup), but the only think the two films really have in common is a tense road trip. In spite of the fatalistic nature of Cherry's closing narration, the film lets its protagonist and his love interest off the hook in a manner that no respectable film noir ever would (a final ironic revelation would have seemed less needlessly tacked on if the film were content with letting the protagonist be just another film noir schmuck). A British production set in America, location shooting in South Africa makes for a reasonable stand-in for Southern California and Mexico. Detour ends up being suitably entertaining if one can forget that the filmmakers had any ambitions to make a modern noir film and just take it as another road trip crime movie.

Video


Magnet's 1080p24 MPEG-4 AVC 2.40:1 widescreen encode of this feature is typically strong, ably handling both the film's colorful Vegas neon night scenes, the more subdued, dark interiors of Harper's house, and the sunburnt desert driving scenes. Much of the film is shot with wide angle lenses to deliberately produce anamorphic distortion and catches some flare with lighting sources within the frame.

Audio


The sole audio option is an English DTS-HD Master Audio 5.1 track that makes full use of the channels with a lot of directional activity associated with the split screens and panels covering parallel action. Optional English SDH and Spanish subtitles are also provided.

Extras


Extras start off with two deleted scenes (6:19), the first of which shows Harper trying to stuff the body into the truck and going to extreme measures to make it fit, while the second is an extension of the sequence introducing Frank. The behind the scenes (8:07) finds director Smith discussing his love of film noir, producer () discussing the casting and the originality of the project, while Sheridan, Powley, and Cohen comment on the script and bonding during the many car scenes. The two interviews with director Christopher Smith (9:36) and actor Tye Sheridan (1:36) offer much of the same. The film's theatrical trailer (1:58) is also included along with other previews.

Overall


Detour ends up being suitably entertaining if one can forget that the filmmakers had any ambitions to make a modern noir film and just take it as another road trip crime movie.