The Film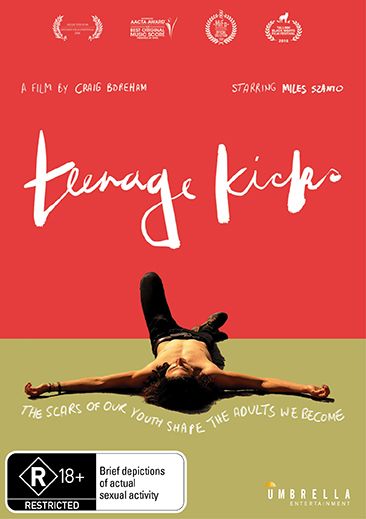 "Teenage Kicks" (2016)

Mik (played by Miles Szanto) is a teenager going through an extremely rough time in life. His older brother Tomi (played by Nadim Kobeissi) is killed in a bike accident and Mik feels the blame as it happened during a chase. The family's loss of Tomi puts pressure on everyone. Tomi's fiancée Annuska (played by Shari Sebbens) is pregnant and now is not sure where she fits in with the family. Their mother feels lost without her older son. The only person who can console Mik and make him think positively is his best friend Dan (played by Daniel Webber), but their relationship starts becoming complicated. Dan's mind is on girls and when he starts a relationship with Phaedra (played by Charlotte Best), Mik starts feeling left behind.

While Dan is preoccupied with his girlfriend, Mik is having the opposite thoughts. He has never had a sexual relationship but starts thinking more about men. He has not identified himself as gay as he is not comfortable or strong enough to call himself that. With pressure from his surroundings and self-hate taking control, Mik's life moves toward darker territory in sex and drugs…

Writer/director Craig Boreham has made his name through short films, often exploring gay relationships as the main theme. In 2009, Boreham made the short film "Drowning", which basically was "Teenage Kicks" as a short film and also featured actor Miles Szanto in the lead role who would later play the character in "Teenage Kicks". The death of the older brother Tomi, the relationship between Mik and Dan, Dan starting a relationship with a new girlfriend Phaedra, and how Mik tries to deal with all the issues - the same themes repeated seven years later as Boreham's first full length feature.

Although the film is labeled in the "gay cinema" genre, but it doesn't quite fit well there as it is much more than something so simple. It is a story of sexual awakening, with the character of Mik experimenting vicariously with both men and women as a way of escape rather than that of love. He certainly wants to be loved but everything he seems to be doing seems wrong. Coupled on top of that, his relationship within his family is broken. The self blame of the death of his older brother is the heaviest, but also his estranged and broken relationship with his father and the disappointment felt by his mother are also tolls he is going through. As much as Mik wants to take responsibility, nothing seems to be enough. He certainly tries with Tomi's pregnant girlfriend, but as she says, he will never replace Tomi. As heavy as the themes sound, there are still positive moments around such as the overbearing father of Dan (played by Ian Roberts) and his funny outbursts, and also with some of the more relaxed scenes between Mik and Dan. Memories that Mik starts to flash back to are also heartfelt and also positive rather than the bleak tone overall.

"Teenage Kicks" is not a perfect film and there are issues to be said. The latter half of the downward spiral for Mik seemingly goes on too long and the latter rape scene unfortunately does not seem appropriate even though there is a supposed elliptical theme connected to the beginning. For a film that has a lot of sexual encounters, the film is not gratuitous. There are scenes of both straight and gay sex and masturbation, but none very explicit though some feel a bit exploitive. As a short film the story works well but as a feature film there are some parts that seemingly drag a bit too long, and Mik's reveal of his feelings toward Dan does come at a very late place losing the impact. Not much or a spoiler but if he had revealed his feelings before the pool scene rather than after, it may have been more emotional.

"Teenage Kicks" does have greatness with its characters, the actors, the cinematography, and overall direction but has its unavoidable negatives. Regardless, it is still a film with emotional power and heartfelt performances, making it a worthy viewing. The film played at the Sydney Film Festival, the Glitter Festival, and part of The Traveling Film Festival in Australia, and the MiFo LGBT Film Festival in the United States last year.

Note this is a region 0 PAL DVD which can be played back on any DVD or Blu-ray player with PAL capability

Video


Umbrella Entertainment presents the film in the 1.85:1 aspect ratio with anamorphic enhancement in the PAL format. Considering it is a new film, there's very little to complain about. Colors are consistently bright and clear, dark scenes are appropriately dark, and detail is great even considering it is a standard definition transfer. It is framed in the original theatrical aspect ratio with no instances of damage or errors in the transfer.

The runtime of the film is 95:19.


Audio


English Dolby Digital 5.1
The 5.1 track is a quite lively one with music and effects used throughout the surrounding speakers while dialogue is almost always centered. Dialogue is always clear and easy to hear with no issues of bad volume or distortion in the track.

There are no subtitles available for the film. There are some heavy Greek-accented characters but nothing too strong to not understand.

Extras


Audio commentary with director Craig Boreham and actor Miles Szanto
Done via Skype with Boreham in Australia and Szanto in America, the two talk about a variety of topics throughout the commentary. The making of aspects of the film, how it started, Szanto losing a lot of weight for the role, the importance of having former rugby star Ian Roberts in the film, and many funny tidbits in the behind the scenes process. As for why the song "Teenage Kicks" by The Undertones is not used in the film at all - it was too expensive.
in English Dolby Digital 2.0

"Red Carpet: 2016 Sydney Film Festival" featurette (2:52)
A very short featurette with interviews of Craig Boreham, Miles Szanto, Annmaree Bell on the red carpet, plus a speech at the screening of the film. Unfortunately the audio during the screening is quite poor and difficult to hear.
in PAL, in 1.78:1, in English Dolby Digital 2.0

"Going Indie: Behind the Scenes of Teenage Kicks" featurette (2:47)
This short featurette has cast and crew interviews with behind the scenes shots and finished film. Just when you think the featurette is getting starts, it suddenly ends!
in PAL, in 1.78:1, in English Dolby Digital 2.0

Short Films
Two short films directed by Craig Boreham are presented.

- "Transient" (9:01)
This 2005 short features a man recalling a past relationship in voiceover narration.
in PAL, in 1.78:1, in English Dolby Digital 2.0 with no subtitles

- "Ostia - La Notte Finale" (14:59)
This 2011 short is a take on film director Pier Paolo Pasolini's last moments before his murder on November 2nd 1975. Shot in stark black and white, the short is entirely in Italian and also features Miles Szanto who just turned 18 when this was shot.
in PAL, in 2.35:1, in Italian Dolby Digital 2.0 with burned-in English subtitles

While it seems like there is a fair amount of extras, it feels incomplete. The featurettes are way too short to give anything of substance. The short films are a great addition, but one must wonder why the original 2009 short film "Drowning" was not included on this set. That is the biggest missed opportunity.

Packaging


The back of the case states the region to be "region 4" but this is in fact a region free disc. Also the back cover states "deleted scenes" as extras which are not found on the disc and makes no mention about the red carpet featurette or the short films.

Overall


"Teenage Kicks" is a heartfelt and harsh look at the issues of dealing with family tragedy while at the same time finding one's own identity. It's unfortunately lumped as a "gay cinema" film but it is much more than that. While imperfect, it is still a great watch. The Umbrella Entertainment DVD gives great audio and video presentation and a fair amount of extras making this recommended.
| | | | | |
| --- | --- | --- | --- | --- |
| The Film: B | Video: A- | Audio: A- | Extras: C+ | Overall: B |