The Film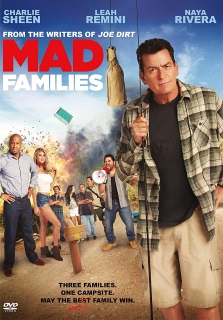 A computer error results in the triple-booking of a coveted camping spot on the Fourth of July weekend for three families: newly-married Tommy (Twin Peaks' Chris Mulkey) and Cheyenne Jones (The King of Queens' Leah Remini), his stoner brother Gravy (Evilspeak's Clint Howard), alcoholic writer son Charlie (Hot Shots!' Charlie Sheen) and airhead daughter Sharni (Joe Dirt 2: Beautiful Loser's Charlotte McKinney), and her back-talking kids Chucky (Mad Men's Mason Vale Cotton) and Sara (Sara Fiona Wolf); lawyer Franklin Jones (Who's Your Caddy?'s Finesse Mitchell), his father Pops (Collateral's Barry Shabaka Henley), jealous brother Ron Ron (Get Out's LilRel Howery) and his wife Keko (Keanu's Tiffany Haddish), and their children Ron Ron Jr. (PJ Hubbard) and Amanda (Amanda Christine); and Mr. Jonas (Gridiron Gang's Danny Mora), his daughter Felipa (Glee's Naya Rivera), married son Rolando (Eastbound & Down's Efren Ramirez) and layabout Jose (Machete's Juan Gabriel Pareja), and Rolando's children Rolando Jr. (Justice Alan) and Lettie (Animal Kingdom's Aamya Deva Keroles). The beleaguered ranger staff are at a loss for a solution, and their suggestion about sharing the site does not go over well until Franklin and Felipa relent. The crowded sight breeds tension between the men who become competitive over petty things like music choice and volume and the size of campfires. Everything comes to a head when Charlie accidentally runs over the dogs belonging to the Jonases and the other Joneses, causing them to blame each other when they discover their dogs in casts the next morning before finally pinning the blame Charlie's family. The alcoholic veteran Head Ranger (Innerspace's Dennis Quaid) tires of their complaints and challenges them to get back to the real meaning of the Independence Day and fight for the site, setting off a series of obstacle course competitions destined to go wrong thanks to plenty of cheating and in-fighting among the competitors over issues within each of the families. Tommy is planning an intervention for Charlie, and Cheyenne is as sick of Sharni calling her "fake mom" as Tommy is of his stepchildren ignoring him. Ron Ron is jealous of his father's favoritism towards Franklin who arranged the mix-up with the Jonas family (but not the others Joneses) to get the families together so he and Felipa could announce their engagement. Keko is trying to set up Franklin with third wheel Shantaysia (Chanel Iman) who is more interested in Charlie, having seen past his game and sees something salvageable in him. Jonas the elder has tired of Jose's failed inventions and other schemes for easy money while Pops is starting to suspect that Franklin might be gay. While some of the members of each family are able to find some common ground, it will take more the long-suffering women putting their feet down to before everyone goes home a loser.

While having "From the writers of Joe Dirt" (Grown Ups' Fred Wolf who also directed, and Just Shoot Me!'s David Spade who also produced) on the cover does not inspire confidence, Mad Families manages to actually be funny and a little heartwarming in spite of itself. Eschewing the usual opening scenes that introduce each family and starting immediately with the conflict, the film is very much dependent on racial clichés to establish character, sitcom tropes of dumb men and smart women, as well as our familiarity not only with Sheen playing himself as a trainwreck (his nap sack is full of clanking bottles) and Howard just being weird. The racial element enters into the film at first as the stereotype for comic effect and then backbiting comments from the other families, but then it racist jokes become a competition in itself for points and entertainment as the families pass the bullhorn around the camp. The lampooning these stereotypes and the characters all finding common ground is not as confrontational as it sounds, and the resolution and epilogue are rote, but it is not a bad way to pass an hour-and-a-half with one's brain turned off. While one is sorry to see actors like Quaid and Mulkey sinking to this level, no one else in the film is more annoying than usual; in fact, some of the sitcom actors manage to invest momentary bits of humanity into flatly drawn characters (Spade appears in a less-than-inspired cameo as Charlie's intervention coach). The film debuted on the Sony streaming service Crackle before hitting DVD.

Video


No complaints about Sony's single-layer, progressive, anamorphic 1.78:1 encoding of this brightly-lit and cleanly-photographed film (presumably its intended viewing on streaming platforms was taken into account in avoiding complex lighting setups).

Audio


The sole audio option is a Dolby Digital 5.1 track that makes use of the surrounds for atmosphere, some frequencies of the score, and some directional effects. Optional English, English SDH, and French subtitles are included.

Extras


There are no extras.

Overall


Mad Families revels in racial stereotypes for comic effect as well as sitcom clichés, but it is not a bad way to pass an hour-and-a-half with one's brain turned off.