The Film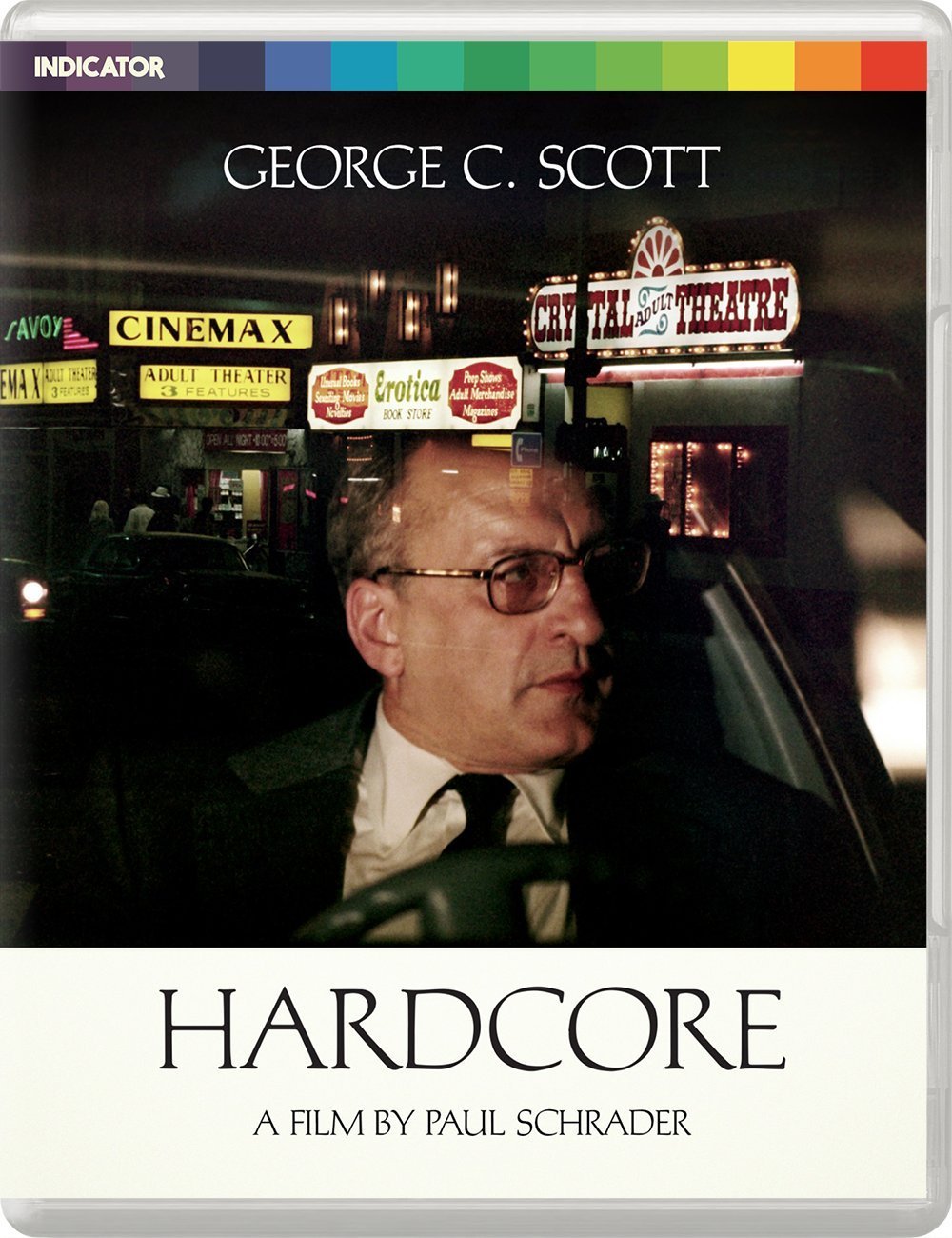 "Hardcore" (1979)

Jake VanDorn (played by George C. Scott) is a small business owner in Grand Rapids, Michigan leading a seemingly fine life through conservative values. He is an avid churchgoer at the local Calvinist church, a strict boss with his stern ways, and also a father of a teenage girl Kristen (played by Ilah Davis). But things get turned upside down when Kristen disappears during a church excursion out of town. Jake goes to the police but there does not seem to be much that they could do, so he and his brother in law Wes (played by Dick Sargent) hire a private detective to help with the search. Private detective Mast (played by Peter Boyle) is the one that is hired and is the one that must break the news to Jake. He shows him a stag film - a pornographic movie that featured his daughter. The distraught and angered Jake wants further answers but Mast says to track down from a single reel of film is nearly impossible.

But Jake cannot stop at that. Giving extra money to Mast to go to California to try to get information on the missing daughter, things don't go smoothly as he is not having much luck on his own. Jake decides to book a flight out as well to search on his own. But while going through the underbelly of the Los Angeles areas of prostitution, porno theaters, and seedy individuals, the pure hearted religious man finds a world of sleaze and corruption that would seriously affect his sanity.

Writer and director Paul Schrader grew up in Grand Rapids, Michigan in a Calvinist family so much of the base for the main character of Jake VanDorn was based on his own father and uncles, using his knowledge of religion and upbringing to form the characters. Throughout the 1970s the pornographic industry was booming with its emergence into the mainstream, with films coming into theaters and the rise of adult entertainment with shops, magazines, and goods. It was a dangerous new world of entertainment creeping into popular culture, and the small budget self made stag films of unknown actors and filmmakers would flood the markets. Where were these films made? Who were these people? Some questions are best left unanswered as the character of Jake finds out. Schrader has said there was an incident in his hometown where a teenager disappeared. Whether it was a kidnapping or a runaway was unknown and the girl never returned as there were no leads to follow. There were the rumors that circulated of what had happened to her, but with the mystery also came Schrader's thought of "What if?" with the father going out on his own to make the search. The story plays with the conflict of religion, generational gaps, society's acceptance, and the moral decline. There are similarities with Schrader's celebrated screenplay of "Taxi Driver" which was directed by Martin Scorsese in 1976, with a main character on a quest to save a young girl but in turn getting himself involved in a world of sleaze. "Taxi Driver" was a detached look while "Hardcore" took things to a hugely personal level. It was not about a loner that had no effect on society, but about a man with conviction from his strict upbringing.

George C. Scott gives an amazing performance as Jake VanDorn and his transformation with what he sees and goes through is an unforgettable performance, especially with the scene where he sees the stag film in the theater. Yes it has been parodied over and over but it still has its relevant place. Originally the role was for Warren Beatty who had two conditions: the story of the father looking for his daughter would be changed to a man looking for his wife, and for the director to not be Schrader. It would have been an interesting story to see, but it may have not had the same impact to change the relationship angle as the original story was a blood bond and not a break-up in marriage. For the other actors, Peter Boyle channels a cross between his "Taxi Driver" and "The Friends of Eddie Coyle" roles to bring a fascinating but slightly untrustworthy private detective with Mast. He knows a lot, has seen a lot, and will do some questionable things in order to get his way, but compared to the rest of what is seen in the film, he happens to be one of the more trusting individuals. The character of Niki played by Season Hubley makes an impact in the latter half of the film even though her screen time is limited as the prostitute/stripper who tries to help Jake on his quest, especially with her backstory and their relationship shown, their final moment together is truly heartbreaking.

"Hardcore" was a shocking expose of the underground porn industry at the time but it never demonized it or praised it in the film's presentation. Conservatives viewed the film as one that promote pornography while liberals viewed the film as one that attacked it, making it really depend on how audiences viewed life rather than art. Thematically the film about the search for a loved one echoes "The Searchers" (1956) and "Insiang" (1976) and seen later in films such as "Saving Private Ryan" (1999) and "Changeling" (2008), having a universal appeal even if surrounded by a controversial subject matter. The film opened in 1979 and reactions were mixed. There were some positives and there were some truly negative reviews. The film won no awards and was not a box office hit. Critical appraisal for the film increased over the years with it being called one of Schrader's best films and one of Scott's most memorable films.

Note this is a region ALL Blu-ray which can be played back on any Blu-ray player worldwide

Video


Powerhouse Films' release under their Indicator banner presents the film in 1080p in the original 1.85:1 aspect ratio in the AVC MPEG-4 codec. The original negative was restored in 4K by Sony, supervised by Grover Crips of Sony Pictures. The transfer is very impressive, with the drab colors of Grand Rapids contrasting the neon heavy dirty look of the seedy areas of Los Angeles in the latter portions. Colors are well reproduced, film grain is visible, and damage has been removed. A great transfer to disc by Powerhouse Films.

The film's runtime is 107:40.

Audio


English LPCM 1.0
The mono soundtrack is presented in lossless mono. The pulsating experimental film score by Jack Nietzche sounds great though it sometimes overpowers the levels with the dialogue track. There are no issues of audio errors such as dropouts or hisses, with all dialogue coming in, easily understood.

There are optional English HoH subtitles in a white font for the main feature. They are well timed and easy to read but there is one minor issue regarding the 2 minor lines spoken in Spanish. The text is captioned in Spanish (rather than translated to English) and someone forgot to install Spanish text font so a few of the words have errors in display.

Extras


Powerhouse Films is releasing "Hardcore" as a limited edition of 3000 Blu-ray+DVD dual format set, with the film and all the bonus content found on the Blu-ray repeated on the DVD but in standard definition. The limited edition set also includes a booklet. Once the limited edition sells out, it will be replaced with a Blu-ray only edition without the DVD or the booklet.

The Guardian Interview with director Paul Schrader
Schrader was interviewed on stage by Derek Malcolm in 1993 and this audio recording plays alongside the first 85 minutes of the film as an alternate audio track. Subjects discussed are Schrader's personal background, difficulties with financing, discussions on scripts he'd written and directed versus scripts done for hire, the troubles had with his film "Mishima", and much more. The only thing that's barely discussed is ironically "Hardcore".
in English Dolby Digital 2.0 with no subtitles

"Shooting Hardcore" featurette (9:05)
In this 2004 interview with cinematographer Michael Chapman, he recalls about shooting the film. He discusses how the original idea for a 16mm handheld style evolved into a standard 35mm film, some of the trick shots, and more but unfortunately he says that he doesn't remember too much as well as he could.
in 1080p AVC MPEG-4, in 1.33:1, in English Dolby Digital 2.0 mono with no subtitles

"Hardcore Nitzsche" featurette (22:24)
This is an edited excerpt from the upcoming documentary entitled "Stringman". Various musicians and filmmakers including Ry Cooder, William Friedkin, Milos Forman, and Robert Downey Sr. give their impressions on composer and innovator Jack Nietzche with examples from "Hardcore" and other works.
in 1080p AVC MPEG-4, in 1.78:1, in English Dolby Digital 2.0 mono with no subtitles

Isolated Score
The pulsating and hypnotic minimalist electronic/rock score is presented here as a separate audio track.
in LPCM 2.0

Image Gallery (23 pages)
A series of behind-the-scenes stills along with theatrical posters are presented.
in 1080p AVC-MPEG-4

Theatrical Trailer (1:21)
The original theatrical trailer is presented. It has been remastered, but is much grainier than the finished film.
in 1080p AVC MPEG-4, in 1.85:1, in English LPCM 2.0 with no subtitles

Booklet
The booklet includes an essay, a text interview, photos, credits, and transfer information. The first essay by Brad Stevens is entitled "Getting Into Hardcore" which is a spoiler heavy read especially with the analysis of the final scene. Next is a lengthy interview with Paul Schrader conducted by Saul Kahan and published in Focus on Film in August 1979 before the film's theatrical release. The interview goes into Schrader's personal life, scripts including "Taxi Driver", but most of the conversation is about "Hardcore" and its themes without giving too much away.

DVD Copy
The DVD offers identical content but on a PAL region 0 DVD.

When the film was released on DVD it included no extras. Twilight Time in the US released a limited edition Blu-ray which included two exclusive audio commentaries. One by Paul Schrader and the other by film historians Eddy Friedfeld, Lee Pfeiffer and Paul Scrabo. Sadly these have not been ported to the UK Powerhouse Films release. The isolated score was licensed from Twilight Time but the commentaries couldn't, which is unfortunate.

Packaging


This marks #14 in the Indicator Series releases from Powerhouse Films.

Overall


"Hardcore" was a divisive film when it was released due to the controversial subject matter, but over the years the praise grew to become a formidable sister film to "Taxi Driver". Scott gives a great performance in his journey into darkness and the haunting electronic score is brilliant and amazing. Powerhouse Films gives the film a great release with high marks in video and audio, with very good extras. Very recommended.
| | | | | |
| --- | --- | --- | --- | --- |
| The Film: A- | Video: A | Audio: A- | Extras: B+ | Overall: A- |