The Film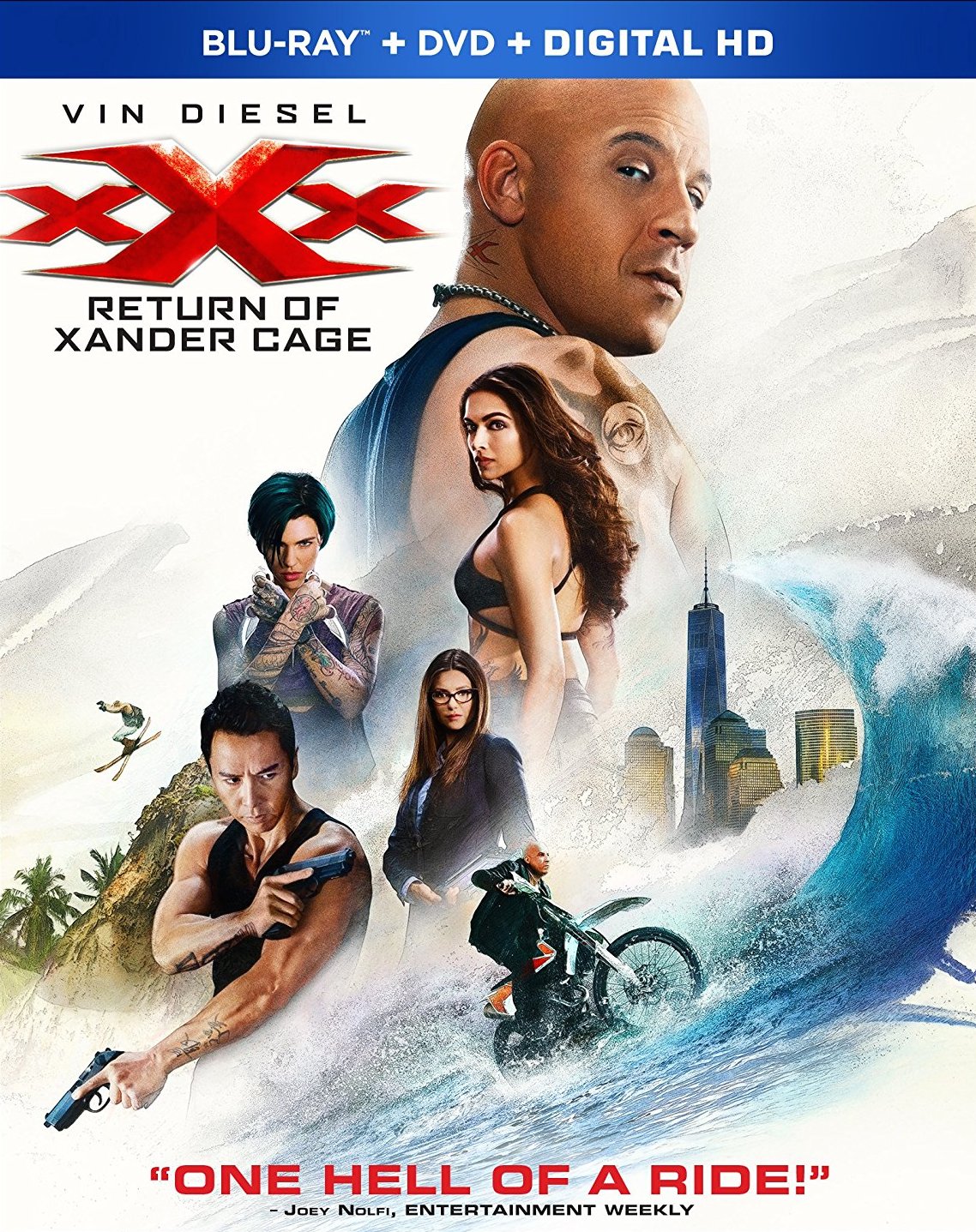 "There are no more patriots, just rebels and tyrants."

What can I possibly say about this action spy thriller that made obscene amounts of money at the box-office, but left me feeling unabashedly bored at home? Perhaps because I am not a randy fourteen-year-old male with a fetish for firearms, and over-the-top action stunts, and scantily clad females also with guns, I was not exactly the typical demographic the filmmakers had in mind when they made this film. However, donít let me stop you from enjoying this brainless sequel in the "xXX" franchise (2002-2017) if this is your brand of cinematic enjoyment; there is plenty to digest here, but donít strain yourself trying to make sense of the Gordian Knot machinations of the plot.

Here is a boiled down version of what is going on: NSA Agent Augustus Gibbons (Samuel L. Jackson) is trying to recruit a new agent (Neymar Jr.) for the xXx program when a hijacked satellite that is orbiting the earth crashes in Brazil and kills them both. Consequently, a team of four highly skilled assassins barge into a top-secret meeting of the CIA and steal a device known as ďPandoraís BoxĒ; this black box has the potential of taking over remote control of the gazillion satellites that are orbiting the earth, and wreaking waves of havoc across the world by disrupting cell phone service, messing with the military, and just generally crashing and burning willy nilly across the globe. This is a serious issue and that calls for an extreme hero, one to be resurrected from the void of 2005ís sequel, "xXx: State of the Union". No, not Ice Cube, but Vin Diesel, recreating his role from the first entry in this franchise as the presumed deceased Xander Cage. It is his job to fight off the three upstarts lead by martial arts wonder Xiang (Donnie Yen), accompanied by Serena Unger (Deepika Padukone), Talon (Tony Jaa), and Hawk (Michael Bisping). He also needs to figure out who has the black box. Xander assembles his own team of three bad asses: Nicks (Kris Wu) the DJ that drops wicked beats; Adele Wolff (Ruby Rose) the expert with weapons, and Tennyson Torch (Rory McCann) the crazed driver. In addition, he needs to deal with the scenery chewing antics of government hotshot Jane Marke (Toni Collette). Is that all clear? Sure, like mud, but we will continue, hoping that this mess will all make sense by the final reel.

Throwing all caution and common sense to the wind, our hero decides to make a comeback to the xXx group, and to lead his gang of hired hands on to do the right thing. Along the way there is plenty of eye candy: exotic tropical locales, scantily clad babes in the middle of the jungle like it is a Coachella gig, numerous shootouts, and an insane fight in the middle of a bustling freeway between Cage and Xiang. It is a good thing that small details like gravity and vulnerability do not come into play here, because they would only get in the way of all the action. And that is why we are all here: to watch Diesel (whom no shirt can contain), and his recruitís globe-trotting around the map, stopping evil in its path, and ultimately getting the dames. There is nothing too serious to ponder here; Hollywood had one mission in mind, and with $346 million to show for its efforts, I would bet that there will inevitably be a sequel to follow. I commend the film maker's for including the females with notable roles other than just lounging around in bikini's and looking good, but the presence of Deepika Padukone, Nina Dobrev, Ruby Rose, and Hermione Corfield as cast members, doesn't really cut it for me; the women take a backseat to the testosterone antics of Diesel and company, and donít really add any intrigue to the overall film. Toni Collette is an excellent actress, but here she is strictly one dimensional, and offers no surprises. The entire enterprise feels like a re-hash of "The Fast and the Furious" series (2001-2017), but inevitably is missing an essential part of the formula. The overall film felt like a badly organized comic book, and perhaps if the plot concerned superheroes, maybe then I would be a little more forgiving.

The CGI effects at time are a tad iffy, but overall the film delivers the goods with lightning fast editing and a throbbing soundtrack. As the credits rolled and I saw the huge listing of stuntmen, I was forced to wonder how many of these guys had shaved heads and a brawny build to stand in for the middle-aged Vin Diesel. There were probably an army of Diesel doppelgangers walking around on the set drinking power drinks and popping vitamins. The only thing positive that I can say here is that the sound mix was very good, with all the speakers throbbing with the bass of the soundtrack, and pinging off the walls with ricochets and other audio effects. This is certainly one film where a good surround system is a must have. Brains, however, are not required to watch this film.

Video


Presented in 2.40:1 widescreen HD 1080p 24/fps mastered in AVC MPEG-4 compression, overall color spectrum is good, reds, blue and greens reproduce faithfully. The blacks were solid and impressive, outdoor scenes looked fine as well.

Audio


Five audio tracks are included in English Dolby Atmos 7.1.4 surround, French (Canadian) Dolby Digital 5.1 surround, Portuguese (Brazilian) Dolby Digital 5.1 surround, Spanish (Latin) Dolby Digital 5.1 surround, and English Audio Descriptive Dolby Digital 5.1 surround. The English Dolby Atmos 7.1.4 surround is very impressive, the soundscape mix, the very effective use of sound pans moving from right to left and from back to front rocks. The shootout scene in Detroit rocked the house, and the mix of bullets being shot and the ricochets and striking the walls were authentic and appreciated. Definitely crank up the volume! Optional subtitles are included in English, English HoH, French (Canadian), Portuguese (Brazilian), Spanish (Latin)

Extras


For a big blockbuster the extras are pretty scant, four featurettes and a gag reel. There's a second disc with the DVD copy version of the film and a code for a digital copy version of the film. Below is a closer look.

DISC ONE: BLU-RAY

"Third Time's the Charm: Xander Returns" featurette (8:13) a talking head featurette with the director and various cast members. Nothing unusual here.

"Rebels, Tyrants & Ghosts: The Cast" featurette (20:18) an in depth examination of the cast and its multi ethnicity and how that effects the overall quality of the film. Lots of self-congratulatory scenes where everyone talks about how great Vin Diesel was. I wish that the director would have explained how he misused Donnie Yen's martial arts abilities through poor editing techniques.

"Opening Pandora's Box: On Location" featurette (16:10) various set designers speaking about how they created the mystique of the various sets and how they made the visuals come to life.

"I Live for This Sh#t!: Stunts" featurette (15:17) lots and lots of takes from stunts that worked, didn't work, and stuff left out of the final cut. The focus is on the extreme sports element of the franchise. For adrenaline junkies only.

Gag reel (2:12) did we really need this? Mistakes, blown lines, inappropriate laughs, and the cast screwing up repeatedly. Sigh, only for purists.

DISC TWO: DVD

This is the standard DVD copy version of the film.

Included in the case is a download code for the digital HD version of the film.





Packaging


Packaged in a standard blu-ray keep case, first pressings include a cardboard slip-case.

Overall


This is a film that is more like a video game with its one-dimensional characters, non-stop action sequences, and total ignorance of basic physics. The dialogue is barely delivered, one liners abound, and all bow done before the muscle head star, Vin Diesel. Donnie Yen is the only thing that is worth wild in this bombastic wreck of a film.
| | | | | |
| --- | --- | --- | --- | --- |
| The Film: C | Video: B+ | Audio: A | Extras: B+ | Overall: C- |