The Film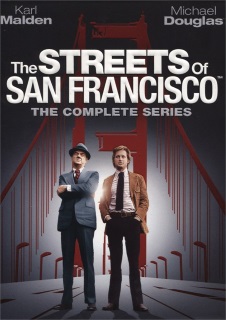 The most iconic of Quinn Martin's primetime crime shows, The Streets of San Francisco paired "street smart" San Francisco police lieutenant Mike Stone (A Streetcar Named Desire's Karl Malden) and college educated rookie inspector Steve Killer (Romancing the Stone's Michael Douglas) on cases that showed off the Bay Area at its most picturesque and grittiest (with a heavy emphasis on location shooting and even a sound stage facility on Kearny Street). Although created by Edward Hume – the man behind Martin's other hits Cannon and Barnaby Jones – the end credits of the series cite it as being based on characters created by Carolyn Weston, whose novel "Poor, Poor Ophelia" was the basis for the plot of the pilot episode that presents the partnership between Stone and Keller two years in while quickly establishing the ways in which they play off one another as investigators when the body of young Holly Jean Berry (Don't Be Afraid of the Dark's Kim Darby) washes up on the shore. Keller is willing to accept at face value the possibility of an overdose, accidental drowning, or suicide until the autopsy reveals that she was murdered with a blow to the carotid artery. He is also more ready than Stone to see Taekwondo-enthusiast lawyer David Farr (The Pink Panther's Robert Wagner) – whose business card was found on Holly's body – as the prime suspect while Stone is willing to look into Farr's improbable story about Holly's fear of being killed over something her junkie musician/mechanic brother (The Candy Snatchers' Brad David) saw in the trunk of a car. Conversely, when Stone offers up an interpretation of the evidence of a case, Keller is willing to suggest multiple other interpretations. While Keller can get hotheaded when he should remain objective, he and Stone trade off being the voice of reason when Stone finds himself emotionally involved with the victims as in the first episode of the first season "The Thirty Year Pin" in which his former partner who has remained a beat cop (The Wild Bunch's Edmond O'Brien) is shot in a jewelry store robbery in which the robber made off with only four hundred dollars in cash while leaving thousands of dollars' worth of jewelry untouched, when a psychotic killer starts targeting clergy including a childhood friend in "For the Love of God", or when a rapist (Walking Tall's Joe Don Baker) Stone put away gets out and targets his daughter Jeannie (The Beguiled's Darleen Carr). Over the course of four seasons, both are subject to personal vendettas – Keller in season two opener "A Wrongful Death" where in which The Hustler's Michael Constantine attempts to avenge his son, and Stone in "Deadly Silence" with Family Ties' Meredith Baxter on the warpath as well as "Commitment" with the pressure coming from a hotshot IA investigator (Geoffrey Deuel) – risk their lives going undercover (Stone as a hobo in "Legion of the Lost" and Keller in "Asylum" as a mental patient, "I Ain't Marchin' No More" as a draft dodger, and "A String of Puppets" as an ex-con musician), and confront serial murders from a ripper-like stalker of prostitutes in "The First Day of Forever", "Mask of Death" in which TV presenter John Davidson plays a psychotic drag performer, and the aforementioned priest killer). They are pained to take on cops gone bad – from Leslie Nielsen in "One Last Shot" as an alcoholic cop who tries to cover up the accidental killing of his partner as well as in "Before I Die" with a terminal illness and nothing to lose as he goes after a mobster – and step on the toes of high society with "Chapel of the Damned" in which a mother (Plains, Trains & Automobiles's Diana Douglas) whose daughter has been abducted has more faith in a mystic (The House on 92nd Street's Signe Hasso) than the police, and "Death and a Favored Few" in which a ballsy former showgirl turned society matron (September's Rosemary Murphy) comes under scrutiny when a society gossip columnist is murdered. The show earned consistently high ratings and viewership until the fifth season when Douglas bowed out to pursue his movie career and he was replaced by Detective Daniel Robbins (Battlestar Galactica's Richard Hatch). Hatch's Robbins did start out rather blandly even though most of the episodes of the season were fairly solid; audiences did not like the change (many probably switched over to Barnaby Jones), however, and the fifth season was the show's last.


From the start, the show highlighted the presence of guest stars as a selling point (even as a point of attraction to Malden when offered the project), and it delivered – both in terms of the ones who made the opening credits and those who would later become stars – including multiple appearances by Dick Van Patten (Eight is Enough), James Olson (The Andromeda Strain), Tom Bosley (Happy Days), Peter Strauss (Rich Man, Poor Man), along with plenty of former contract players turned character actors like Vic Tayback (Alice), Steve Oliver (Peyton Place), and Don Calfa (Return of the Living Dead), and William Campbell (Dementia 13). The show had child stars gone bad with the likes of The Brady Bunch's Maureen McCormck as a prostitute (her TV dad Robert Reed also puts in a series appearance as a sinister doctor), The Partridge Family's Susan Dey and The Patty Duke Show's Patty Duke Astin, and The Adventures of Ozzie & Harriet's Ricky Nelson as the "Pied Piper" of teenage prostitutes. The victims and villains also included future cop show regulars including Simon & Simon's Parker Stevenson and Gerald McRaney, Barney Miller's Ron Glass as a terrorist, Max Gail as a rapist, James Gregory as a nutcase, and Gregory Sierra, Miami Vice's Don Johnson as a hotdogging motor cop, Starsky & Hutch leads David Soul and Paul Michael Glaser, a pre-CHiPs Larry Wilcox, Cagney & Lacey's Tyne Daly, Meg Foster, and John Karlen, both Robert Wagner and Stefanie Powers from Hart to Hart, The Rockford Files' Joe Santos, Hill Street Blues' Joe Spano, and Law & Order's Tony Lo Bianco among others, along with Douglas' Basic Instinct partner George Dzundza. Old Hollywood is represented by the likes of offscreen couple Ida Lupino (On Dangerous Ground) and Howard Duff (The Naked City), The Big Sleep's Dorothy Malone, RKO players Kenneth Tobey (The Thing from Another World), Joseph Cotten (Citizen Kane), and Kent Smith (The Cat People) while future stars included Sam Elliott (The Legacy), Nick Nolte (Cape Fear), James Woods (Videodrome), and a turn by Arnold Schwarzenegger (The Terminator) in one of the final episodes.


Season One Highlights: Keller faces his prejudices when he must protect the only survivor (3 Women's Janice Rule) of a prostitute slasher, a pharmaceutical salesman (To Kill a Mockingbird's William Windom) believes he has accidentally murdered a prostitute and is blackmailed by the real killer, an AWOL officer (Double Exposure's James Stacy) attempts to abduct his biological son, an overzealous rookie cop (Capricorn One's Brenda Vaccaro, Douglas' girlfriend at the time) jeopardizes Stone's and Keller's stakeout to capture a serial rapist, Stone is held hostage by a street gang in exchange for their wounded leader, and Stone and Keller must keep a grieving father from taking justice into his own hands when his child's killer gets off on a technicality.

Season Two Highlights: An executive (The Believers' Martin Sheen) attempts to rob a bank to replace embezzled money, a serial killer targets the clergy after confession, a dying cop targets a mob kingpin, a charismatic young man recruits teenager girls for prostitution, a gold heist goes downhill fast when the robbers succumb to radiation poisoning, Stone and Keller look for the source of an internal leak that has allowed a contract killer access to his target, three runaway siblings turn to robbery and take a judge (The Man Who Shot Liberty Valance's Jeanette Nolan) hostage when one of them gets deathly ill, and the detectives join an arson investigation when two firemen are killed.


Season Three Highlights: An alcoholic cop tries to cover-up the accidental killing of his partner from the man's own rookie officer son, a hitwoman (Brenda Vaccaro again) seduces Keller to get close to her target, a female impersonator is also a psychotic killer, a woman (Marnie's Mariette Hartley) tries to pin the murder of her abusive husband on the troubled friend (Evilspeak's Clint Howard) of her son who has his own reasons for staying quiet, and Stone and Keller attempt to solve the murder of an Alcatraz inmate who was thought to have escaped twenty years before when his remains are discovered in a wall during renovations, and a young girl (The Car's Kim Richards) hinders the detectives' investigation while trying to expose her mother's murderer.

Season Four Highlights: Season four opens up with a shocker as a narcotics officer (The Killers' Clu Gulager) puts a batch of cyanide-laced heroin on the market after his wife is killed during an undercover sting (meanwhile, his son Mark Hammil is sporting a very suspicious cold), a sniper picks off workers in a fishbowl of a glass high-rise until a ransom is paid, Jeannie becomes part of an aggressive rape crisis group (run by Psycho's Vera Miles) targeting a repeat offender (The Evictors' Michael Parks), a former teacher holds four troubled students hostage after one of his colleagues is killed on the schoolyard, Stone and Keller suspect an arrogant radio host (Dallas' Larry Hagman) in the murder of a pregnant girl, an innocent officer (The Howling's Christopher Stone) is blamed when an unhinged police buff (The Incredible Hulk's Bill Bixby) takes the law into his own hands, and Paul Sorvino is an East Coast sergeant looking for a cop killer in the backdoor pilot for Bert D'Angelo/Superstar.


Season Five Highlights: The fifth and final season opens with a bang in "The Thrill Killers" – intended as a two hour feature but ending up split into the series' only two-parter – finds Keller sidelined at the half-way point as he, Stone, and new detective Daniel Robbins (Hatch is given the "also starring" credit while Douglas is billed as "special guest star" in between Hatch and Malden) searches for an entire jury – among them Dick Van Patten, Three's Company's Norman Fell, Big Trouble in Little China's James Hong, Remington Steele's Doris Roberts, and Soylent Green's Paula Kelly – taken hostage by a militant group (including Patty Duke Astin, Susan Dey, Ron Glass, and General Hospital's Anthony Geary) championing the release of two charismatic activists who murdered their wouldbe hostages. Robbins' first official episode "Dead or Alive" sees the worst in the city's humanity as a one million dollar reward for the capture of a rapist/murderer (Max Gail) offered by a victim's newspaper owner father leads to greed, betrayal, injuries, and accidental deaths. In other episodes, Jeannie begins dating a reckless motorcycle cop, a prostitute's clients are murdered by her obsessive father, a former prostitute goes undercover when her pimp is responsible for another girl's death, an alcoholic cannot remember if he is responsible for his wife's disappearance and likely death, Arnold Schwarzenegger plays a bodybuilder with a temper who accidentally kills an admirer, and Robbins falls for the attorney defending the psychotic killer he is trying to put away.

Video


The one hundred and twenty-two episodes of the complete series are spread over thirty-one dual-layer DVDs and one single-layer disc, with the feature-length pilot and first episode sharing one disc. The bulk of the discs feature four episodes each while some feature three each, and the final disc of season one features only two episodes. The interlaced, non-anamorphic fullscreen transfers of the first four seasons look consistently crisp and colorful apart from some faults in the location cinematography. There are intermittent white spots, occasionally bumpy shot changes, and light leaks from the original shooting throughout the series but season five seems as if it were more rushed and less carefully archived as they seem more pronounced in these episodes; that said, they look better here than in syndication and makes one wish they had been remastered for Blu-ray.

Audio


Seasons one and two feature both English and Spanish Dolby Digital 2.0 mono tracks as well as optional subtitles in those languages (and English closed captioning) while seasons three through five have only English Dolby Digital 2.0 mono, English SDH subtitles, and English Closed Captioning. The audio tracks are clean but occasionally reveal the limitations of the location audio in a couple dialogue scenes with the moving camera far enough away to give an attractive backdrop to the exposition.

Extras


The only extras appear on the first disc of season one. The Army Archerd Interview (3:45) is an on-camera, on the set interview conducted by the Variety columnist with Doulgas and Malden in which they touch upon their motivations for choosing the project, working with Quinn Martin, the guest stars, as well as Malden's friendship with the Douglas family. The pilot presentation (8:43) is an extended trailer for the series with spoilers for the pilot, an emphasis on the location shooting, the contrasts between the two lead characters, and the alternately light and dark tones of the storytelling.


Not included, sadly, is the 1992 reunion TV movie Back to the Streets of San Francisco in which Stone pairs up with Debrah Farentino (Earth 2) to search for missing Keller (Douglas reportedly did not appear since he was shooting Shining Through and Basic Instinct during production).

Packaging


The twenty discs of seasons one through three are housed in one large case with hinged, double-sided spindles holding two discs on each side that is detached from the case itself (thus it always sounds as if something is loose in the case). The twelve discs of seasons four and five are housed in a slimmer case with the same arrangement. Both cases are housed in a cardboard slipcase.

Overall


Whether purchased at retail for $89.98 or somewhat less from online sources (currently just under fifty-four dollars at Amazon), this complete series set may be the preferable option to Paramount's unfortunate practice with this series of issuing each season split into two multi-disc volumes.