The Film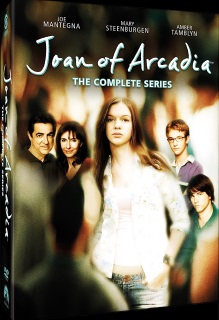 In the aftermath of a car accident that ended their elder son Kevin's (Freddy vs Jason's Jason Ritter) dreams of being a professional athlete, the Girardi family has moved to the Midwestern town of Arcadia where father Will (Criminal Minds' Joe Mantegna) has accepted the position of Chief of Police and mother Helen (Justfied's Mary Steenburgen) is working in the attendance office of Arcadia High School which is attended by daughter Joan (The Grudge 2's Amber Tamblyn) and younger son Luke (Z Nation's Michael Welch). While Will and Helen are preoccupied with Kevin's lack of interest in adjusting to life as a paraplegic – Helen wants him to learn to drive, socialize, and get a job while Will still cannot accept the bonding over sports and outdoor activities that he and his son have lost (much less for Kevin to have to see others doing what he cannot) – they have little time to address the needs of their other children: Luke is smart but introverted while Joan is an aimless underachiever who may be crying out for attention. When the first cute guy (Ginger Snaps' Kris Lemche) who shows Joan some attention claims to be God, she thinks that she has a stalker; that is, until he tells her things about her and her family that no one else knows, and that Joan prayed to him while Kevin was in a coma for his survival. He is not there, he tells her, to collect a favor but to encourage her to realize her true nature; that is the extent of his answer as he responds to any of her other bigger questions with other questions. In the pilot episode, God tells Joan to take a job in a bookstore, which has the most roundabout way of helping her father and his partner Daghlian (666 Park Avenue's Erik Palladino) – replaced later in the series by Carlisle (Spiders' Mark Totty) in a move that seems to have been done to make Will seem like the more open-minded partner – solve a series of rapes murders while inadvertently "shaming [Kevin] back into the world" (whereupon he starts looking for a minimum wage job before discovering that he is a brilliant essayist and lands a newspaper staff position).

Approached today, the prospect of a girl talking to God and questioning her sanity might have resulted in something zany and subversive, but Joan of Arcadia from creator Barbara Hall (Judging Amy) feels more like Touched by an Angel with its preachiness tempered by a heavy slice of My So Called Life. God – who appears to Joan in other forms as well, including a news anchor (Days of Our Lives' Roark Critchlow), a Goth kid (Mysterious Skin's Jeffrey Licon), an elderly woman (Desperate Housewives' Kathryn Joosten), a little girl (Easy A's Juliette Goglia), a chess teacher (Con Air's John Marshall Jones), a mascot (Mad Men's Trevor Einhorn), a hall monitor (Kim Possible's Christy Carlson Romano), and a dog walker (played by Tamblyn's father Russ Tamblyn of West Side Story) among others – tells Joan that she will not always be aware of the effects of the tasks he give to her (although he seems ready to point out the ones when she does not comply), which has the unfortunate effect of robbing the show of any real tension outside of Joan maneuvering the challenges of high school, friendships, and relationships; indeed, the most interesting parts of the show's first season (and the best parts of the second season) come from Joan's forming friendships with the rebellious Rabbi's daughter Grace Polk (The Opposite of Sex's Becky Wahlstrom) and seeming-stoner-sensitive-artist Adam Rove (Fanboys' Chris Marquette) – whose janitor father is unfortunately named "Carl Rove" – while risking ostracization by taking an AP Chemistry class and daring to associate with her brother and his nerdy friends: clichι horny Jewish kid Friedman (Austin Powers in Goldmember's Aaron Himelstein) and pining Glynis (Spider-Man 3's Mageina Tovah). This may indeed be the point, but it ends up making much of the time devoted to Will's job seem like padding and paying short shrift to the family drama when Joan is not present; as such, we know Will will usually solve the case (or rather, have the answer mysterious handed to him) apart from those times where his own lack of faith seems to result in tragedy, and that Kevin will eventually get over the emotional or psychological hurdle of the week. The show only flirts with the idea that Joan may actually be imagining God as a side effect of a viral infection – with the possibility that her naysaying principal (The Last Exorcism's Patrick Fabian) might actually be the devil – for the film's cliffhanger but eventually scares Joan back into believing. With Helen feeling lost for much of the first season even as she switches from attendance clerk to art teacher – badgering good-natured Father Mallory (The Tick's David Burke) with questions about why God allows children to suffer – before seeking to be confirmed into the Catholic Church, and Will stubbornly ignoring nudges from the beyond in favor of realistic fatalism, science geek Luke should be the one to offer up some objectivity but he stops just short of hocking Intelligent Design to suggest that the existence of God is supported by physics.


The series better manages to balance its elements in the second season, setting up romantic angst for Joan and Adam as well as the unlikely Luke and Grace, while also introducing romantic tension into Will's and Helen's relationship with the new chief (Designing Women's Annie Potts) as the new undersheriff, and Kevin becoming involved with the spunky ex-nun (Entourage's Constance Zimmer) providing religious counseling to Helen. Joan's involvement with Will's cases is even further downplayed, and God does tend to offer a bit more in the way of reasoning about the good and bad results of Joan's actions or inaction, but it is really the personable cast going through the motions of the familiar teen drama situations that hold interest. The season two arcs involving a lawsuit brought against the family by Kevin's former best friend Andy (Bleed's Riley Smith) for emotional damages even though he caused the crash and walked away without a scratch, and Judith (Paranormal Activity 2's Sprague Grayden) – Joan's friend from the "crazy camp" where she spent the summer in between seasons one and two – leading Joan astray and then falling in with a bad crowd with tragic results are more dramatically satisfying than the season two cliffhanger setups involving Helen believing that she might behaving visions and the introduction of a sinister young man (Prison Break's Wentworth Miller) who may also be talking to God (or perhaps the devil); which is just as well because the second season's low ratings lead to the show's cancellation. Hall went on create Madam Secretary while series producers/writers Hart Hanson and James Nathan would go on to the hit procedural show Bones for Fox in the same season. Episode directors of note include actors Rob Morrow (Northern Exposure), Helen Shaver (The Color of Money), Timothy Busfield (thirtysomething), and Joanna Kearns (Growing Pains) as well as Don't Look Now editor turned director Graeme Clifford.

Video


The show's forty-five episodes (twenty-three for the first season and twenty-two for the second) are spread over twelve dual-layer DVDs and are a repackaging of the separate season one and season two sets. Featuring four episodes per disc (apart from the sixth discs of both seasons that respectively feature two and three episodes along with other bonus features), the interlaced, anamorphic images generally look fare with mid-level bitrates encodes when one takes into account that this was either photographed in standard definition or, at best, 720p, dating as it does from mid-2000s American network television. There is nothing particularly distracting about the image when upscaled on an HDTV.

Audio


The sole audio option is a Dolby Digital 2.0 Surround rendering of the original Dolby Surround mix which uses the rear channel for music and some atmosphere, with a heavier focus on the front channels. English Closed Captioning is also provided.

Extras


Extras start off with nine commentary tracks (five for the first season and four for the second), among them the pilot's track with Hall and series director James Hayman who reveal that the opening sequence was actually directed by Jack Bender (Lost) as part of a twenty-minute presentation to pitch the show. They also discuss the network's doubts about the pilot's ability to distinguish reality and dreams (even though the blurring as intentional) as well as Hall's fear that the use of Joan Osborne's "One of Us" during the title sequence was too on-the-nose but was ultimately satisfied with the way it underlined the finished version of the credits (thankfully the show only resorts to it intermittently over the two seasons, with most episodes just flashing the main credits over the opening teaser). The thirteenth episode of the first season gets a rowdy commentary track with the main cast (who admit that they could be rather badly behaved during the scenes featuring all five of the family members in one scene) that gets across plenty of tidbits amidst much poking fun. Both seasons include "A Look at" overviews with talking heads from the cast, creator Hall, Hayman, and some of the other writing and producing personnel. The God Gallery section on the season one features Hayman and Hall discussing the characterization of six of main personifications of God on the show.


Several of the season one episodes are accompanied by deleted scenes (titled with their script number and setting) that are of variable interest including an additional scene of the murder investigation from the pilot, a scene with Joan bugging a neighbor while he is restoring his boat to Adam's bewilderment from "The Boat" episode, among others. Season two's video extras are a bit more interesting with an entire featurette devoted to the making of the "Queen of the Zombies" episode - in which Joan and her friends get involved in the staging of a zombie musical - and a table read for the episode "Common Ground" with the cast, Hayman, Hall, and episode writer Stephen Nathan in attendance, as well as a tour of the high school featuertte. Closed captioning is available for the episodes, the deleted scenes, as well as the video extras, leaving only the audio commentary tracks inaccessible to the hearing-impaired.

Overall


Although the price has come down on the separate season sets for Joan of Arcadia, this low-priced set may prove even more attractive.