The Film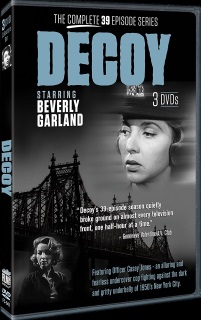 Dedicated to the New York City Bureau of Policewomen, Decoy ran only one season from 1957 to 1958 but it broke a lot of ground not only in representing women in the police force but also influencing subsequent police shows. It was the first cop show to be shot on location in New York City, taking advantage of plenty of location photography (much of it with a hidden camera so as not to spook onlookers), the first to feature a policewoman in a lead role (rather than as a cheesecake "special guest star" or woman with a chip on her shoulder as they often still were in shows ranging from Dragnet and Adam-12 to The Streets of San Francisco and CHiPs), and one of the first cop shows in general to cover some of the more sordid aspects of life to which the police are exposed. The titular decoy is police woman Patricia "Casey" Jones (My Three Sons' Beverly Garland), usually deployed in undercover cases or to deal with sensitive family issues, but no less brave as she sometimes finds herself in danger in spite of always following orders. Among the highlights are Casey posing as a showgirl to get close to a woman (Scorpio's Joanne Linville) who is believed to be protecting her boyfriend suspected of murdering a sailor for his jewelry, an everyday case of abandonment becomes complicated when a little girl starts trailing Casey to find her father, putting herself in harm's way after a single woman (Day of the Dolphin's Pat Englund) harassed by an obscene phone caller (Gomer Pyle, U.S.M.C.'s Frank Sutton) is raped (although the show does not actually use the word to explain her injuries), and then as a convict in a minimum security wing to determine which of a trio of inmates – icy Peggy Feury (The Witch Who Came from the Sea), high-strung Lois Nettleton (Deadly Blessing), and a very butch Colleen Dewhurst (Annie Hall) – is responsible for the murder of a prisoner in the same block. She must also defend herself and a young murder witness (Diane Ladd, Chinatown) from the mob, poses as a model to investigate a garment district killing, poses as a drug addict to expose a narcotics ring, poses as another showgirl to solve a night club murder, suspects a secretary with a history of mental illness for an arson fire, pursues a wife-killer to a mountain cabin, becomes embroiled in the lives of a mother (As the World Turns' Fran Carlon) and daughter (Let's Scare Jessica to Death's Zohra Lampert) harassed by threatening phone calls, and tries to verify the alibi of a Cuban immigrant (Identification of a Woman's Tomas Milian) suspected of robbery and assault. The show ably, an quite entertainingly, combines a Jack Webb-esque matter of factness in performances as well as Garland's narration and epilogue commentary with film noir aesthetics that could just as easily tip over into hysteria given the type of crime and criminal as the cases are sometimes anything but straightforward. Although popular at the time, the show was not successful enough to merit a second season, but it would run in syndication under the title Police Woman Decoy for the next few years before falling into obscurity. Among the fellow cops, victims, suspects, and villains are The Night Stalker's Simon Oakland, The Bold Ones: The Lawyers's Joseph Campanella, Columbo's Peter Falk, The Bob Newhart Show's Suzanne Pleshette,Pit Stop's Dick Davalos, Baby Doll's Lonny Chapman, Psycho's Martin Balsam, Dallas' Larry Hagman, and Rosemary's Baby's John Cassavetes .

Video


Previously available in a five volumes from PD label Alpha Video that consisted of only twenty of the series' thirty-nine episodes, Film Chest Media spreads the complete series over three dual-layer DVDs but the compression of roughly five hours of film per disc seems to be less of an issue as the variable (sometimes so dupey that two or three episodes may indeed have had to be sourced from earlier masters) condition of the episodes and the usual DNR that renders long shots flat and softish; that said, this is the cleanest and clearest these episodes have looked on the PD market in what appear to be new transfers.

Audio


The sole audio option for all of the episodes is a Dolby Digital 2.0 mono audio that is reasonably clean with some hiss that may be as much an archival issue as the recording conditions of the time (particularly the bits of exterior location shooting that feature live dialogue rather than Garland's narration). All of the episodes are closed captioned with a couple transcription errors.

Extras


There are no video extras, but Film Chest has nicely included a booklet with historical notes on women in the police force, a synopsis, a six page episode guide (which also cites notable locations), a few pages of captioned photographs, and a trivia section.

Overall


Predating Police Woman, Decoy not only broke ground in representing women in the police force but also heavily influenced a variety of cop shows to come.