The Film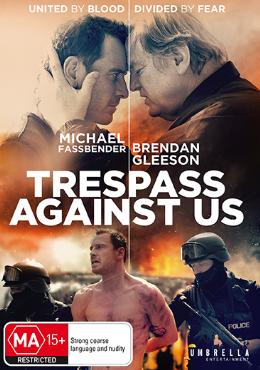 "Trespass Against Us"

"Trespass Against Us" is set across three generations of the Cutler family who live as outlaws in their own anarchic corner of Britain's richest countryside. Chad Cutler (played by Michael Fassbender) is heir apparent to his bruising criminal father, Colby (played by Brendan Gleeson) and has been groomed to spend his life hunting, thieving and tormenting the police. But with his own son, Tyson (played by Georgie Smith) coming of age, Chad soon finds himself locked in a battle with his father for the future of his young family. Featuring incredible performances – and an astonishing score by The Chemical Brothers – Trespass Against Us is at once an exhilarating crime thriller and a profoundly moving story about love and family.

With the performances of Michael Fassbender and Brendan Gleeson in the leads featuring a soundtrack scored by The Chemical Brothers, "Trespass Against Us" seemed like a surefire success, but overall fails to deliver due to the basic story not coming together completely. Taking place in a rural area where a ragtag group of families living in caravans are only looking toward lives of crime and zero prospects, the core problem is that there doesn't seem to have a feel of hope, redemption, or suffering of consequences of their actions. Marketed as a crime thriller and it does have heist and car chases, it is mostly about family, generational divide, and trust falling apart. Fassbender's character of Chad has multiple chances at redeeming himself and leaving the empty lifestyle but what could have been a great "escape" film towards happiness, all that is seen is a frustrating look at a person that basically falls back into a simple cycle of crime.

The performances from the leads are good, but none of the characters - main or supporting have much in terms of likability, so there really is no one to truly root for. "Trespass Against Us" is the feature film directorial debut of Adam Smith whose prior credits were mostly in television, with episodes of "Skins" and "Doctor Who". In addition, he created some of the creative visuals for The Chemical Brothers for "Further" and "Don't Think". There are some beat worthy tracks during car chase scenes, but most of the soundtrack is for ambient settings and sadly not that memorable, being a far cry for the soundtrack to "Hanna" which they composed a few years prior.

Much of "Trespass Against Us" is a miss with its saving grace being the performances from the leads. It could have been more interesting as a tale of redemption better realized, but overall it is sadly a missed opportunity for something more stylish and heartfelt.

Note this is a region 2/4 coded NTSC format DVD which can only be played back on region 2, 4, or region free DVD or Blu-ray players

Video


Umbrella Entertainment presents the film in the original theatrical 2.35:1 aspect ratio in the NTSC format. The film is certainly visually entertaining with its palate of colors from the yellow painted car to the caravan car park with the knick knacks and junk. Colors are well reproduced and skin tones look natural. There are no issues of damage to speak of with a very crisp and clear transfer, even for a standard definition disc. Screencaps are as follows:




The film is uncut with a runtime of 99:05.

Audio


English Dolby Digital 5.1
The original audio track is presented in 5.1. From the opening chase scene the speakers are fairly active with tire screeches and engine revs. Music also fills the soundspace in both the action scenes and with the ambient score cues. Dialogue is almost always centered and compared to the sound effects, it is a little bit on the lower side.

There are optional English subtitles in a yellow font. The subtitles have some issues to be addressed. I have not seen the US Lionsgate DVD or Blu-ray of this title but I assume this must be a port of it, as it uses American spelling and sometimes changes the rural English slang to a Americanized English. "Gavvas" is subtitled as "police", "bollocks" is changed to "balls", "flapping" is changed to "chickening out", and "fag" is shown as "cigarette". For an Australian release, it seems strange to use Americanized changes for the subtitle track as opposed to just captioning what was originally said by the characters in the film. In addition, there are many instances where a few words or quick phrases are not subtitled at all. For anyone trying to follow along with the story using the English subtitles, it might be more confusing to do.

Extras


There are no extras included on the disc. The currently available US Blu-ray and DVD from Lionsgate has two featurettes and they have not been ported to the Australian DVD. In addition, Umbrella Entertainment has decided to release this title on DVD only and not on Blu-ray.

Packaging


Although the inlay has a "region 4" symbol, the disc is in fact coded for regions 2/4.
Also, the case mistakenly states the aspect ratio as 1.77:1, rather than the presented 2.35:1 ratio.

Overall


"Trespass Against Us" seemed great on paper but failed to present a story worth investing time in due to the unlikability of the characters and how the plot did not seem to move the characters forward to a better light. Umbrella Entertainment's DVD technically excels in video and audio but with zero extras, it makes it hard to recommend.
| | | | | |
| --- | --- | --- | --- | --- |
| The Film: C- | Video: A | Audio: A | Extras: F- | Overall: C- |