The Film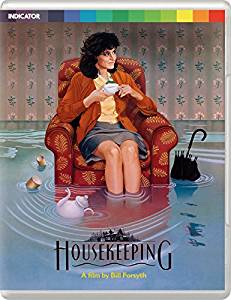 "Housekeeping" (1987)

Ruth (played by Tonya Tanner as a child) and Lucille (played by Leah Penny as a child) are elementary school aged sisters living with their single mother Helen (plaeyd by Margot Pinvidic) in Seattle, Washington. Helen one day takes the girls on a road trip to visit their grandmother (played by Georgie Collins) in the rural town of Fingerbone, but the visit turns longer than expected for the girls. Helen has no plans for the kids to return to Seattle, nor does she have plans to go back either. Dropping the kids off, she takes the car and plunges it into the water, leaving the kids parent-less and custody going to their grandma. Eventually their lives would continue in Fingerbone, with their grandma passing seven years later. The person to return to Fingerbone to become their new guardian is their mother's sister - Sylvie (played by Christine Lahti).

Sylvie lived a very unconventional life -moving from place to place, hopping on freight trains to travel, and having no worries or responsibilities. She had been married but never had any children, and this would be the first time for her to handle the tough responsibility of being the guardian to teenage girls. With her quirky personality and unpredictable behavior, it causes a rift between the sisters, as Ruth (played by Sara Walker as a teenager) sees Sylvie as someone fun to relate to while Lucille (played by Andrea Burchill as a teenager) sees her weird behavior as a reason to distance herself.

"Housekeeping" was the first novel written by Marilynne Robinson and published in 1980. A critical success, the novel was awarded the PEN/Hemingway Award for best first novel and shortlisted for the Pulitzer Prize for fiction writing. While not a large seller the acclaim in critical circles continued in the following years. In 2003 the Guardian Unlimited named it one of the 100 greatest novels of all time, and was also included in the "TIME 100 Best English-language Novels from 1923 to 2005" list by Time magazine. Scottish director Bill Forsyth made a name for himself with the Scottish films "That Sinking Feeling" (1979), "Gregory's Girl" (1981), "Local Hero" (1983), and "Comfort and Joy" (1984), each enjoying critical and fair commercial success. While visiting New York, Forsyth was recommended the novel of "Housekeeping" - not for adaptation but for recommended reading in general. Taken with the story wholeheartedly, Forsyth became interested in a possibility of adapting it to the screen. To do so there would be some difficulty. First was getting parties interested in financing the production. Second was working in America to keep in line with where the setting was.

While it was passed by countless studios, B-movie and wannabe prestige label Cannon Films took a chance in financing the film, with a catch to have a big name star attached. Diane Keaton was cast for the role of Sylvie to add prestige to the project, but unfortunately she decided to pull out rather suddenly, and Cannon also left the production fold. This was a possible disaster on the production sitde as sets were already being built with shooting already scheduled. On a very lucky note, Columbia Pictures decides to finance the $5 million production nearly ready to go, with the Sylvie role quickly recast with Christine Lahti. Production was shot in Alberta and British Columbia, Canada doubling for the fictional town of Fingerbone, capturing the cold rural 1950s of the American northwest. The adaptation of the novel kept almost everything intact with very few changes. The narration by Ruth was kept, the place and setting as well, and the dialogue was almost entirely verbatim. There were a few minor adjustments such as Ruth's opening narration to the film introducing her grandfather was not in the original novel but taken from a much later portion.

"Housekeeping" is about life moving in multiple directions. Death and separation are sadly inevitable chapters in life, and the film and the book bring the subjects in very quickly. The mother leaping to her death by suicide into the water, the grandfather's death along with 200 others in a train derailment accident, the grandmother's death from old age - each show a different view of how death occurs - by choice, by accident, or by nature. The lack of male characters in the film - from the death of the grandfather, the estranged husbands of Helen and Sylvie, they are more side stories rather than the main focus. Family is not about pondering over losses but holding onto the family that is still around. But the story addresses the complexity of that. Tragic losses are not holding anyone back as it seems everyone in the family is used to the situation of loss, but how the relationship of the two seemingly inseparable sisters start becoming distant from each other is a very slowly moving direction of heartbreak. The characters of Ruth and Lucille are almost like twins, by always being together, sharing everything, yet at the same time they have two different memories of almost everything. Ruth remembers her mother's hair as one color while Lucille with another, for example. With all the narration coming from an older Ruth, is what is presented a true version of how things happened? Or are these only the views of Ruth's ever changing memory of the events of her childhood? There are a lot of issues that "Housekeeping" hints at but never fully addresses. Did the family have a series of issues of mental illness? What happened in the intervening 7 years with grandma? What was the reason for Helen killing herself? What was Sylvie running away from all her life? What made Sylvie decide to stay and continue a "Grey Gardens"-ish semi-functional life? Knowing everything and having all explained would certainly reveal too much and "Housekeeping" keeps things though the perspective of one person rather than perspectives from other outsiders.

The film was completed in 1987 and screened first at the Tokyo International Film Festival where it won two awards. Theatrical the film premiered in the US in November of 1987 and the UK in December of 1987 for awards season. Even with high critical praise from both sides of the Atlantic, the film did not find an audience and was completely overlooked by all major award ceremonies. The film did not have a DVD release until 2011 a part of Sony's burned-on-demand DVD-R program with no extras whatsoever. Marilynne Robinson may be more well known for her Pulitzer Prize winning novel "Gilead" (2004) and Forsyth for his four films made prior, but "Housekeeping" is an overlooked hidden gem. With this new Blu-ray release from Powerhouse Films, it is gladly finally given its much needed awareness and praise.

Note this is a region ALL Blu-ray which can be played back on any Blu-ray player worldwide

Video


Powerhouse Films' release under their Indicator banner presents the film in 1080p in the original 1.85:1 aspect ratio in the AVC MPEG-4 codec. Remastered by Sony Pictures in HD, the transfer looks great for the most part. Colors seem accurate with the cold rural areas looking dreary while the colorful costumes in latter portions look wonderful with eyepopping reds and greens. The image is always stable with no shakiness and the image is pin sharp with no blurriness. There are no issues of major damage but there are specs here and there but never too distracting.

The runtime of the film is 116:09.

Audio


English LPCM 2.0 stereo
The original stereo track is presented in lossless audio. First off, there were two scenes with some issues with audio balance. Around the 11 minute mark, the stereo left and right tracks go slightly unbalanced with the dialogue sounding slightly echoey and off center and lasts for about a minute. The same issue happens again around the 59 minute mark at the café, which that lasts for about 30 seconds. It is actually distracting and thought I accidentally changed my speaker settings unknowingly. But in fact this is how it is encoded on the disc. Other than that, dialogue is usually centered while the left and right speakers separate music and effects ever so slightly. There are no issues with audio errors such as pops and hisses in the transfer. All in all, 95% fine, but those two scenes drag the score down.

There are optional English HoH subtitles for the main feature in a white font. Subtitles are timed well with no issues of spelling errors to speak of.

Extras


Powerhouse Films is releasing "Housekeeping" as a limited edition of 3000 Blu-ray+DVD dual format set, with the film and all the bonus content found on the Blu-ray repeated on the DVD but in standard definition. The limited edition set also includes a booklet. Once the limited edition sells out, it will be replaced with a Blu-ray only edition without the DVD or the booklet.

Interview with director Bill Forsyth (41:48)
In this new interview, director Forsyth discusses the differences between the American production of "Housekeeping" compared to the four films made in Scotland previously, about how he first encountered the book, how it took nearly two years to get financing, and the issues faced in the making of the film, and more. Most likely not intentional but there was one portion in the interview where Forsyth was slightly out of focus.
1080p in AVC MPEG-4, in 1.78:1, in English Dolby Digital 2.0 with no subtitles

Interview with author Marilynne Robinson (13:36)
In this new interview, the original author shares her feelings about the adaptation and also visiting the set during the production.
1080p in AVC MPEG-4, in 1.78:1, in English Dolby Digital 2.0 with no subtitles

Interview with director of photography Michael Coulter (12:54)
In this new interview, the cinematographer share details on his start in the industry, about his involvement in shooting "Housekeeping" including some discussion on the hard to recognize special effects sequences.
1080p in AVC MPEG-4, in 1.78:1, in English Dolby Digital 2.0 with no subtitles

Interview with editor Michael Ellis (10:53)
In this new interview, the editor recalls meeting Forsyth for the first time and also talks about the editing process while the movie was still being shot.
1080p in AVC MPEG-4, in 1.78:1, in English Dolby Digital 2.0 with no subtitles

BFI interview with director Bill Forsyth (36:00)
Interviewed by the BFI's Nick James for the "Storytelling on a Shoestring" film season, this conversation with Forsyth was at the National Film Theatre on May 28th 1994. Many of the topics are repeated from the previous interview on the disc, but there are some portions which Forsyth goes into the production of the much troubled "Being Human" (1994) film starring Robin Williams. This extra is an audio-only feature, which is played as an alternate audio track with the film itself. Once the interview ends, the audio reverts to the film's audio for the remainder of the time.
in English Dolby Digital 2.0 with no subtitles

Image Gallery (50 pages)
This click through gallery of images were provided by editor Michael Ellis, cinematographer Michael Coulter, and art director John Willett's personal collections. They include both black and white and color photos of production.
in 1080p AVC MPEG-4

Theatrical Trailer (2:09)
Original trailer with quirky narration, centers around Sylvie rather than the girls, losing what the focus really is. Is this supposed to be a Wes Anderson or Woody Allen comedy?
in 1080p AVC MPEG-4, in 1.85:1, in English LPCM 2.0 with no subtitles

Booklet
The booklet starts with a new essay simply titled "Housekeeping" written by David Archibald - Senior Lecturer in Film and Television Studies at the University of Glasgow. The essay discusses with some spoilers so it should be read after viewing the film. Next is writer John Pyn's "Production Report" written for Sight & Sound magazine in 1987, chronicling the film's production and some of the issues they had faced. This is followed by "Bill Forsyth on Housekeeping" which has the director reminiscing about the production with some additional ground not covered in the interviews. Including a very unusual note from Cannon Films saying "Do you realize there are no black people in this script?" They wanted to cater to a wider audience, but for some black people to be part of a 1950s rural town in the northwest may have seemed a stretch. Next are a series of film reviews from critics in 1987 giving their praise to the production. Last, the booklet also includes film credits, transfer information, and stills.

DVD Copy
The DVD offers identical content but on a PAL region 0 DVD.

Packaging


This marks #29 in the Indicator Series releases from Powerhouse Films.

Overall


"Housekeeping" has long been a neglected gem. Director Bill Forsyth gives an excellent eye to the subject matter on a family going through years of quirky mental crisis issues, and it borders on being funny and being a reality check. A cross between "A Woman Under the Influence" and "Grey Gardens", (though the comparisons don't seem to do it justice) the film certainly deserves to be seen by a wider audience. Powerhouse's Blu-ray release features a great video transfer, but a flawed audio track, accompanied by generous extras making this a recommended release.
| | | | | |
| --- | --- | --- | --- | --- |
| The Film: A- | Video: A | Audio: B- | Extras: B+ | Overall: B+ |