The Film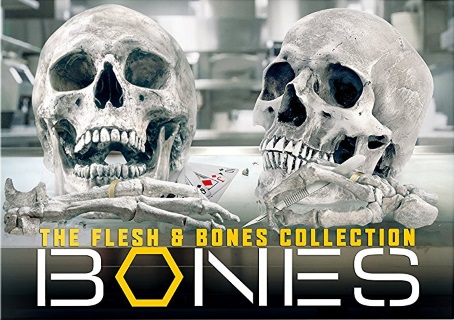 Based on the novels of forensic anthropologist Kathy Reichs, the Fox series Bones details the investigations of socially-awkward forensic anthropologist/mystery novelist Temperence Brennan (Rose Red's Emily Deschanel, daughter of cinematographer Caleb Deschanel) – whose fictional alter ego becomes Kathy Reichs in a reversal of the novels – and FBI agent/former army sharpshooter Seeley Booth (Angel's David Boreanaz) who is appointed the agency's liaison with the Washington D.C. museum The Jeffersonian Institute for homicides in which there is not enough soft tissue to identify the victim and the cause of death. The street smart and beaurocratically-aware FBI agent finds himself at sea in a lab full of "squints" (his nickname for scientists because "they squint at things") including Brennan, assistant Zack Addy (The Phobic's Eric Millegan) who has long postponed submitting his doctoral dissertation to remain working with her, crass forensic entomologist Dr. Jack Hodgins (Something's Gotta Give's T.J. Thyne), and spunky forensic facial recognition artist (and Brennan's confidante) Angela Montenegro (The Lincoln Lawyer's Michaela Conlin) under the direction of administrator Dr. Goodman (American Dreams' Jonathan Adams) for the first season and then forensic pathologist Dr. Camille Saroyan (Diary of a Mad Black Woman's Tamara Taylor) for the remainder of the series. Booth reluctantly found his own sidekicks in FBI psychologist Dr. Lance Sweets (Freaks and Geeks' John Francis Daley) who was initially brought into assess the partnership of Booth and Brennan and ended up "imprinting" on them as surrogate family, and even more reluctantly with fellow agent James Aubrey (Argo's John Boyd) in the later seasons (after Daley left to pursue a movie career as screenwriter of the disastrous National Lampoon Vacation sequel) while also maintaining a warm working relationship with prosecutor Caroline Julien (The Number 23's Patricia Belcher). After Zack Addy was sacrificed to a May sweeps storyline twist, the series brought in a revolving roster of lab interns including blue collar Wendall Bray (The Archer's Michael Grant Terry), intensely annoying people pleaser Daisy Wick (Superbad's Carla Gallo), terminally-depressed Colin Fisher (Hatchet's Joel David Moore), country bumpkin Finn Abernathy (Pretty Little Liars' Luke Kleintank) – love interest of Cam's adopted daughter Michelle (Nikita's Tiffany Hines) – uptight Clark Thomas Edison (Sleepers' Eugene Byrd), abrasive Oliver Wells (Cloverfield's Brian Klugman), obscure fact-spouting Vincent Nigel-Murray (Alphas' Ryan Cartwright), Canadian "forensic podiatrist" Douglas Filmore (Queer as Folk's Scott Lowell) who developed psychologically-induced paralysis of his right hand when Brennan shot down his work in an academic publication, asylum-seeking Cuban forensic anthropologist Rodolfo Fuentes (Quarantine 2: Terminal's Ignacio Serricchio), outgoing and flirtatious Jessica Warren (Heartland's Laura Spencer), and Aristoo Vaziri (A Girl Walks Home Alone at Night's Pej Vahdat), a devout Muslim who affected a thick accent and a meek demeanor to avoid questions about his faith in light of world events as well as his scientific pursuits.


As with other procedurals, an average case usually starts with a teaser sequence in which a person or persons (sometimes an episode guest star or a day player) discover a corpse in an unusual location, usually in a sickly comical manner (a dirt biker launched off his bike into decomposing remains, bones and body parts floating up into a toilet bowl from the sewer traumatizing a potty-training child and his father, and the like) followed directly by the start of evidence retrieval with a segue to the opening credits usually initiated by a one-liner from Booth (although nowhere near as cheesy as the ones delivered by regularly by on CSI: Miami). The body is then identified by DNA from salvageable soft tissue, facial reconstruction, the serial number on some sort of implant, or a list of missing people with the same height, sex, and possible ethnicity (determinable within limits by features of the skull) is narrowed down by bone markers or notable injuries or conditions that have left their impression on the bone. Relatives and suspects are introduced, Booth and Brennan pursue red herrings and false leads, and the solution is either found by Booth's deduction or Brennan and her team discovering some new evidence in the remains or finally discovering what weapon or impact caused a certain injury to the bones. As with other CSI-esque procedurals, there is usually a montage set to a soulful song, either during the analysis or in the aftermath of the case as the main characters decompress and muse on the irony of the crime. For this viewer, the formula worked in its broad strokes as individual cases because the will-they-won't-they relationship between Booth and Brennan was effective throughout Brennan's courting by Booth's former partner Sully (Warehouse 13's Eddie McClintock) and immediate superior Andrew Hacker (The Drew Carey Show's Diedrich Bader) and Booth's on-and-off-again relationship with Rebecca Stinson (Grey's Anatomy's Jessica Capshaw) – mother of his son Parker (How to Eat Fried Worms' Ty Panitz and later The Fosters' Gavin MacIntosh) – the "friends with benefits" one briefly resumed Cam after she joined the team, and his potentially serious one with news correspondent Hannah (50 First Dates' Katheryn Winnick) in the aftermath of confessing his love for Brennan and being turned down; so much so that, beyond the wedding in season nine, the relationship backstory becomes tiresome and the cases a welcome distraction (the same can be said for the long courtship between Angela and Hodgins and the "cutesy" one between Daisy and Sweets). Also less interesting than the case-of-the-week format were the series' serial killer arcs which did deliver in terms of the threat to the survival of cast regulars but were often just as silly but more protracted than the increasingly absurd serial killers of the procedural Criminal Minds which began the same season: from the cannibalistic Freemason-targeting Gormogon and The Gravedigger to hacker Christopher Pelant (Irene in Time's Andrew Leeds) who seemed like more of an obstacle put in front of Booth's and Brennan's happiness than the other killers, including the original Brennan-obsessed killer Howard Epps (Dark Was the Night's Heath Freeman) from the first two seasons. The later seasons are not without interesting episodes, but one cannot help but feel a waning interest of the stars and creative personnel warring with a need to squeeze out as much revenue as possible from the series with additional seasons, and that the major plot turns in the latter seasons were efforts to placate co-producers Boreanaz and Deschanel as well as the show's fanbase; as such, the series did not go out on a high note but it still relatively absorbing for roughly nine of the twelve seasons and perhaps best enjoyed in staggered binge viewing with all episodes at one's disposal on streaming services or in this complete series set.


Season One Highlights: In the pilot, Booth and Brennan step on toes while trying to implicate a senator in the murder of a young intern. They try to determine if a Muslim man killed in a car bombing was a terrorist or the victim of a plot, prove that the apparent suicide of a foreign diplomat's son at a prestigious private school was a murder, travel to the Pacific Northwest when cannibalized human remains are found in the carcass of a bear, and find a mummy in the wall of a nightclub. Brennan is disillusioned by her mentor (Quantico's Josh Hopkins) when they find themselves as experts on opposite sides of a murder trial and the team are quarantined for Christmas when a skeleton found in a fallout shelter has Valley Fever spores. Booth suspect industrial espionage in the kidnapping of a whistleblowing scientist's (The Sender's Zeljko Ivanek) son and Brennan is targeted by a Central American gang when a body is unearthed in a community garden. Booth and Brennan head to the desert when Angela's photographer boyfriend disappears, Hodgins dives for pirate treasure when a three-hundred-year-old finger bone is found with the corpse of a diver, Brennan has no memory when she wakes up next to a murdered colleague while helping reinter skeletons unearthed from cemeteries during Hurricane Katrina, and Booth suspects a military cover-up when the murdered solder's burnt remains are found on the grave of a war hero.

Season Two Highlights: Pathologist Cam takes command of the Jeffersonian's crime lab as Booth and Brennan investigate a train crash caused a murdered man left in a car on the tracks, Brennan's past as a foster child complicates a case in which two foster siblings are suspects in the death of an honor student, and serial killer Howard Epps comes out of hiding and launches a campaign of terror against the Jeffersonian team. Booth and Brennan tangle with the state department when the son of a foreign judge (Nothing But Trouble's Bertila Damas), tangle with stage moms in the murder of a toddler beauty queen, go undercover in a Las Vegas underground boxing ring when the body of a fighter is found in the desert, and encounter some Blair Witch-ery when college filmmakers disappear in the woods while documenting the legend of a local witch (Joshua Leonard guest stars). In addition to attempting to discover the identity of the serial killer The Gravedigger, Booth helps Brennan investigate the murder of her mother and track down her estranged brother Russ (Billy Bathgate's Loren Dean) and fugitive father Max (Barry Lyndon's Ryan O'Neal). In the aftermath of the Howard Epps case, Booth is taken off duty and must undergo a psychological assessment from eccentric Dr. Gordon Wyatt (Jeeves & Wooster's Stephen Fry) while Brennan is paired up with charismatic Agent "Sully" Sullivan.


Season Three Highlights: The Jeffersonian team take on the cannibalistic serial killer known as Gormogon, young Dr. Sweets orders mandatory group counseling for Booth and Brennan, and Booth discovers that a soccer mom killed in a car explosion was a member of the Symbionese Liberation Army. Booth and Brennan experience sexual tension while investigating the death of a man who belonged to a fetish club, discover "fresh" mummies in a Halloween funhouse, suspect one of their own when a Jeffersonian intern's remains turn up in an incinerator, investigate the classmates of a boy whose body is found when a time capsule is opened twenty years after it was buried, and then go back to college when the remains of a star basketball player are found underneath the gym bleachers. While investigating the death of a singer, Booth attracts a stalker who sees Brennan as an obstacle, and the team is devastated in the aftermath of the Gormogon case.

Season Four Highlights: The season opens with a two-parter set in the U.K. as aristocracy is implicated in the murder of a young woman who was dating a socialite, followed by the murder of one Brennan's British colleagues (Broadchurch's Andrew Buchan). Booth worried about this son's wellbeing when he discovers a human finger bone in a bird's nest, Booth and Brennan look into toxic office politics when the mangled body of a hated office manager drops onto her coworkers through an elevator shaft, two halves of a decomposed body bisected by a boat motor appear to be different sexes, and Angela's former girlfriend (May's Nichole Hiltz) is a suspect when a sculptor's skeleton is found inside a crushed car sculpture. Booth and Brennan must discover the murderer of a woman whose body is found in an airplane industrial oven before the plane touches down in Hong Kong and the local authorities take over, and then they go undercover at the circus when the bodies of conjoined twin high-wire walkers are discovered in a shallow grave. Brennan suspects that Booth is being setup when the body of a rival is discovered in a frozen lake and all evidence points back to her partner, and then must rescue Booth when he is taken hostage by The Gravedigger and held prisoner aboard a sinking ship (Guardians of the Galaxy's Brendan Fehr guest stars as Booth's brother Jared). Booth and Brennan discover a high school pregnancy pact when the body of a pregnant teen is found mummified in a salt truck, and Cam attempts to reconnect with the daughter of an ex-lover when his remains are found in the lion cage at a zoo. Booth personally looks into the disappearance of the sister of a Japanese colleague (Chicago Med's Brian Tee), must cause a massive diversion during a funeral so that Brennan can examine the body of a colleague when she suspects unnatural causes, and starts experiencing hallucinations involving The Family Guy's Stewie while investigating the death of a man found in a wine barrel (Boreanaz would make a live action guest appearance in The Family Guy's Christmas special).



Season Five Highlights: Booth has doubts about his ability to perform as an effective agent in the aftermath of brain surgery, Angela's psychic (singer Cyndi Lauper) becomes a suspect when she points the Jeffersonian Team to a mass grave beneath a fountain, and Brennan tries to discover how an authentic Egyptian mummy wound up on an electric fence. Booth and Brennan investigate the death of an Amish piano prodigy and a suburban neighborhood full of suspects when a charred body is found in a barbecue pit. The team is stumped by the body of a man who appears to be a part chicken, a green-stained skeleton that seems to be a leprechaun, the apparent victim (or two) of spontaneous human combustion, the skeleton of an "alien" found in the Roswell desert, and a highly-classified set of remains that may be JFK. The team tries to reconstruct a crime when a man in a Santa suit robs a bank with a bomb and explodes, and Sweets experiences death firsthand when a fellow passenger is killed during a subway derailment that also unearths a body. The one hundredth episode (directed by Boreanaz) flashes back to Booth and Brennan on their first case, Booth escorts Brennan to her high school reunion when a classmate is apparently the latest victim of the mythical Burtonsville High School cannibal (A Nightmare on Elm Street's Robert Englund guest stars), and Booth's grandfather Pops (The Waltons' Ralph Waite) entrusts Brennan with some painful family secrets to reveal to Booth after he is gone.

Season Six Highlights: Caroline brings the team back together to help Cam solve a high-profile child abduction, Brennan finds herself jealous when Booth introducers her to war correspondent Hannah who he met in Afghanistan and questions her decision to remain single while investigating the death of a female doctor whose life strangely mirrors her own. Brennan and Booth tangle with Guidos on the Jersey Shore, bounty hunters when one of their own is found in a dumpster, street artists when a hip-hop dancer's remains are found encased in concrete at a construction site, polygamous couples when sister-wives are suspected in their husband's murder, and Cougar culture when a fresh set of skeletal remains is found amidst the contents of a slave ship. Booth suspects his own sharpshooting trainer Jacob Brodsky (The Mummy's Arnold Vosloo) has gone rogue when The Gravedigger is killed with a near-impossible shot before the trial, is forced to address his friendship with Brennan when they are trapped in an elevator during a city-wide power outage caused by a blizzard, and feels responsible when Brodsky targets the Jeffersonian team. Brennan reveals a shocking secret to Booth in the aftermath of the Brodsky case. Season six also contains the backdoor pilot to The Finder.

Season Seven Highlights: Booth and a pregnant Brennan try to adjust to their changing relationship, search for a suspect among competitive eaters, look for suspects among a group of lottery members when one of their number ends up in several packages directed to the Dead Letter office, chase storm chasers through a hurricane to find a killer, and come between extreme couponers and their deals to solve a murder. The team investigates the deaths of two youngers on opposite sides of a centuries old family feud, but Daisy goes back further to solve the crime that caused the initial enmity. Booth and Brennan go to Los Angeles to visit the set of a movie based on her book, and Brennan discovers that one of the prop skeletal remains is real. When a human vertebral column is found at the Lincoln Monument, the team realizes that they are chasing another serial killer, but hacker Christopher Pelant dares them to connect him to the crimes and sends a pregnant Brennan on the run by setting her up for murder.


Season Eight Highlights: Booth and the rest of the team try to clear Brennan of a murder so that she can come out of hiding, and then the couple must readjust to life together when she does return. Booth and Brennan have plenty of suspects when a cutthroat divorce lawyer's charred remains are discovered, discover that a man is still alive after identifying his remains in a car explosion, and must determine if body whose remains reveal evidence that he was in the 9/11 attacks is a victim or a perpetrator. A graffiti artist defacing a billboard ends up glued to a corpse, Booth and Brennan enter the world of competitive dancing to find a killer, Brennan is jealous when she must investigate the remains of an archaeologist while her former intern Clark is assigned to the ancient remains found with the body, and Angela goes undercover on the roller derby circuit when a competitor's dismembered remains are discovered. Pelant targets Angela and Hodgins but someone else may be the culprit when Brennan is shot in her lab.

Season Nine Highlights: Brennan maintains her faith in Booth when he withdraws his marriage proposal, even when they must go undercover together at a couple's retreat. Booth and the team set up a copycat crime as a way of baiting Pelant out of hiding. The rest of the Jeffersonian team ruses to solve a crime before Booth and Brennan can get married, and the couple stumble upon another crime while honeymooning in Buenos Aires. While Brennan is a juror on a high-profile murder and believes the defendant is innocent, the rest of the team works with Booth to prove that he is guilty. A set of remains are delivered to Booth's and Brennan's doorstep, a chess master's remains is discovered in pig slop, a repo man is found in a septic tank, and cryogenically-frozen remains are found in a swamp. Booth and a CIA agent (I Know What You Did Last Summer's Freddie Prinze Jr.), Hodgins discovers a family secret, Brennan diagnoses that Wendell has a rare form of cancer from X-rays of a bone break, and Booth's career and freedom are threatened when his investigation leads to suspects within the government.


Season Ten Highlights: The Jeffersonian Team look for evidence to expose the FBI's part in a conspiracy that sent Booth to prison and one of their own pays with his life. Booth has a hard time adjusting to life back at work with a new partner in special agent Aubrey as they investigate the murders of a video game designer, a conservative radio host, an immigrant maid, a crossword puzzle designer, and a manipulative psychology professor. Aubrey and Brennan conspire to distance Booth from the investigation of a competitive gambler, worried that the recent stresses may cause him to fall back on old habits. Booth and Cam head to the Middle East when Aristoo is kidnapped by a member of the Iran parliament to help with a murder case. The two-hundredth episode is a fantasy homage to Old Hollywood casting Booth as a To Catch a Thief-esque burglar who LAPD detective Brennan must clear of a murder.

Season Eleven Highlights: The team suspects that a murdered senator's successor is also his killer and must prove it, Hodgins suspects a conspiracy when the team investigates the remains of a journalist who was writing an expose on the NSA, and Brennan finds it hard to sympathize with a victim who belonged to a Meninist group. Booth and Brennan go undercover at an Old West-style shooting competition, work with a French investigator (The Man in the High Castle's Sebastian Rochι) to track down an international jewel thief (Brothers & Sisters' Gilles Marini) when the man's mistress and accomplice is found dead, and the pair must collaborate with the Secret Service when one of their officers is discovered before a Presidential visit. Aubrey and Hodgins are badly-injured in an explosion and Hodgin's debilitating injuries have an effect on the entire team as they investigate the crimes of a new serial killer: The Puppeteer. When Booth disappears, Brennan refuses to believe that remains found in the wreckage of a van belong to him despite evidence. Season eleven also includes an underwhelming crossover with the third season of Sleepy Hollow when the team find the remains of a headless Redcoat in an iron coffin.

Season Twelve Highlights: Former intern Zack Addy kidnaps Brennan and the rest of the team help Booth to find her, try to prove that a robotic engineer was murdered and accidentally killed by his own creation, and investigate the death of Booth's former army chaplain, look into the backgrounds of privileged students of a murdered private tutor. Aubrey accompanies Booth and Brennan when they go undercover at the demolition derby and Booth is targeted by a killer who may be one of his former army comrades coming after members of his unit, leading to an explosive series finale of an abbreviated final season.

Video


The first four seasons were shot in Super 35 but mastered in 720p; so presumably Fox's HD streaming versions are upscaled to 1080p as it seems unlikely they would rescan the film and recreate the CGI effects. From season five onwards, the show was shot on HD video (HDCAM SR in 1080p for the first few) and Fox issued seasons four, five, six, seven, and eight on Blu-ray before returning to DVD for the remaining seasons. Since the full series is not available on Blu-ray, Fox might have made this a more definitive complete collection had they included the Blu-ray editions of the aforementioned seasons in addition to the DVD versions although that would likely have been reflected in the price, and the repackaging of individual season sets with the season four bonus disc on the season three set suggests they are trying to move existing stock rather than pressing more for this set. Fox's encoding is typically top notch given the compression of usually four episodes per dual-layer disc and the CGI looks no worse here (upscaled to 1080p on an HDTV) than it does on television although a casual comparison of some episodes between the season four DVD and a borrowed season four Blu-ray set does reveal seemingly more vibrant color and motion on Blu-ray disc than SD DVD or compressed streaming HD.


In other territories, it appears that the ninth season is available additional season available on Blu-ray.

Audio


The first season has English Dolby Digital 5.1 audio for all episodes except for the pilot which is Dolby Digital 2.0 stereo, while the rest of the seasons have English Dolby Digital 5.1. Seasons two, nine, and ten also have Spanish Dolby Digital 2.0 Surround while eleven and twelve have Spanish Dolby Digital 5.1. Seasons one through four along with seven and eight have English SDH, French, and Spanish subtitles while five and six have English SDH, French, Portugese, and Spanish, season nine has English HoH, Chinese (Traditional), Chinese (Simplified), French, Portuguese, and Spanish, and ten through twelve have English HoH, Chinese, French, Portuguese, and Spanish.

Extras


Extras include only eleven commentaries spread out over the twelve seasons, including executive producer Barry Josephson (The Last Boy Scout) and creator Hart Hanson (Judging Amy) on the pilot, actors Boreanaz and Deschanel on "Two Bodies In The Lab" and "The Blackout in the Blizzard", Deschanel, her father Caleb Deschanel, and executive producer Stephen Nathan (Family Law) on "The Glowing Bones in the Old Stone House", Hanson, Josephson, and Nathan on "Stargazer in a Puddle", Taylor, Daley, and Conlin on "The Proof in the Pudding", Hanson, Nathan, and Ian Toynton (Minder) on "The Beginning in the End", "The Doctor in the Photo", and "The Future in the Past", Hanson and Toynton on "The Past in the Present", and "The Woman in White" Hanson, Nathan, and consulting producer Karine Rosenthal (Backstrom). Branching allows for extended versions of nine episodes (with minor differences) while seasons three includes in its entirety an unaired version of the episode "Player Under Pressure" (43:48). Nineteen episodes include individual access to deleted scenes but only seasons two's include the option of commentary from Hanson and Nathan over a season-wide reel while Booth/Brennan shippers may enjoy an extended version of the kissing scene on "The Santa in the Slush" (2:42). The shorter season three set adds a disc of the first three episodes of season four as a bonus (the exact same contents of disc one on season four) while season six includes the entirety of the pilot for The Killing, the American remake of Forbrydelsen. Both the one-hundredth and two-hundredth episodes are commemorated with featurettes – "The 100th Episodes with director David Boreanaz" (7:05) and "From Script to Screen: Creating the 200th Episode" (10:20) – while "The Girl in the Mask gets "Androgyny: Playing Haru Tanaka" featurette (6:44), "The Woman in White" gets "Walking Down the Aisle Bones Style" (9:09), season six gets "Breaking Down: The Blackout in the Blizzard" (8:21), season seven gets "Creating The Suit on the Set" (10:58) – "Bone of Contention: On the Red Carpet" (3:17) is a parody featurette in which Angela and Hodgins appear on the red carpet for the premiere of the fictional film Bone of Contention – while season two gets "The Memories in the Season" (16:20) and season twelve gets the TV special "Back to the Lab: A Bones Retrospective" (21:48).


Seasons eight and nine court the fans with "Bones at Comic-Con" (29:45). "Dying to Know: Bones Answers Your Questions!" (8:59), and "Bare Bones: Total Fandom-onium" (1:59), although – to answer a reader question – unfortunately not included is the 2011 Paley Center Paleyfest live panel discussion. The sole first season "Bones: Inspired By The Life Of Forensic Anthropologist And Author Kathy Reichs" (6:43) featurette focuses on the source novels while season two's "Visceral Effects: The Digital Illusions of Bones" (13:18) is an early look at the show's CGI, while season six offers up un update with "The Visual Effects of Bones" (11:48) and season five's "The Bodies of Bones" (10:50) looks at the make-up effects of Kevin Yagher (A Nightmare on Elm Street 2: Freddy's Revenge) and crew. With Zack departing in season three, season four includes the featurette "Squints in Training" (9:49) while Sweets is memorialized in "Sweet's Sweetest Moments" (7:53) and co-stars Thyne and Vahdat discuss "The Nunchuck Way" (2:43) for season five's "The Devil in the Details". The directors get a spotlight in season three with "The Director's Take" featurettes, and all seasons apart from the first include gag reels of varying amusement. Some exclusive content might have made the purchase more tempting like a bonus disc or discs to fill out that blank space in the case could have been done without reauthoring the other discs.

Packaging


Fox has packaged the twelve individual season sets inside a large box with a slipcase cover. When Fox first released the season one set, it spread the episodes over four double-sided DVDs with lower bitrates to accommodate three to four episodes per DVD5 side while European territories got it as a six-disc set. The six disc has the same four episodes on the first side of the four-disc but is now dual-layered (we are not sure whether Fox upgraded the set for this release or if they had done it at an earlier point since the UPC code on the box leads to the four-disc edition). The remaining sets – including the seven-disc season four in the only double-wide case in the box – are identical to the individual season releases.

Overall


Although Bones did not go out on a high note, it still relatively absorbing for roughly nine of the twelve seasons and perhaps best enjoyed in staggered binge viewing with all episodes at one's disposal on streaming services or in this complete series set (although it may not be such a good deal for fans who have already purchased several of the sets individually despite an eye-catching case).