The Film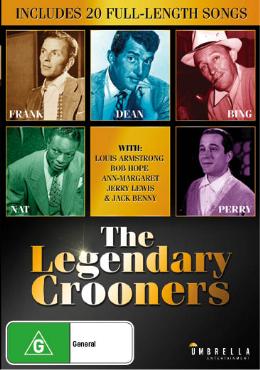 "The Legendary Crooners" (2007)

"The Legendary Crooners" features classic performances by Frank Sinatra, Dean Martin, Bing Crosby, Nat "King" Cole and Perry Como.

Bing Crosby is featured along with another performer, Louis Armstrong, on Now You Has Jazz. "Der Bingle" also takes a musical trip with Frank Sinatra as they perform "Mexicali Rose", "South of the Border", "I Love Paris" and more and are joined by surprise guest Bob Hope for The Road to Morocco.

The warm, easy-going style of Perry Como is on display as he performs "Hello Young Lovers" and sings an engaging duet with Ann-Margaret on "It Might as Well Be Spring". Then it's the "King of Cool" himself, Dean Martin, singing some of his biggest hits including "Oh, Marie" and "That's Amore" and clowning with his former partner Jerry Lewis and guest Jack Benny.

The lighter side of Nat "King" Cole comes across through his performances of "That's My Girl" and "Frim Fram Sauce". And for a finale, Frank Sinatra sings "Witchcraft" and gives us a musical history lesson along with Louis Armstrong in "Birth of the Blues".

The performances in this entertaining DVD prove why Frank, Dean, Bing, Nat and Perry ruled the world of popular music for many decades and are still loved today.

Incorporating vintage television variety show performances, interviews with historians and people from the music industry, and director narration, "The Legendary Crooners" is a very basic beginner's guide to who's who of the crooners that made their mark with their golden voices and personalities. Director Marino Amoruso has in the past edited and/or directed various television documentaries focusing on many subjects including sports and music, and while enjoyable as "The Legendary Crooners" is, it doesn't have much depth or substance to add to the performances. There are some narrated segments to introduce each of the singers plus additional interviews to supplement, but for audiences or fans looking to find deeper stories within the groove are basically sugarcoated with the standard biography paragraph.

Besides the singing scenes, the comedic moments on the variety shows are quite funny showing off the personalities of the singers. There are some off cuff moments such as an outtake with Como saying a swear word after a stagehand wanders on stage, Sinatra singing random selections on the spot, and how they interact with comedians on stage.

True music fans will be left wanting more as 20 songs and biographies of five singers all in the span of 64 minutes is way too short. For newcomers, it is a good start that does not overstay its welcome and creating new interest in the vintage music genre that may sound old timey, yet timeless.

Note this is a region 0 NTSC DVD which can play back on any DVD or Blu-ray player worldwide

Video


Umbrella Entertainment presents the documentary in non-anamorphic 1.33:1 in the NTSC format, with some minor portions in non-anamorphic 1.78:1. As it is made up of vintage footage from the 1950s and 1960s, do not expect a pristine picture. Even the filmed segments are taken from video masters so they are at least a generation away from the original image. Video portions lack depth, black levels are either too dark or not dark enough, and for the few color segments the colors are washed out. As for the newer interviews, they of course look better but one must wonder when they were shot. The documentary has a 2007 release date, but the interview segments are in the 1.33:1 aspect ratio shot on standard definition videotape, looking dated from late 90s or early 2000s. Overall the picture quality may look poor, but it is because of the source material rather than the transfer.

The film's runtime is 64:26.

Screencaps are as follows:


Audio


English Dolby Digital 2.0 stereo
While the video suffers, the audio actually fares much better. The vintage segments are presented in the original mono, with the newer interviews and narration in stereo. The audio for the vintage performances the vocal and music sound quite good with no issues of dropouts or audio errors in the mix. Some performances sound a bit flat and audience laughter and applause can sound tinny, but overall it keeps in tune with the vintage source rather than an unnecessary upscaled remix.

There are no subtitles for the film.

Extras


There are no extras on the disc.



Overall


"The Legendary Crooners" gives a quick glimpse a generation of musical geniuses in their prime, but 64 minutes is obviously way too short for the appetites of music fans, and the biographies are quite shallow without much depth. Umnbrella Entertainment gives a fair presentation though the vintage image and sound have their limitations.
| | | | | |
| --- | --- | --- | --- | --- |
| The Film: C | Video: C | Audio: B- | Extras: F- | Overall: C- |