The Film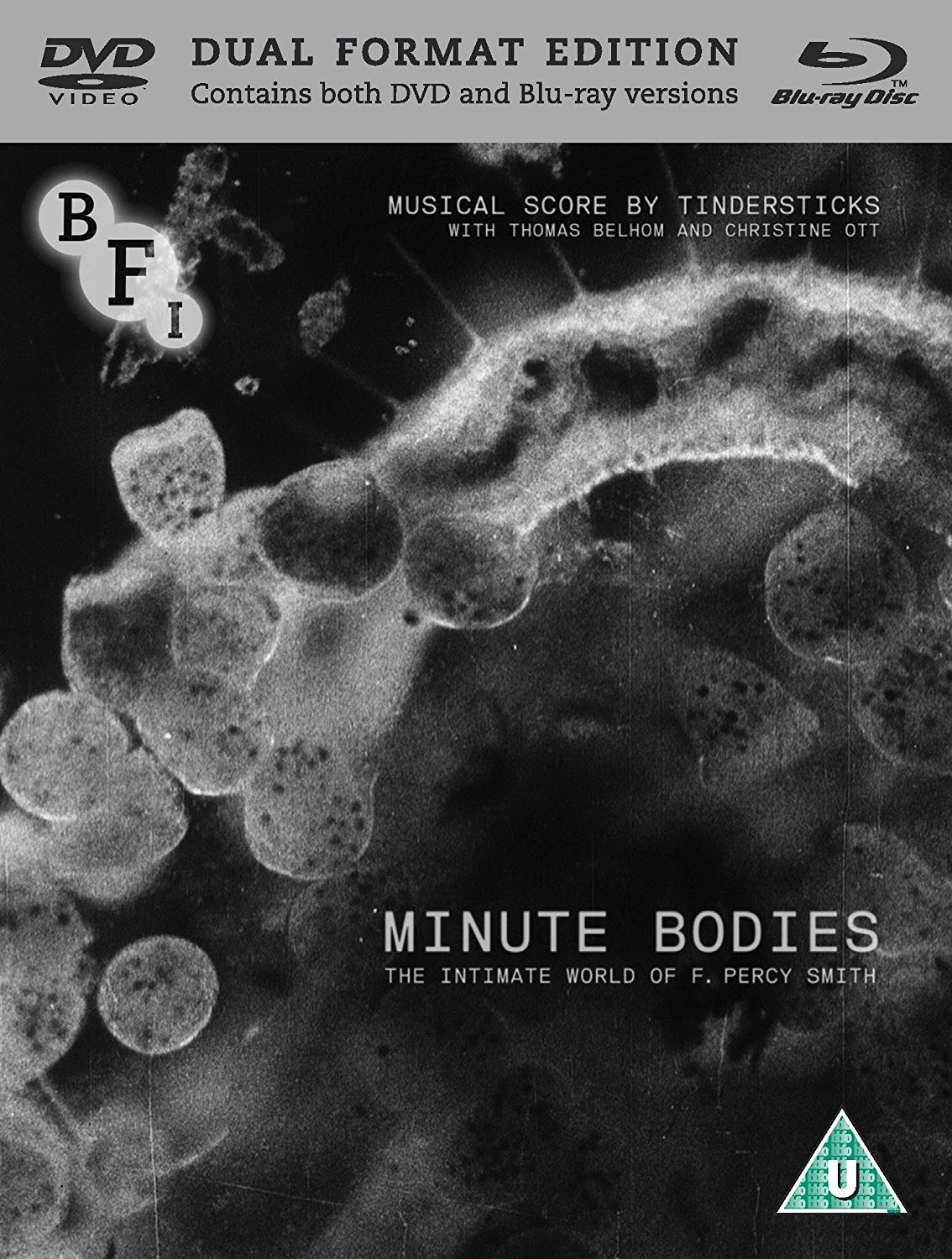 "Minute Bodies: The Intimate World of F. Percy Smith" (2016)

When one thinks of science class in school, there were many films and videos used to showcase things that were impossible to detect with the human eye. Plants growing seen through time lapse photography, microscopic worlds of blood vessels and amoebas, these made people see the effects of science through images and made non-scientists understand the complexities of biology and nature. But as with all scientific discoveries and inventions, who was the first to do such work?

Born on January 12th, 1880, Frank Percy Smith was a tech geek that was also interested in biology. His first job was a desk clerk at the Board of Education, but his big break came when film entrepreneur Charles Urban saw Smith's photographic work of nature. The documentary short film series "Unseen Worlds" directed by F. Martin Duncan was looking for a successor and Smith was producer Urban's choice. To capture on film the microscopic worlds on film, Smith pioneered in the use of microscopic photography. Using his own bathroom and backyard as a makeshift studio with controlled lighting, Smith shot an amazing amount of work using his complex rigging systems. Cameras were controlled like a cuckoo clock with shutters taking stillframes once every hour or so for days on end, all with personally crafted rigs and gears by Smith himself. The timelapse photography made it seem like flowers were growing and dancing or that mushrooms could reach for the skies. Using microscopes for lenses, tiny lifeforms were able to be seen without looking into an actual microscope with slides ready. People were able to see a world unknown, yet were always right in front of us all along.

"To Demonstrate How Spiders Fly" (1909) and "The Birth of a Flower" (1910) were landmark works of nature photography, pioneering the techniques of filmmaking, though World War I caused a slight disruption in the world of nature photography. Smith dedicated his efforts to photographing for the war for the Royal Navy, but was back to nature filmmaking in the following years. Works for the "Secrets of Nature" series from 1922 and the later "Secrets of Life" series in the 1930s, Smith's works were seen all across the world in not just scientific circles but to educational boards and cinemagoers. On March 24th, 1945, Smith was found dead in his home at the age of 65. The cause of death was suicide by coal gas poisoning.

Smith's films have never been out of circulation as the BFI holds most of his surviving work and very few are considered lost. But for modern audiences there are better and updated ways to see timelapse of nature photography in 3D, in color, and even through virtual access. Smartphones can do timelapse, zoom lenses on standard cameras can even do telescopic photography. But what makes the pioneering work of Smith's visuals continue to stand out? He was not a scientist by title, but was a naturalist and inventor by name. Like contemporary David Attenborough, Smith was a man fascinated by nature and was willing to go to far lengths to showcase and preserve science as a visual format for people who could never experience it. And like all pioneers, he continues to be celebrated, which in 2016 was given new life through "Minute Bodies".

A compilation of filmed images by Smith is accompanied by the music of Tindersticks in the 53 minute compilation piece, transforming his naturalistic works into an arthouse film, like a "Fantasia" for the avant garde. Directed and compiled by band leader Stuart A. Staples, the haunting music of Tindersticks accompanies the images with brooding tones, occasional heavy rhythms, and ambient music. The band's first album from 1993 simply titled "Tindersticks" was compared to the likes of Scott Walker, Nick Cave and the Bad Seeds, and Brian Eno, with its dark tones yet soulful moods earning the "best when depressed" tagline. Later albums continued with experimentation earning critical marks and even some minor commercial success with their 11 studio albums over the years. In addition, the band also contributed to film scores over the years, working closely with French filmmaker Claire Denis on 6 of her films including "Nenette et Boni" (1996) and "White Material" (2009). Band member Dickon Hinchliffe has also composed for films such as "Red Riding: In the Year of Our Lord 1980" (2009), "Shadow Dancer" (2012) and "Locke" (2013).

Breathing new life into these works, it is interesting to see how one man was able to capture so much of life's mysteries all within his own home in Southgate, London, England. Smith may not have been a scientist or an artist, but he certainly was an artisan.

Note this is a region ALL Blu-ray which can be played back on any Blu-ray player worldwide

Video


The BFI presents the film in 1080p in the AVC MPEG-4 codec, in the original 1.33:1 aspect ratio. Considering much of the filmed material is over 100 years old, the images can look anywhere between incredibly scratchy to lightly damaged. It varies from shot to shot, but overall the image is fairly consistent. There are scratches and debris on the film, there are slight warps to the frame, but they are all in a watchable state. The original films of Smith were preserved in 2K from the original films preserved by the BFI, and the compilation film was edited using the remastered digital masters. Shots of flowers can look gorgeous while shots of bees can look blurry, but all in all is a fine experience that is keeping with the aesthetic look.

The film's runtime is 53:10.

Audio


Music LPCM 2.0 stereo
The score composed and performed by Tindersticks is presented in 2.0 lossless stereo. There isn't a large amount of stereo separation in the score, with most of the instrumentation pointed towards the center. Being a minimalist score, instruments are clear and precise on a low level, with no issues of audio distortion or errors in the transfer.

There are no subtitles for the film as it is made from silent works and there are no vocals in the audio track. Though strangely Stuart Staples and Christine Ott are credited with "singing" in the credits.

Extras


"Minute Bodies" is a dual format set, with the Blu-ray that includes the film and the extras and the DVD with the identical content on region 2 PAL disc.

"The Birth of a Flower" 1910 short (7:44)
Smith's landmark short film using timelapse to showcase the growth of various flowers. There are various tinted shots used here rather than the pure black and white seen in the "Minute Bodies" film. The music is provided by Audio Network.
in 1080p AVC MPEG-4, in 1.33:1, music LPCM 2.0 stereo with English intertitles

"The Strength and Agility of Insects" 1911 short (6:15)
A reissued version of Smith's "The Balancing Bluebottle", this short features flies, scorpions and others showing their unrivaled movements and strengths such as a little fly being able to juggle a cork which is many times the size of its own body. The music for the short is composed by Chris Zabriskie.
in 1080p AVC MPEG-4, in 1.33:1, music LPCM 2.0 stereo with English intertitles

"The Wonders of Harmonic Designing" 1913 short (3:19)
An atypical film by Smith, as it does not showcase nature. Instead this film shows how a harmonagraph is used to create visuals using the machine through pendulums like an automated spirograph. As this is taken from a German print, there are German titles on screen. Music for the short was provided by Audio Network.
in 1080p AVC MPEG-4, in 1.33:1, music LPCM 2.0 stereo, with optional English subtitles for the German intertitles

"Plants of the Underworld" 1930 short (11:10)
This "Secrets of Nature" series short subject focuses on mushrooms and fungus, using timelapse photography with narration provided.
in 1080p AVC MPEG-4, in 1.33:1, in English LPCM 2.0 stereo with no subtitles

"Nature's Double Lifers - Ferns and Fronds" 1932 short (10:00)
This short focusing on ferns and its relation to the plant and animal world also features animation to tell its story, with narration.
in 1080p AVC MPEG-4, in 1.33:1, in English LPCM 2.0 stereo with no subtitles

"He Would A-Wooing Go" 1936 short (8:20)
This short in the "Secret of Life" series looks at the life cycle of frogs, starting from tadpoles to its later full grown form. The narration track is a little low compared to the music score on this particular short.
in 1080p AVC MPEG-4, in 1.33:1, in English LPCM 2.0 stereo with no subtitles

"Lupins" 1936 short (10:22)
This "Secrets of Life" short is another flower life cycle showcase, using timelapse and microcinematography to let viewers see from pollination to growth.
in 1080p AVC MPEG-4, in 1.33:1, in English LPCM 2.0 stereo with no subtitles

"The Life Cycle of the Newt" 1942 short (10:26)
Salamanders and newts are shown here in their lifecycles, with brief animation sequences mixed in.
in 1080p AVC MPEG-4, in 1.33:1, in English LPCM 2.0 stereo with no subtitles

DVD Copy
The DVD offers identical content but on a PAL region 0 DVD.

Booklet
A 28 page booklet with essays, stills, and credits are included. The first essay by director and Tindersticks leader Stuart A. Staples is on the making of the film and the score. The second essay is by BFI silent film curator Bryony Dixon entitled "Exploring the Infinite: The Minute World of Percy Smith". There are excerpts from documentary filmmaker Grahame Tharp on Smith plus a biography written by Dixon and an analysis of his overall work. Dr. Tim Boon gives multi-part essay on Smith entitled "What Kind of Scientist Was Percy Smith?" which is a fascinating read. In addition the booklet has film credits, original film credits, extras credits, and acknowledgements.

Overall


Without F. Percy Smith, it would be hard to imagine how science could be perceived by the modern public. His work in technologically advancing cinematography for microscopic worlds and timelapse photography are undeniable, reaching out to not just the science world but to also cinema altogether. "Minute Bodies" is both a tribute to the man and the work while also showcasing the 100 year old films to a 21st century audience and for generations in the future. The BFI presents the film with an excellent transfer in both audio and image, with additional shorts for accompaniment. Very recommended.
| | | | | |
| --- | --- | --- | --- | --- |
| The Film: A | Video: B | Audio: B+ | Extras: B | Overall: B+ |