The Film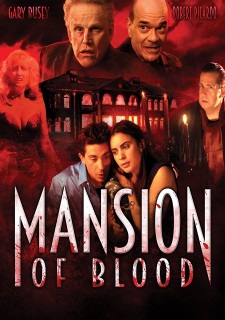 Mason Murphy (producer Ray Quiroga) returns to his Iowa hometown a millionaire and decides to show off to the locals by buying and restoring the Mayhew Mansion – nicknamed by "Mayhem Mansion" after "only a few workers died" during the restoration – and throw a high society eclipse viewing party on the ninetieth anniversary of the mysterious death of Morgan Mayhew (producer Tom Tangen) – an occultist rumored to have thrown orgies and conducted sιances in the twenties – and the disappearance of his wife Miribelle. Apart from some decorative hot-tubbing models and the long-suffering staff – nocturnal bartender Aaron (Brett Davis), hunky gardener Gunner (Bradley Dodds), event planner Samuel (The Howling's Robert Picardo) and his caterer wife Trixie (Lorraine Ziff), and Mason's own beaten-down brother Michael (Mike Quiroga) who he has hired as a landscaper – just about everyone on the guest list has an ulterior motive for being there. The mayor (Trick or Treats' John Blyth Barrymore) – certain that no one of note is going to notice the accompaniment of his trashy mistress (Tia Barr's ) – is there to announce his reelection campaign (and collect a bribe for Murphy for overlooking some permit issues with the renovation), Mayhew's great nephew Arthur (also Tangen) is looking for the lost will that will hopefully bequeath the estate (long held in trust) to him, Mason's wife (Alicia Glaser) meets with a police detective she has hired to dig up evidence of her husband's infidelity but he tries to blackmail her to keep him from showing the evidence to their son Elijah (James Cavlo), douchey jock Drake (Eddy Salazar) is also looking for riches since his gardener great-grandfather also received nothing upon Mayhew's death, bro Mark (Patrick Koffel) is looking to score, and lovesick singer Tony (Sam Stone) is hoping to win the heart of a would-be actress Sarah (Tegan Webster), part of the "Terrible Trio" with Sally (Jennifer Tapiero) who is stalking Drake, and Samantha (Sarah Alami), a witch who uses the power harnessed by Mayhew's trophy Mayan calendar stone to summon up the ghost of her boyfriend (Aiden Simko) to discover the location of an unclaimed winning lottery ticket. Unfortunately, Samantha realizes too late that she has cast a spell at the start of the Mayan New Year. The eclipsed moon turns blood red and freezes in the sky as zombies from the nearby graveyard prevent people from leaving, demons, knife-wielding little people, a mummy, a werewolf, a vampire, and various spirits bedevil the guests, and demonic forces play on their fears and drive them to death or to murder others, much to the entertainment of major domo Zacharia (Silver Bullet's Gary Busey).

Boasting terrible CGI, terrible make-up effects, terrible performances – apart Picardo, the late and truly venerable Carla Laemmle (whose 2012 death at 104 years of age suggests the film had a protracted shoot/post period), and some of the supporting actors who are quite decent – Mansion of Blood's chief sin is its execution. The basic plot has legs but the pacing is listless, the characters uninteresting, and a little T&A comes too late in the film. Had such a project been mounted thirty years ago, the likes of Empire Pictures' Charles Band, Fred Olen Ray (The Tomb), or Jim Wynorski (The Lost Empire), it would have been executed with better aplomb and its cast stocked with more interesting stars of B-movie yesteryear rather than Old Hollywood-adjacent personas from Tyrone Power Jr. (Cocoon), Calista Carradine () – first wife of the late David Carradine () – Tom Sizemore's younger brother Paul, David Hasselhoff's ex-wife Pamela Bach, Tobey Maguire's mother Wendy Lee (although appearances by The Outlaw Josey Wales' Cissy Wellman and Mighty Joe Young's Terry Moore) are entertaining). Producer Quiroga at least goes back as far as late eighties low budget horror as producer of Deryn Warren's trio of direct-to-video horrors Mirror of Death, Bloodspell, and the slightly higher-budget Black Magic Woman, and the respectable photography is the work of Scott Ressler who went from working as an assistant cameraman on Fred Olen Ray's early Hollywood efforts to become DP Peter Deming's operator of choice from the Scream trilogy onwards to the current episodes of Twin Peaks. Production values are respectable and a smaller cast of characters (and better actors) might indeed have made this more enjoyable, like a modern The House on Haunted Hill (the 1959 version).

Video


Tomcat's progressive, anamorphic single-layer DVD gives respectable if unspectacular treatment to a well-photographed HD production (apart from the CGI enhancements).

Audio


No issues with the Dolby Digital 2.0 stereo track in rendering the score, dialogue, or sound design.

Extras


The sole extra is a trailer (1:02) for the film that is overmatted to 2.35:1.

Overall