The Film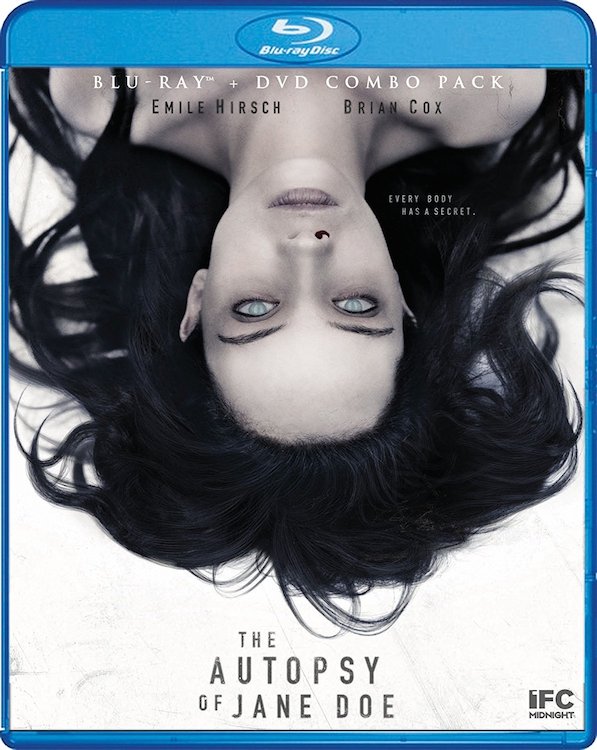 In my official capacity as a jaded thirty-something horror fan, it isn't often that a film is able to really surprise me these days. That isn't to say there aren't plenty of films each year that blow me away by either smashing expectations or doing something already done, only better. But there just aren't many movies that keep me guessing right up to the big reveal - not just about the specifics of a plot, but everything about the film's very nature. "The Autopsy of Jane Doe" (2016) manages to remain enigmatic throughout, anchored by a unique take on a woefully underused sub-genre with a trio of very good performances. The film picked up a healthy level of film festival buzz last year, with glowing praise coming from numerous outlets and even the King of Horror himself, Stephen King (who, to be fair, is not the barometer anyone should use for cinematic taste). I have also seen reviews that criticize the lack of action/slow burn style (GTFO) or the use of horror tropes which, while definitely there, are used to great effect and only serve to further the endless suspense revolving around a young girl's very dead and very bizarre body.

Police are baffled at the scene of a mass murder, where all the victims died brutally but were unable to leave the home despite no clear reason why. In the basement, they find a pale dead girl (Olwen Kelly), half buried in the ground. She is exhumed and taken to a father-and-son coroner operation run by Tommy Tilden (Brian Cox) and his son, Austin (Emile Hirsch). Although Austin is all set to take his girlfriend, Emma (Ophelia Lovibond), on a date to the movies the strangeness of the situation causes him to stay and work through the night with his father. Upon examining the body, the two are stymied by a number of curiosities – peat found under her nails, both ankles and wrists fractured, and her tongue looks like it was cut out. Furthermore, her lungs are blackened (consistent with third-degree burns despite no exterior signs of burning) and her internal organs show injuries consistent with being stabbed or sliced. As skin is peeled away from muscle and her innards more fully revealed, strange phenomena begin to occur within the bunker-style mortuary as Tommy and Austin come to the conclusion all of this is somehow happening because of Jane Doe's body… and she may not be so dead after all.

To say anything more would be a disservice to the film. This is one of those rare instances where I have gone into a film completely blind – purposely avoiding even a hint of the story so as not to spoil a thing – and, man, did that make for a splendidly terror-ific viewing. As a person who uses the internet, I am guilty of spoiling parts of films for myself that should have been saved for the big (or small) screen. All I knew about "The Autopsy of Jane Doe" was that it is a chamber movie with a small cast and a dead girl's body that slowly produces answers to the question of who she is and how she died. Revealing even basic truths, such as the sub-genre, would spoil some of the mystery. All of this is not to say "The Autopsy of Jane Doe" is wholly original because, as mentioned earlier, the film does employ a handful of standard genre clichés but it leans into them and uses them to their greatest affect, in turn giving the movie strong emotional moments. An over reliance on clichés can be a problem for some films, but using them sparingly for maximum impact isn't damning. Also, making a movie 100% devoid of clichés is easier said than done.

If the director's name, André Øvredal, isn't ringing any bells (pun intended – you'll get it after seeing the movie) then the name of his 2010 feature should help: "Trollhunter". That picture, too, was packed with palpable moments of tension and remains one of the few "found footage" movies to use the now-reviled sub-genre to fantastic results. And again, he did so with a lesser used subject in horror. Øvredal gets a chance to show how beautiful he can make "ugly" movies look with "Jane Doe", something that wasn't exactly on display in his found footage feature. Even the eponymous female is a thing of beauty, looking elegant and pure even when Tommy and Austin are elbow-deep in their job. The revolting-yet-routine job of dissecting corpses is shown in visceral detail, almost like an educational video. The decision to film in scope makes their environment seem expansive; giving the small surroundings a grand feel that suggests horror could be lurking far and wide, just out of reach but always coming.

Øvredal is two-for-two in my book. "The Autopsy of Jane Doe" lived up to the hype and then some, all thanks to a strong sense of mystery that I felt remained consistent throughout. Cox and Hirsch make for a great leading duo, with Hirsch in particular reminding viewers that he is still a damn good actor despite being out of the big screen eye for the past couple years due to a highly publicized incident at Sundance. If these two consecutive projects are any indication of how Øvredal's filmography is going to play out, there is much to anticipate.

Video


Beautifully shot at 2.40:1, with a stunning 1080p 24/fps AVC MPEG-4 encoded image, "The Autopsy of Jane Doe" makes for a near-perfect picture. There is no grain due to the digital photography, and the image is devoid of any blemishes. Colors are often natural, though clearly graded heavily during some scenes, and black levels retain their inky quality. The level of detail present throughout, especially during the autopsy scenes, is unsettling and authentic. Much of the film takes place in an underground bunker, with low lighting conditions, but the image never falters or loses information to the shadows.

Audio


An English DTS-HD Master Audio track is available in both 2.0 stereo and 5.1 surround sound. The multi-channel track trumps the stereo option by allowing the nuances of the sound field to permeate from all four corners of the room, enveloping the viewer in the Tilden's claustrophobic environment. Dialogue is clear and nicely balanced. The score by composers Danny Bersi & Saunder Jurriaans is unnerving at times, nicely complementing the events unfolding on screen. Subtitles are available in English and Spanish.

Extras


Unfortunately, the bonus features are beyond "light", with only a few promotional items available. A feature-packed edition has been released by Umbrella Entertainment in Australia, a consideration for fans who want a little something more after enjoying the film.

DISC ONE: BLU-RAY

Two TV spots (1080p) run for 1 minute and 4 seconds.

Two teaser trailers (1080p) run for 2 minutes and 20 seconds.

The film's theatrical trailer (1080p) runs for 2 minutes and 12 seconds.

DISC TWO:

This is a DVD copy version of the film.

Packaging


The single disc comes housed in a standard Blu-ray keep case.

Overall


Taut, tense, and cryptic "The Autopsy of Jane Doe" is original horror with a great, unexpected take on a scarcely used sub-genre. Øvredal proves once again he has the goods to make a film suspenseful and engaging. Cox and Hirsch deliver commendable performances, as does Kelly who despite being a corpse manages to be the heart of the film, so to speak.
| | | | | |
| --- | --- | --- | --- | --- |
| The Film: B+ | Video: A- | Audio: B+ | Extras: D+ | Overall: B |