The Film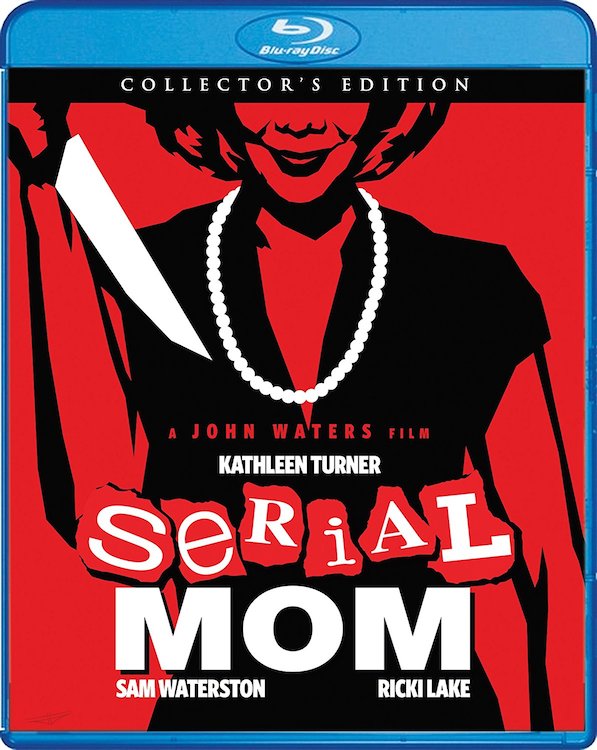 John Waters' style is generally understood among serious cinema aficionados, enough so that anyone going into one of his pictures would rightly expect two things: subversion and perversion. His early films were packed with both, usually earning an "X" rating when it came time for general release. He softened a bit in the late 80's and began making pictures with a little more commercial viability, albeit still without major success. After delivering back-to-back retro musicals, Waters turned to a more serious subject: murder. Tackling serious subjects with gallows humor requires a delicate balance of both. Waters perfectly nails the balance between happy home and horror with "Serial Mom" (1994), a subversive serial killer satire that plays against expectations. Making his murderer a housewife whose chipper disposition belies the bloodthirsty monster within tackles many slasher stereotypes with tongue planted firmly in cheek. I became a fan when the film hit VHS a few months after it bombed in theaters, and it's a title I revisit yearly because even after dozens of viewings Waters' film feels fresh and relevant as ever.

The following is based on a "true story". Beverly Sutphin (Kathleen Turner) is the perfect housewife, doting to her husband, Eugene (Sam Waterson), and firm parent to her two children, Misty (Ricki Lake) and Chip (Matthew Lillard). She cooks breakfast. She sings to the birds. She absolutely detests chewing gum. Oh, and she is secretly a psychopath who torments her neighbors over the slightest of transgressions. Poor Dottie Hinkle (Mink Stole) has been receiving harassing calls for weeks from an anonymous person, with the caller (Beverly) spewing every vile epithet in the book. Dottie's "crime"? She inadvertently stole Beverly's parking space one afternoon. It does not take much to get on her bad side.

Beverly's bloodlust begins to boil over and it isn't long before she escalates her predatory game to include killing. First, a schoolteacher is run down; next, a former lover of Misty's is impaled with a fire poker; more follow, none of whom did anything so terrible as to deserve death. But Beverly just can't let anything go, and if she doesn't give some comeuppance when she feels it's due, well, again, you don't want to get on her bad side. The woman is impressively relentless. Eventually it gets to the point where Beverly isn't even trying to conceal her actions, running off on a killing spree with childish glee whenever the urge strikes. But as the police close in and her reign of terror on the streets seems over, the true nature of media takes over and suddenly Beverly finds herself in a surprisingly favorable position: America's "Serial Mom".

Who would ever suspect the neighborhood super mom of being a killer? Nobody, especially when she's played by Kathleen Turner, who delivers a twistedly twee performance as the can-do mom with half her marbles missing. Beverly is a true psychopath with no consideration for the extremity of her actions. In her mind everything is justified. She relates to men who kill. The woman even keeps a correspondence with Ted Bundy! The film leaves it ambiguous as to whether or not Beverly has been killing all this time or if it is a new venture, but Waters provides a number of little character moments to show this is no fly-by-night "hobby". Turner plays the character as someone who is always in control, or at least thinks she is, although she doesn't seem to grasp there is something wrong with her mind. Her face and mood can turn on a dime, dropping the daytime housewife routine to show her true nature. But these moments are filled with constant levity because Waters always keeps it over the top.

Beverly also gets the award for Most Inventive Weaponry because victims in this film are killed with a fire poker, air conditioning unit, public pay phone, and a leg of lamb. And since she always needs the last word, Beverly usually tosses in a sarcastic quip after doing the deed. Her hubris only intensifies after being arrested, and that's when Waters turns his lens on the bizarre celebrity of serial killers. Beverly, acting as her own attorney, argues her case to a sympathetic jury and a crowd of fervent supporters; everyone just likes her so much, how can she lose?! Misty takes to selling branded "Serial Mom" t-shirts outside the courthouse, the crowd snapping them up as quickly as possible. Even before the trial ends a film version is announced and Suzanne Somers, set to star, shows up in court. This is true of murder culture still, where the killers wind up with more press and notoriety than any victims. These infamous celebrities captivate the public and almost become mythic despite their vile actions. Waters, unable to resist every attempt at irony, ends the trial with a reminder that a tiger can't change its stripes – and it doesn't even want to.

"Serial Mom" is Waters' vision of June Cleaver by way of Herschell Gordon Lewis (whose pictures are referenced throughout). Absolutely madcap and reveling in cathartic fantasy, it is a rare dark comedy that is so absurd it can be easy to forget how deeply disturbing it is at its core. Turner leads the pack, but strong supporting turns from the likes of Waterson, as the clueless husband; Lillard, as the horror-obsessed son forced to accept his mother as a slasher icon; and every other cast member on the down the line has the film brimming with colorful personalities that resonate. Mary Jo Catlett as Rosemary Ackerman, the nosiest neighbor on the block, sticks in my mind so clearly; her wonky eye contorting as she decries to the police, "It was covered in gore!" "Serial Mom" has more than earned its place among cult horror comedies and Scream Factory deserves high praise for giving it the feature-rich edition fans have been craving.

Video


"Serial Mom" makes its stateside Blu-ray debut via Scream Factory, featuring a 1.85:1 1080p 24/fps AVC MPEG-4 encoded image This is a clear upgrade over both previous DVD releases, and it is on par with the U.K. Blu-ray that has been available for some time. Scream doesn't tout any new scan information, so I can only assume this is, in fact, that same master used for the foreign release. And it looks perfectly fine, although I can't help but think a new 2K (or 4K) scan might have yielded a tighter image with more fine details. Colors appear natural and neutral; they are bold but never quite leap off the screen with any pop. Detail within the frame is frequently evident and often sharp, though there is slight softness to many shots that may be inherent due to the time period Waters is channeling. The print is clean and free from dirt & debris. Black levels are rich and dark.

Audio


I was a little shocked to be reminded the great Basil Poledouris composed the score, something that sounds very much outside his wheelhouse. The English DTS-HD Master Audio track is available in both 2.0 stereo and 5.1 surround sound flavors. Dialogue is expertly balanced and constantly clear; the baritone delivery of "pussy willows" has never sounded fuller. Much of the audible action is relegated to the front assembly, though the rears do come into play for courtroom chatter, roaring car engines, and during the performance by Camel Lips (actually L7), which is ear shattering in its own right. Subtitles are available in English.

Extras


A number of bonus features have been carried over from the previous "Special Edition" DVD, and Scream Factory has also produced one new extra that, while a tad redundant, is a fun watch.

There are two audio commentary tracks; one with director John Waters and actress Kathleen Turner, the second a solo track featuring only director John Waters.

"In Conversation with Director John Waterss, Actress Kathleen Turner, and Actress Mink Stole" (1080p) featurette runs for 34 minutes and 27 seconds. This newly-produced piece features three of the film's principals sitting down on a couch for a three-way chat-fest that is a bit unfocused and occasionally awkward, though there are some fun bits of friendly banter and a few anecdotes fans may not have known.

"The Making of Serial Mom" (SD) is a featurette that runs for 6 minutes and 6 seconds. This standard EPK from 1994 features the requisite interviews from cast & crew, covering whatever possible in scant time.

"Serial Mom: Surreal Moments" (SD) is a featurette that runs for 29 minutes and 6 seconds. Aside from Turner, most everyone involved with the film sits down for this undated making-of retrospective to discuss their roles, the impact of the film, influences, etc.

"The Kings of Gore: Herschell Gordon Lewis & David Friedman" (SD) is a featurette that runs for 11 minutes and 26 seconds. This piece examines a few of Lewis' most infamous works and how they inspired Waters while making this film.

A theatrical trailer (SD) runs for 2 minutes and 28 seconds.

Packaging


The single disc comes housed in a standard Blu-ray keep case. The cover art is reversible, allowing for display of the simple key art of the new, and also simple, artwork. A slip-cover featuring the new art is available on first pressings

Overall


Just as side-splittingly disturbing as it was nearly 25 years ago, "Serial Mom" is an example of pitch black comedy done pitch perfect. Turner is devilishly mad as the suburban slasher who can turn her smile upside down just as quickly as she churns out an army's worth of morning breakfast. Scream Factory's Blu-ray is a boon for fans that have been craving this cult comedy in HD along with a smattering of worthwhile bonus features.
| | | | | |
| --- | --- | --- | --- | --- |
| The Film: A- | Video: B | Audio: B | Extras: B | Overall: B+ |