The Film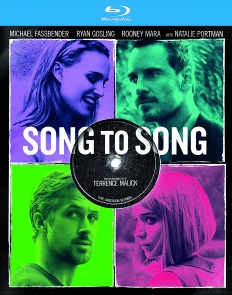 Long estranged from his father and worried about the security of his mother (The Good Wife's Linda Emond) and troubled younger brother (Far From the Madding Crowd's Tom Sturridge), BV (Drive's Ryan Gosling) arrives from the Midwest to become a singer and is picked up by music mogul Cook (Shame's Michael Fassbender) who introduces him to the possibilities and pleasures of fame. Faye (The Girl with the Dragon Tattoo's Rooney Mara) also came to Austin to become a musician but has only gotten as far as Cook's bed, passing the days as a realtor of upscale apartments while trying to convince her father (October Sky's Brady Coleman) that she is fulfilled. BV and Cook form a brotherly bond while BV starts dating Faye without knowing of her past with Cook. Cook finds himself not jealous of BV and Faye, but by their happiness – which he tells us in narration "makes me ugly" – and sweeps waitress Rhonda (Black Swan's Natalie Portman) off her feet in an attempt to emulate the other relationship, not realizing that Rhonda is desperately seeking security for herself and her mother (Longmire's Louanne Stephens) in the wake of her late father's embezzlement scheme. The relationship sours between BV and Cook as BV has come to resent Cook's ability to make anything happen for him without feeling as if he as earned it, and Cook – having felt enriched by what he felt was a creative collaborative relationship – has come to believe that BV is "looking down" on him and resents that the younger man has never had to get his hands dirty because of everything Cook has done for him. In retaliation, Cook offers to sign Faye under contract, driving a wedge in between the two when BV learns of their past relationship (and not yet knowing that she has continued seeing Cook while with BV). Faye squelches her ambitions for a time and returns to realty but eventually pursues her ambitions, finding the experience equally empty as she tours with a rock band – lead by Duane (Heat's Val Kilmer) – falling back on bad habits and continuing to neglect her creative ambitions. Despite plenty of diversions, Rhonda has also come to feel as though she is a prisoner of her own choices, including the whims of husband Cook for whom marital bliss has not supplanted his more hedonistic desires.

Song to Song, the latest from Terrence Malick (Days of Heaven), is a semi-improvised, free-form tone poem on man's search for meaning with a strangely reductive emphasis on daddy issues set largely against the backdrop of the Austin, Texas music scene. The first hour of the two hour and ten minute film is a belabored slog of setup with fish-eyed views of music concert audience antics, cutaways to studio sessions with real artists famous and lesser-known, and wide-angle sequences of the alienated quartet of principals wandering expansive landscapes or stark white-walled luxury apartments with billowing drapes asking each other probing questions or MOS sequences of the principals wandering around set to narration by Faye, BV, or Cook (all of which was recorded prior to the film's production phase with Fassbender noting in an interview that he was not certain how much of the "reams and reams" of it if any would actually be used in the film). The film becomes more interesting once a modicum of tension is introduced when BV starts suspecting involvement between Faye and Cook (as with other dramatic developments, the beats leading up to this are elided either by the partial scripting or the editing down from an eight hour first cut) and the film's chronicling the three principals (fourth-billed Portman really only has scarcely more screentime than and dialogue than Kilmer, Cate Blanchett, or Holly Hunter) in their separate wanderings, with Faye exploring a male audience-pleasing lesbian dalliance with Zoey (Skyfall's Bérénice Marlohe), BV's attempt at collaboration with Swedish singer Lykke Li (La La Land's Gosling actually spends little time in the film singing and the lyrics are pretty trite when he does) and in a few dalliances while coming to the conclusion "It'd be awful to have these good times and not have life itself," and Cook beds more hookers and wanders the backstages of outdoor concert venues. Singer Patti Smith provides sage advice to Faye in a couple scenes, and one of the thematic threads that may have been lost to the editing or never explored seems to be the frustration of young artists searching for the same kind of authentic meaning that they glean from the songs of musicians who have influenced them; indeed, one starts to wonder if Faye is just masochistic or manufacturing misery to inspire artistic angst. Musicians as seasoned as Iggy Pop, Johnny Rotten, and Red Hot Chili Peppers or fresh as Florence Welch, Big Freedia, and The Black Lips pass through the film like cameo players in a Robert Altmanfilm while the almost non-stop soundtrack switches source cues between performance and underscore as if they editing had been determined by Malick shuffling through the playlist of his media player from techno to country to rock to rap to classical cues (with heavy use of Krzysztof Kieslowski-regular composer Zbigniew Preisner's "From the Abyss" from the "Diaries of Hope" album written with Lisa Gerrard). The production design of Jack Fisk (Phantom of the Paradise) and cinematography of Emmanuel Lubezki (Birdman) – both Malick regulars – are gorgeous to behold (particularly the sequences set in Yucatán), but the film is more interesting for the themes and ideas it hints at than for the anything that happens onscreen or the unfocused work of its stars.

Video


Shot on a mix of Arri Alexa, Arriflex 35mm, GoPro, and Red camera models mixing Super 35mm and various HD video formats (the feature was projected in D-Cinema rather than scanned to film), Song to Song looks picture-perfect in Broadgreen's high bitrate 1080p24 MPEG-4 AVC 2.40:1 widescreen encode which is heavy on fish-eye and wide angle shots, wide angle close-ups, and macro details. While the film probably looks even better on the label's 4K UltraHD Blu-ray, but one wonders why pick this for that format rather than the more visually adventurous The Lost City of Z.

Audio


The sole audio option is a lossless DTS-HD Master Audio 5.1 track that a disclaimer recommends be played loud, which would probably would make some of the improvised and soft-spoken dialogue and scripted narration clearer while letting the music overwhelm the listening experience. Optional English SDH subtitles are included.

Extras


The sole extra is a paltry "The Music Behind the Movie" (2:01) featurette along with an Also from Broadgreen Pictures trailer reel featuring seventeen titles (four of which also appear as start-up trailers before the main menu).

Overall


The latest from Terrence Malick is more interesting for the themes and ideas it hints at than for the anything that happens onscreen or the unfocused work of its stars.