The Film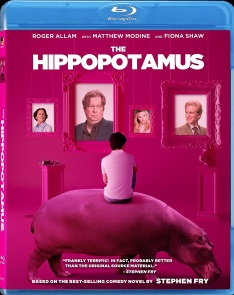 After video of his drunken outburst at a 300-influenced performance of Shakespeare's "Titus Andronicus" – which he describes as "loose-stooled effluent" – goes viral, former poet Ted Wallace (The Queen's Roger Allam) also becomes a former drama critic. Finding himself spent when attempting to turn "blood into ink" with another poem, Ted fortuitously runs into beautiful Jane (The Inbetweeners Movie 2's Emily Berrington) – the daughter of his former lover Rebecca (Harry Potter and the Sorcerer's Stone's Geraldine Somerville) who he publically humiliated on television – who has an unusual proposition for him. She reveals that she was diagnosed with leukemia and given three months to live but she believes herself miraculously cured after a visit to the family estate of Swafford. Jane offers Ted a hundred-thousand pounds to go to Swafford and investigate, offering no more information that he needs only to keep his eyes open and will know it when he sees it. Feeling pity for the dying Jane ("Poor old Jane, you senseless cow") and in need of money, Ted wangles himself an invite to Swafford under the guise of reconnecting with his godson David (The Sarah Jane Adventures' Tommy Knight). Upon arrival, he finds that David's father Michael (Full Metal Jacket's Matthew Modine), a wealthy American who married into cash-strapped British aristocracy and was knighted "after doing something sinister for Margaret Thatcher in the late 1980s", still carries a grudge against him and does not even soften when Ted tries to flatter him by claiming that he is interested in writing a biography of himl; indeed, he becomes even more suspicious but reluctantly welcomes him back to Swafford. Keeping contact by text and video chat with Jane, Ted is almost immediately at a loss as to what he is to look out for. Michael's elder son Simon (Doctor Strange's Dean Ridge) is boringly conventional while awkward-aged David aspires to flowery and trite poetry. David's mother Anne (The Butcher Boy's Fiona Shaw), however, is concerned about David flustering people with sexual trivia, his seeming lack of self-awareness, and his habit of disappearing into the woods after dark. Spending time with David, he reads between the lines of the younger man's poetry and finds odes to masturbation. Anne is disturbed by this but Ted tells her that it is normal for a boy David's age to be preoccupied with sex but does recognize the possibility of an issue if one is a substitute for the other. With the weekend come guests: "celebrated theater director and prolific buggerist" Oliver Mills (MI-5's Tim McInnerny) hoping to convince Michael to fund a new production, as well as "charmingly high-breasted and fiercely fuckable" Valerie Richmonde (Split's Lyne Renee) to purchase a horse from the Logan stables for her "snaggletoothed myopic hobbit" daughter Clara (Emma Curtis). It is with this new development that Ted's suspicions are raised in their collective interest in David who they seem to believe capable of performing miracles. Far from being a skeptic, Michael reveals that his father had the gift and he became convinced that it skipped a generation when David saved his mother from an acute asthmatic attack (of which she has hand none since). Simon reluctantly corroborates the story as told by Michael and witnessed by himself but Ted is unable to believe it unless he has seen it himself; but Michael is uncertain of whether it is better to keep his son's abilities a secret or give him over to the world as a healer. Ted surmises that Oliver hopes to have his angina cured and that Valerie wants her daughter made beautiful, and that Michael is unaware of the plotting that is going on under his very roof. Ted is still unable to accept David's abilities when he apparently is responsible for curing Clara's horse which had fallen mysteriously and deathly ill the day before. Upon comically discovering that David's healing power require a bit more than a mere laying of hands, Ted is able to piece together disparate information into an explanation behind David's abilities with tragic effect.


Based on the comic novel by actor Stephen Fry (Jeeves & Wooster), The Hippopotamus is part English comedy of manners and part country house mystery with mocking references to Hercule Poirot and Sherlock Holmes. The what- and whodunit-ness, as such, has as much precedence as Ted's deep-rooted cynicism and combination of resentment that he has not been the recipient of such a miracle and the belief that his soul would not be pure enough to accept it if offered. It does appear for much of the running time that the film is a piece of magical realism where Swafford may or may not work its miracles psychologically, and there is deliberate misdirection in Ted being constantly told that all he needs to do is open his heart. Underneath the surface trappings and the boundless wit of Fry's prose are underlying themes about the destructiveness of repression, projection, and misdirected desires ("if your son is writing metaphysical art spunk and not simply filling soft fabrics with human hand cream, then there is a problem") that are almost Gothic (along with some pointed commentary about a culture that "rewards different and special"), and so aptly deconstructed by Ted when he gathers everyone together in mystery novel fashion to tell them the solution (which gives Ted no pleasure and proves for him as devastating as for the others); and yet, the film remains funny, even hysterically so as the cutaways graphically visualize things so often left to be implied without condescending to the gross-out levels of American comedy. Being Human's Russell Tovey has a throwaway role as Ted's newspaper editor while 8 ½ Women's John Standing plays family butler Podmore ("The greater the discretion, the larger the tip").

Video


Photographed with the Arri Alexa camera and Hawk anamorphic lenses (which apply a slighter squeeze than conventional 35mm anamorphics to give the same 2.39:1 stretched scope ratio with wider 16:9 sensors), The Hippopotamus looks fantastic on Lightyear's single-layer 1080p24 MPEG-4 AVC 2.40:1 widescreen encode with nice detail in the facial features, gleaming woodwork and murals in the West Wycombe Park house interiors, and craggy brickwork, mossy stone, and rustic exteriors.

Audio


Although the disc includes a lossless DTS-HD Master Audio 5.1 track, the default option is a Dolby Digital 5.1 encode. Unlike Lightyear's disc of Tanna, however, both tracks are selectable from a setup menu along with optional English SDH subtitles.

Extras


Extras start off with "From Book to Screen" (7:27) in which the cast, screenwriter Blanche McIntyre, and director John Jencks make some remarks about the book and Fry, as well as the challenges in translating it to the screen. "British Comedy Special" (7:06) is another compilation of footage from the same interviews in the context of what distinguishes British comedies from others, including the notion of societal roles and that British characters and real people are always "performing" those roles. The Behind the Scenes (9:10) is a half-jokey featurette in which the cast and crew frame the themes of the film in the guise of trying to describe the plot. The Q&A with Stephen Fry (34:16) is actually a screening Q&A with Fry as well as director Jencks, co-writer McIntyre, and actor Allam. Fry humorously discusses his writing process while Allam discusses the figures from which he drew inspiration in shaping his character, McIntyre discusses the challenges of translating the book to the screen, preserving Fry's voice, his description, and conveying the multiple character points of view while retaining Ted's as the main viewpoint, while Jencks describes the film's development over seven years before the twenty-three day shoot. There are also separate interviews with Roger Allam (5:20) describing how he got involved in the project, reading the script and then the book, and describing his concept of the character, Fiona Shaw (5:12) covers some of the same material while also noting that it was a relief to not be cast as another eccentric character (with the eccentricities of the character less pronounced and unfolding as the film proceeds), and Matthew Modine (3:55) who focuses primarily on his character. The disc also includes the film's theatrical trailer (2:26) as well as start-up trailers for Lightyear's previous Blu-ray releases Aria and Tanna.


The UK release promises as its extras the "Book to Screen" featurette and the "British Comedy Special" while the making-of featurette may or may not be the aformentioned behind the scenes from this disc, and the extensive interviews with cast and crew may or may not be the individual interviews and the Q&A.

Overall