Charlotte
R0 - America - Ruthless Pictures / MVD Visual
Review written by and copyright: Eric Cotenas (19th August 2017).
The Film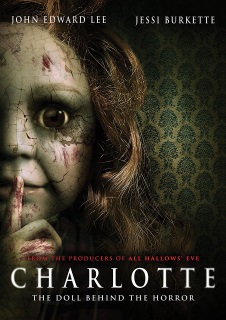 Despite the Annabelle-esque cover, Charlotte is not an evil doll movie but another compilation of pre-existing shorts by executive producers Jesse Baget (Mischief Night), Andrea Monier (The Black Water Vampire), and Steven Barton (Dread Central Live) in the style of their earlier faux-anthology The Invoking 3: Paranormal Dimensions and Monsterland (not to mention Baget's earlier The Portal, All Hallows' Eve, All Hallows' Eve 2, and The Invoking 2). This one features a more structured but no less trite wraparound in the form of "Raggedy Damned" from Nailbiter's Patrick Rea (whose "The Thing About Bannon's Lookout" appeared in The Invoking 3: Paranormal Dimensions and "Hell Week" in The Portal) in which babysitter Jessi Burkette is creeped out by one of her employer's antique dolls. Falling asleep in front of the television, she awakens bound and gagged and forced by the doll (with unconvincing inserts of child's hands) to watch a series of horror shorts on videotape. With each interstitial segment, the babysitter finds herself progressively mutilated, but to what end… and who cares? Rea also directs "Counter Parts" (2014) which is more witty than scary as twins who as children never learned to share reunite as adults (Myia Zadi) after one of them is blinded and loses a leg in a car accident and turns to voodoo to share and share alike (with two sting in the tail endings). Less satisfying is Dollface (2011) from Colin Campbell in which a couple (Nick Holmes and Kimberly Atkinson) have their Halloween night in disturbed by the appearance on their doorstep of a creepy woman who takes some candy but leaves her purse behind. The husband makes the fateful decision to return the purse to its owner using the address on her identification, and the wife decides that four hours is enough time to wait for him to get back from just down the block to follow and investigate. In the by-the-numbers but suitably gory Tickle (2014) from Corey Norman (The Witching), babysitter Trudy (Casey Turner) tells her difficult young charge (Andrew Lyndaker) about the troll Tick Tack who comes when children sleep with their feet outside the covers; if their feet are not ticklish, he will cut them clean off. Calvin Main – whose "The Dwellers" and "The Bedroom Window" were featured in The Invoking 3: Paranormal Dimensions while "The Experiment" and "The Sneak" appeared in The Portal – contributes the dull Good Evening (2016) from his 13 Stories TV Originals anthology in which a lonely man (TMI Hollywood's Steve Brewster) entertains creatures from the beyond with milk, cookies, and human fingers. Rea returns for more amusing than scary "Get Off My Porch" (2010) – previously featured on the Hillbily Horror Show – in which suburbanite Neil (Bradley Meehan) is bedeviled by a pair of very insistent and aggressive cookie-selling girl scouts who are out well past curfew. Actor John Edward Lee (Circle) directs and contributes to the bombastic shrillness of "The Judas Cradle" (2011) as a stranger who abducts a grieving woman (Suzanne Quast) and traps her in a basement with the man (Franco Castan) who may be responsible for her son's death. The too brief to be disturbing My BFF (2015) from April Wright goes through the motions as lonely young Madeline (Kayla Madison) confides her deep hatred for her neglectful single mother (Hatchet II's Sarah Agor) to her lifelike My BFF doll Samantha who decides to do something about it. Rea returns once again for all ages-ready spookshow "Howl of a Good Time" (2015) in which a young Brianne (Morgan Collar) may not be the only one who regrets her decision to sneak into the closed theatrical premiere of Foaming at the Mouth 2 when she finds herself among aggressively carnivorous audience members and a trio of increasingly hairy usherettes (The Devil's Rejects' Leslie Easterbrook, Halloween 5: The Revenge of Michael Myers's Tamara Glynn, and Rob Zombie's Halloween II's Renae Geerlings). As with the other anthologies from this same group of people, Charlotte is more interesting as a survey of what's going on in the short horror film circuit than a satisfying anthology.

Video


Shot on a variety of HD formats, the shorts all look uniformly slick and are given a serviceable mid-range bitrate encode on a barebones single-layer DVD. Unlike some of the other shorts-as-anthology features from the same producers, all of the shorts here are letterboxed at 2.40:1 in keeping with the wraparound footage, and only "Dollface" looks overmatted in a few shots.

Audio


Audio is English Dolby Digital 2.0 stereo for all of the shorts and the sound recording and editing is all of a professional level, so there is nothing to complain about in either the original mixes or the encoding.

Extras


There are no extras but the chapter menu has entirely different titles for each of the shorts than are seen in the end credits.

Overall


As with the other anthologies from this same group of people, Charlotte is more interesting as a survey of what's going on in the short horror film circuit than a satisfying anthology.


---
DVD Compare is a participant in the Amazon Services LLC Associates Program and the Amazon Europe S.a.r.l. Associates Programme, an affiliate advertising program designed to provide a means for sites to earn advertising fees by advertising and linking to amazon.co.uk, amazon.com, amazon.ca, amazon.fr, and amazon.de.