The Film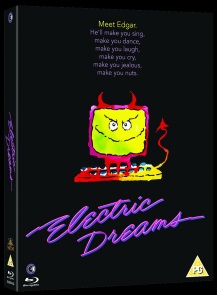 When his boss (Raiders of the Lost Ark's Don Fellows) comes down on him for his lack of punctuality, technologically-inept architect Miles Harding (Twin Peaks: Fire Walk with Me's Lenny von Dohlen) is advised to get himself an electronic organizer but he is upsold a high-end personal computer that is capable of running all the appliances in his San Francisco brownstone apartment from security to the coffee maker. He and the computer do not get off to a good start until he discovers that it's processing capabilities could help him in his design of a new kind of brick for earthquake-proof construction (it does seem difficult in these days to believe that an architect at a top firm might be completely ignorant of computer automated drafting even in its then-primitive form). Hacking into his company's computer bank nearly causes his own computer to overheat from the massive memory dump but it seems to enhance the abilities of the processor (once he has dried it off after trying to cool down the circuit boards with champagne). What he does not know is that the voice activation function is more interactive than he anticipated, and it starts to mimic the sounds picked up by its microphone, playing an electronic duet with Miles' cellist upstairs neighbor Madeline (The Hot Spot's Virginia Madsen) who comes to believe that Miles is a closet musician too bashful to share his talent. Roused by the carnal interest of Madeline's handsome fellow symphony cellist Bill (The Boys Next Door's Maxwell Caulfield) in her, Miles starts dating Madeline and appeals to his computer's increasingly sophisticated artificial intelligence (voiced by Harold and Maude's Bud Cort) – who has taken to calling himself Edgar – to compose a love song for Madeline. Miles must try to explain what love is to the computer in order to achieve this; in doing so, however, they both become convinced that Edgar can indeed feel things, and Miles soon finds he has a rival for Madeline's affections.

One of the quintessential romantic comedies of the eighties, Electric Dreams was a film that shaped and was shaped by the MTV aesthetic with music video director Steve Barron (Michael Jackson's "Billie Jean", Toto's Rosanna and Africa, The Human League's "Don't You Want Me", and Madonna's "Burning Up" among many) at the helm and Virgin Records' Richard Branson branching out into motion pictures with Virgin Pictures (and later Virgin Vision) with a soundtrack by Giorgio Moroder (Cat People) featuring Virgin artists Boy George and Helen Terry of Culture Club, UB40, Electric Light Orchestra's Jeff Lynne, The Human League's Phil Oakey, and Heaven 17. Even with the soundtrack and top-tier technicians like cinematographer Alex Thomson (Labyrinth), production designer Richard Macdonald (Exorcist II: The Heretic), and editor Peter Honess (Highlander) plying their trade in the music video realm (with Thomson and crew achieving some practical shots that would be executed now with a combination of motion control and CGI), the film stands out from other stylistic examples and other eighties science fiction comedies like Weird Science and Short Circuit by virtue of the charisma and chemistry of its then-unknown stars von Dohlen and Madsen and a thoughtful and unpredictable script that is not afraid to let Miles and Edgar alternately look bad, with the former initially unrepentant at taking credit for Edgar's romantic gestures and Edgar becoming obsessive and angry (edging the film into the automated computer terror subgenre of the decade that exploited the dark side of our wonderment with the then seemingly fantastical possibilities of what computers could do in the future). Stimulating dialogue between Miles and Edgar blur the lines between the human brain's and the computer processor's "memory cells", Miles referencing Disney to try to explain what love and dreams are to Edgar whose own concepts of humanity are shaped by an endless feed of television shows (including a soap opera featuring a cameo by Koo Stark), commercials, and old movies not unlike the one that Miles and Madeline attend on their second date, and true love winning out as Edgar coming to understand its fundamental nature (along with the realization for all three that our feelings come from deep inside and not from what we project them upon). Hardly dated by its MTV aesthetic (or perhaps charmingly so), Electric Dreams is an eighties classic worth discover or rediscovery.

Video


Second Sight's cover cites the transfer as coming from a "New restoration presented in 1080p" and there seem to be no major framing or coloring differences between 1080p24 MPEG-4 AVC 1.85:1 widescreen transfer and the MGM-HD screenings (I am not sure when that master was prepared and if it might indeed be the same one utilized here) with a clean, crisp image apart from the filmed-off-a-monitor computer animations which are slightly softer and prone to flare and some slight banding in the blue highlights.

Audio


The Dolby Stereo track seems to have been reproduced accurately on the Blu-ray's uncompressed LPCM 2.0 track since the mix has always been a little uneven with some of the music tracks sounding flatter than others (compare the ending sequence delivery of "Together in Electric Dreams" to track that follows it over the scrolling end credits). Optional English HoH subtitles are provided for the dialogue, sound effects, and lyrics.

Extras


In "Is This a Story?" (18:23), director Barron recalls meeting writer/producer Rusty Lemorande (The Turn of the Screw) through his mother Zelda Barron (O Lucky Man!) who had worked together on Yentl who recommended Lemorande show her son the script. Acquainted with Virgin's Branson through his sister, Barron went with Lemorande to show the script to the Branson whose company had already produced Michael Radford's 1984. The cross-promotion of the soundtrack and film of Flashdance gave Branson the idea of creating a soundtrack using his label's recording artists to produce hit singles that would be released in advance of the film. He discusses the casting of the film – including Cort acting on the set against Von Dohlen but not wanting to be seen by him or the crew as much out of method acting as the recent car accident that derailed his rise to stardom in the film that was set to make him a success Die Laughing – and the experience of being the one to call the shots on the set only three years after being a clapper/loader (second assistant camera in American terminology), as well as not going to film school but learning on the set the difference between picture-making and storytelling. Of the soundtrack, Barron reveals that Moroder came to him with a previously-created demo for what would become "Together in Electric Dreams" but that it was his own decision to have Human League's Phil Oakey perform the vocals.

In "Electric Dreaming" (41:27), Lemorande covers the same ground about the origin of the project but goes into more detail about casting, having seen Von Dohlen in Tender Mercies and Madsen in Dune. Although he was with the production for its entirety as both writer and producer (along with fellow Yentl producer Larry DeWaay), he was often not on the set during the studio shoot because he would be working with video graphics supervisor Tim Boxell on creating the animation for the shoot the night before it was to be seen on the set. He reveals that in working on a temp track to give Moroder an idea of what he had in mind, he relied heavily on ELO (Electric Light Orchestra) tracks and approached Jeff Lynne about writing two songs for the soundtrack despite the artist's negative experience working on Xanadu, along with Boy George (Lemorande's decision that no artist should contribute more than two songs lead to the decision to have P.P. Arnold perform Boy George's third-penned song "Electric Dreams" heard over the opening credits) along with his own chance to pen a song for Helen Terry. He also reveals that a squabble between Branson and CBS Records in the U.S. over his intention to start an American arm of Virgin lead to CBS boycotting Virgin's songs which would then not be shown on the burgeoning MTV. Lemorande was able to use his own business relationship with CBS to get the ban lifted for Electric Dreams but it was too late. Grease producer Allan Carr was known to get behind other productions he admired and advised MGM's Frank Yablans to pull the film and mount a re-release with advance promotion of the music, so the film was pulled from release but Yablans was fired and the new MGM management decided not to follow the plan.

"Miles and Madeline" (20:47) is made up of separately-recorded new interviews with Von Dohlen and Madsen. They both convey how big an opportunity the lead roles were for them at that point in their careers and how the production's treatment of them spoiled them both for the subsequent work. Madsen discusses learning to play the cello with classical music coordinator Harry Rabinowitz (who also plays the conductor in the film) and that she accompanied the playback on the set. Von Dohlen admits to learning how to act for the camera in the film thanks to the crew he did not realize at the time was the A-list. They also discuss their chemistry and continuing friendship, as well as the reception of the film and its afterlife on home video and cable. Although Barron elects not to divulge the name of the actress proposed before the casting of Madsen, Von Dohlen reveals that it was a pre-Witness Kelly McGillis while Lemorande did not reveal the potential breakout star whose agent called him about the role of Miles but Barron reveals it was Tom Hanks whose Bachelor Party and Splash made waves the same year. Although twenty-odd minutes seems like not enough time for a featurette with the two stars, it is actually a well-edited and touching discussion that provides a sufficient overview informed by the other two featurettes.

Overall


Hardly dated by its MTV aesthetic (or perhaps charmingly so), Electric Dreams is an eighties classic worth discover or rediscovery.