The Bureau: Season 3
R1 - America - Kino Lorber
Review written by and copyright: Eric Cotenas (19th August 2017).
The Show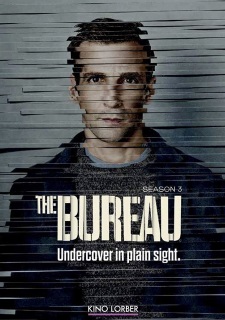 In the aftermath of season two of Le Bureau des Légendes, French agent Paul Lefebvre aka Guillaume Debailly code-named Malotru (Amelie's Mathieu Kassovitz) has been captured by ISIS and is being held at a recruitment camp under constant torture overseen by a Russian convert (Zift's Zachary Baharov) who is instructing a number of new recruits in the art of breaking a prisoner. Back in Paris at the DGSE (General Directorate of External Security), Henri Duflot (Le Havre's Jean-Pierre Darroussin), Director of the Service of Clandestines, discovers that the American CIA – to whom Paul gave intel for help freeing his lover Nadia El Mansour (Zineb Triki) from her captors – nor his own superior Colonel Marc Lauré (A Prophet's Gilles Cohen) would ideally rather let Paul be executed by ISIS than deal with the scandal of Paul's treason; Henri and his team, however, cannot believe that Paul would allow himself to be captured by ISIS and put through hell unless he failed in a suicide mission or still has things to do. Unable to rely on the Americans and uncertain of what to do with Paul if they get him back – a French citizen having less than twenty-five percent chance of being returned by ISIS and zero percent if he is an agent – Duflot and his team recruit Nadia to go to Syria and try to arrange a negotiation with ISIS through art smuggler/Damascus Museum curator Shahanah (The Mummy Lives' Mohammad Bakri) who is looking to buy himself some protection when ISIS falls; Nadia, however, has demands of her own: to be appointed Director of Humanitarian Aid for Syria at the European Commission. Things proceed slowly with Shahanah letting Nadia know that he will expect a favor in return, and Nadia threatening to stall negotiations when he demands that she safeguard antiquities for him until he can get to them post-ISIS. Paul's handler Marie-Jeanne Duthilleul (Trouble Every Day's Florence Loiret-Caille) – who has been assigned to surveil Nadia's commission assistant Samuel Gendron (Andrea Dolente) who is sexually-involved with a man from the Iranian embassy – tries to work with Nadia in order to minimize Shahanah's damage to their goals and Nadia's future in building a new Syria. Seismologist Marina Loiseau (Sara Giraudeau) whom Paul trained upon his return from Demascus during the first season, is suffering from severe PTSD after being captured with Nadia. After botching an intelligence-gathering mission in Vienna, Marina decides to resign from the agency. No sooner does she start job counseling in search of a civilian position than she is approached by Sieca (Calvaire's Laurent Lucas) who tries to recruit her for DGSE. Thinking that she is being tested, she goes to Henri who has never heard of Sieca and surmises from intelligence that he is actually a recruiter for Mossad and convinces Marina to play the part of a civilian seismologist pretending to work for Mossad under the belief that she is working for the DGSE. When Lauré, on the other hand, decides to undertake an alternative rescue effort Paul in collaboration with the Kurds, he sends Raymond Sisteron (The Returned's Jonathan Zaccaï) to Beyadi as envoy. Tensions flare between Sisteron and old flame Céline Delorme (The Nun's Pauline Etienne), an expert in Africa and the Middle East, when he recruits Kurdish soldier Esrin (Winter Sleep's Melisa Sözen) – whose life he saved from a sniper and who, like him, as lost a leg in battle – to work for the organization. The mission fails but photographs of a burnt-out ISIS archive sent back to Paris by Sisteron include a diagram of a French train switcher that suggest that a Russian mole known as Cochise may have become a high-ranking ISIS agent and has used the diagram as a way to contact them, and they find a way to respond through Nadia's negotiations and the hostage video that ISIS will make of Paul under the impression that he is a French civilian for ransom.

Video


Shot on broadcast HD with the usual muted color correction for the European scenes and the warmer bias for the Syrian scenes, The Bureau looks good for an SD down-conversion at a mid-range bitrate with three-and-a-half hours on the first dual-layer disc and two-and-a-half hours each on the other two discs.

Audio


Audio is offered up in French Dolby Digital 5.1 and 2.0 stereo with optional English subtitles. The disclaimer and title are in English while the place names and end credits are all in French.

Extras


The only extras are trailers for all three seasons which redundantly appear on all three discs.

Overall


In its third season, The Bureau is a thoroughly engrossing French political thriller in the Homeland mode.


---
DVD Compare is a participant in the Amazon Services LLC Associates Program and the Amazon Europe S.a.r.l. Associates Programme, an affiliate advertising program designed to provide a means for sites to earn advertising fees by advertising and linking to amazon.co.uk, amazon.com, amazon.ca, amazon.fr, and amazon.de.