The Film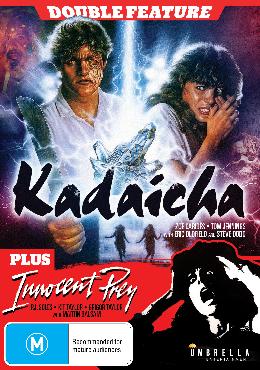 "Kadaicha" (1988)

An Aboriginal elder with the power of life or death over those who disobey the laws of the Aboriginal people. When the unsuspecting residents of a suburban housing development encounter strange occurrences in their neighbourhood it is only a matter of time before someone upsets The Kadaicha Man. Discovering that their homes were built atop a sacred Aboriginal burial site, a group of teenagers are subject to nightmarish dreams about an eerie cave with sinister rock paintings and the brooding evil that dwells within. When they awake, a souvenir of their nightmare rests on their pillow – a stone destined to haunt them to their very core and place them in mortal jeopardy.


"Innocent Prey" (1984)

Cathy (P.J. Soles) is suspicious of Joe's (Kit Taylor) need to work late every night. Discovering Joe's car parked outside of a motel, Cathy watches in horror as Joe slashes a prostitute to death with a razor. Joe is sent to the state hospital for the criminally insane and Cathy attempts to rebuild her life in Australia. Soon after her arrival, Cathy becomes the object of obsession for her landlord who observes her every movement, ready to cause all manner of mayhem to her newfound freedom.

Umbrella Entertainment has issued "Kadaicha" and "Innocent Prey" on a double feature DVD, with both films sharing the same disc. They are both technically under the Ozploitation banner, but it is a strange choice to pack together. "Kadaicha" is a supernatural teen horror film that falls closer to the territory of "A Nightmare on Elm Street". "Innocent Prey" is a wife in danger from her violent husband that is similar in some tone to "Sleeping with the Enemy". The target audiences are completely different and neither film share the same cast or crew either. Questionable choice by Umbrella Entertainment, but both films do have their enjoyable factors. "Kadaicha" as stated is in line with the teen slasher films that dominated the 1980s, though with the reality/dream factor it's hard not to mention it in the same breathe with the Freddy franchise. The Aboriginal MacGuffin with the mysterious stone adds a little Australian flair to the story, but with no clear focus on which characters are to be followed, it is more of a mess than it is an exciting and scary horror film. With "Innocent Prey" it is a bigger film with the Hollywood star power of P.J. Soles and Martin Balsam, Australian star Kit Taylor and directed by Colin Eggleston. As international as it is, the story seems like two different films crammed together. One is about a wife who discovers her husband's secret as a murderer and fears for her life. Another is about a woman who is being secretly surveilled by a stalker via hidden cameras. The film has its moments but remains inconsistent in its execution and one wonders how unfortunate this one woman must be going through such terror more than once in different continents. The first half is definitely the better part, with the second half seemingly like it was a completely different movie. As for the year of 1984, it was shot in that year but not released until the second half of the 1980s due to legal wrangling.

While both films have their flaws they both have cheesy enjoyability with silly dialogue and unusual death or terror scenes which should satisfy the horror appetites of fans.

Note this is a region 0 PAL encoded DVD which can be played back on any Blu-ray or DVD player with PAL capability

Video


Umbrella Entertainment presents both films in non-anamorphic 1.33:1 in the PAL format. These two films look quite awful to say the least, with "Kadaicha" looking worse.

Stated on the case is:
Please Note: Umbrella Entertainment has done its best to source the best materials in the production of this DVD. Due to the nature of available materials, some inconsistencies may be present in the content of this disc

"Kadaicha" comes from a video tape source and it shows very badly. Colors are off, detail is lost, there are many blurry portions within the frame, and to top it off there are tape errors. Around 77 minutes into the film, the video tape errors start to occur with black lines filling the screen, then suddenly the image starts to skew making it unwatchable. It only lasts for about 30 seconds but it is impossible not to notice. If this was the best available material, I'd hate to thing what materials could look worse than this. The screencaps below also feature two shots of examples of tape error.

"Innocent Prey" also comes from a video tape source but fortunately it fares a little better than the other film. It is still not perfect though as dark scenes look way too dark, brown hues take over with no detail in darkness and colors overall look weak. There are dust and specs most likely from the original film transfer rather than the video which sometimes can be distracting. It looks closer to an 80s television viewing rather than a modern DVD or Blu-ray transfer. It's certainly watchable though filled with imperfections.

"Kadaicha" Screencaps:


"Innocent Prey" Screencaps:



Audio


English Dolby Digital 2.0 stereo
Both films have a 2.0 stereo soundtrack. These two films most likely had a monaural soundtrack prepared but the 2.0 stereo tracks available in the DVD have issues of faux stereo. The soundtrack of "Kadaicha" sounds artificially spread out rather than a true stereo soundtrack, so dialogue sounds unnatural, slightly echoey and off center. For "Innocent Prey" it is a little off center but sounds better and clearer "Kadaicha". Both films have fidelity issues with muffled music and sound effects at times but there are no issues with hisses or pops for the most part.

There are no subtitles available for either film.

Extras


"Looking Back on Innocent Prey with P.J. Soles" featurette (22:38)
This newly conducted interview by Umbrella Entertainment with the lead actress of "Innocent Prey" is the true highlight of this release. Soles talks about her excitement working in Australia for the first time, hiding her pregnancy during the production, working with the cast and crew, and much more. The audio level is set a little too high so be prepared to lower the volume while viewing this extra.
in anamorphic 1.78:1, in English Dolby Digital 2.0 with no subtitles

"Kadaicha" trailer (1:59)
A very low quality trailer with pixelation issues most likely coming from a very compressed source. The narration is American so most likely was a trailer made for the American market rather than Australia.
in non-anamorphic 1.33:1, in English Dolby Digital 2.0 with no subtitles

"Innocent Prey" trailer (2:35)
Strangely, the trailer seems to have slightly better colors than the DVD transfer here.
in non-anamorphic 1.33:1, in English Dolby Digital 2.0 with no subtitles

Sadly there are no interviews or featurettes for "Kadaicha" on this release.

Packaging


The rear package has a region 4 symbol but is in fact a region 0 release.
The packaging has "Kadaicha" as the main feature with "Innocent Prey" listed as the bonus film, though strangely the main menu screen has a loop with music and scenes from the bonus film rather than the "main" one.

Overall


Umbrella Entertainment's double feature of "Kadaicha" / "Innocent Prey" is a curious combination of two completely unrelated films. They both have issues with weak source materials for the DVD transfer, though the interview included is a fun highlight for fans of the latter film. It's too bad Umbrella could not locate better materials for either movie, even if they both are flawed horror films.
| | | | | |
| --- | --- | --- | --- | --- |
| The Film: D+ | Video: D | Audio: C- | Extras: C | Overall: C- |