The Film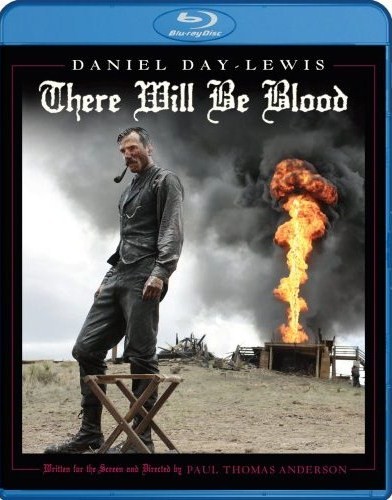 If this year's Oscars came down to a two horse race between the Coen brothers' "No Country For Old Men" (2007) and Paul Thomas Anderson's "There Will Be Blood", then the battle was similar to that of "Blood's" Daniel Plainview (Daniel Day-Lewis) and Eli Sunday (Paul Dano). On the one hand the Coen's film was arguably a 'perfect' film, one that plays to its genre (the chase film) but broadens out into a much bigger palette in a way only the Coen's could do. There Will Be Blood on the other hand was a much broodier piece, haunted by the demonic performance of Day-Lewis who in almost every frame of the film creates the most enigmatic, aloof rendition of a man corrupted by greed and power. But unlike similar cinema megalomaniacs (Orson Welles' Charles Foster Kane in "Citizen Kane" (1941) or John Huston's Noah Cross in "Chinatown" (1974)), Plainview was unapologetic and defiant, both literally and in his story. "There Will Be Blood" ends perhaps on the most downbeat defeat of religion (or at least false prophets) by capitalism, that you'll ever see this side of "The Godfather" (1972). But Plainview's grand finale, a summarily deafening blow to the skull by a bowling pin was not so much a resolute conclusion, but rather Plainview himself seemingly deciding the end of the film on his own terms.

And in this moment, we see the stark contrast to the Coen brothers film, which ended similarly downbeat, but with the most steadfast conclusion of a film whose title gives away all you need to know about its intended themes. All this comparison is perhaps frivolous in attempting to summarize my feelings about "There Will Be Blood," but I will say this: while "No Country For Old Men" is indeed a perfect film, and a fine choice for Best Picture at the Oscars (whatever merit that title holds when films like "Crash" (2004) and "Million Dollar Baby" (2004) are in the same league), "There Will Be Blood" is the film that I will return to more often and will haunt me for much longer.

This makes it perfect for Blu-ray of course, since I can now go back and marvel at the bravado of Anderson, a filmmaker who should already be among the top names of modern American filmmakers whose legacy is already assured with his first four efforts. I can't deny my disappointment at "Punch-Drunk Love" (2002) not finding its audience, since it was far and away the most funny and genuinely romantic rom-com that any filmmaker has ever gifted an audience. But for any filmmaker, a work like "Magnolia" (1999) would be a life's masterpiece. Like Orson Welles, it would almost appear that Anderson's masterpiece may have come too early. Unlike Welles ("The Stranger" (1946), "Touch Of Evil" (1958) and "F For Fake" (1974) not withstanding) though, Anderson seems to still have his best years ahead of him, and if "There Will Be Blood" is anything to go by, we're in for quite a ride.

Adapting Upton Sinclair's 1927 "Oil!" Anderson turns a much renowned look at the foundation of America into a deeply personal journey into the black heart of the man who built a nation by pillaging the ground beneath it. Although appropriate, it seems almost too easy to turn Sinclair's novel into a modern allegory, and perhaps that's what we would have got in the hands of any other filmmaker. Anderson however shrugs away the weight of the 'oil issue' and turns in an intimate epic. He again uses the familiar trappings of the parent child relationship which has been the backbone of every film he's made (Even "Punch-Drunk Love's" Barry Egan was powerless against his six older sisters, and by extension his entire family). But here perhaps for the first time, Anderson turns his attention away from the child and points the lens directly at the parent. Make no mistake, Daniel Plainview is every bit the monster he appears, a surrogate father who abandons his adopted son H.W. (Dillon Freasier) after a drilling accident renders him deaf. His actions made all the more powerful because of his lack of remorse.

And there's not much more that can be said about Day-Lewis' performance that hasn't already been written. Seething and squinting through a thick layer of fresh sludge, Lewis' Plainview is a very real depiction of everyday terror, a man so obsessed that nothing stands in his way. If anything, Day-Lewis' performance is the type of scenery chewing overacting we'd probably ridicule if it were delivered by the likes of a post-"Scent of a Woman" (1992) Al Pacino. But Day-Lewis is so mesmerizing in every scene that he seems to burn past the edges of the frame, and has haunted more than one dream of mine ever since. He's matched by an equally astonishing turn from young actor Paul Dano, whose previous strong suit of the silent brother in "Little Miss Sunshine" (2006) does little to prepare for the sheer intensity of an actor capable enough to stand toe to toe with Lewis. Which is perhaps my only criticism of the film: While Eli Sunday makes for an intriguing foil to Daniel Plainview he seems to shrink away too quickly, and never for a moment seems to have any kind of upper hand (even his baptism of Plainview is met with the kind of contempt we'd expect). But it's a minor criticism, since this isn't really a film about good vs evil, nor any kind of strict dichotomy. This is Plainview's film, and his inability to offer any kind of resolute understanding only makes him all the more fascinating, and well worth many revisits on Blu-ray.

Video


Presented in the film's original theatrical ratio of 2.35:1 this striking high-definition transfer is displayed to us in 1080p 24/fps and has been created using VC-1 compression. "There Will Be Blood" won the Oscar for 'Best Cinematography' and deservedly so, this Blu-ray disc shows off the photography with elegance, beauty and class. This epic film with its sprawling locations make it a perfect choice for HD presentation and this disc does not fail you one bit. The image is immensely sharp and nicely detailed right down to finite skin textures. Colors look well worn and dusted, skin tones are spot on and black levels are deep and bold. Shadow detail is consistently good throughout and the film does not have a single speck of dirt or any flaws that I can detect, there's some grain throughout but it's not annoying, it adds to the film's texture. This is one of those transfer were you almost have to get your eyes checked by the optometrist just to make sure you're seeing the whole image in all of its glory (OK, maybe that's going too far, but the simple fact is this is reference quality stuff from Paramount).

Audio


Three audio tracks are included in English Dolby TrueHD 5.1 as well as French and Spanish Dolby Digital 5.1. The standard 5.1 track on the DVD, I would consider, to be reference quality. This TrueHD track can also be considered one of the best of its kind. Although I'd have preferred the film to be released with an uncompromising uncompressed PCM track this TrueHD certainly does the trick. Dialogue is clear and distortion free, the ambient sound is natural and immersive, as is the compelling score. This soundtrack is complex and intricate and balances the various elements well to create an atmosphere that allows viewers to easily fall into the film.
Optional subtitles are included in English, English for the hearing impaired, French and Spanish.

Extras


Paramount has released this film with all of the DVD extras presented here in HD, the featured extras include a short film, a featurette, two deleted scenes, an outtake, the film's teaser trailer and theatrical trailer. Below is a closer look at these supplements.

First up we've got "15 Minutes" a slideshow featurette that runs for 15 minutes 33 seconds, this features reference photographs of the era and of oil drilling which Anderson used for research for the film. The photos are inter-cut with footage from the film.

There are 2 deleted scenes which include:

- "Fishing" runs for 6 minutes 13 seconds and is an entire sequence where the oil workers fish for the broken drilling bit after the well has collapsed.
- "Haircut/Interrupted Hymn" runs for 3 minutes 13 seconds is a sequence where H.W. cuts his father's hair and we see a montage of footage after the well has come in where Daniel is about to send is son off on the train.

"Dailies Gone Wild" is an outtake that runs for 2 minutes 46 seconds and features footage from the restaurant scene where Daniel gloats about his pipeline to the members of the competing Oil company/transport company.

Also featured is the film's original teaser trailer which runs for 1 minute 24 seconds as well as the film's original theatrical trailer that runs for 2 minutes 12 seconds.

Rounding out the extras is the fascinating silent short film entitled "The Story of Petroleum" which runs for 25 minutes 37 seconds and is a promotional film produced by the US Bureau of Mines in co-operation with Sinclair Oils about the nature of finding, drilling, refining and distributing oil products in the United States.

Overall


I expected Paramount to include some sort of bonus exclusive extra on this Blu-ray disc like they did with "Cloverfield", at the very least an audio commentary but alas all we get are the scant DVD extras, while good in their own right leaves a lot to be desired. The image and audio is another story altogether, the yare both reference quality as far as HD material goes.
| | | | | |
| --- | --- | --- | --- | --- |
| The Film: A+ | Video: A+ | Audio: A | Extras: B- | Overall: A |