The Film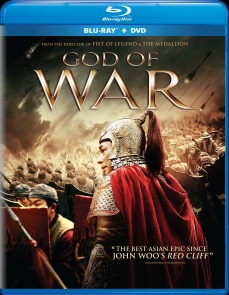 In the middle of fifteenth century China, the coastlines are under attack from savage pirates, and the Ming armies lead by General Yu (My Lucky Stars' Sammo Kam-Bo Hung) have thus far been unable to penetrate the natural land barrier of their encampment despite clockwork daily attacks which have cost many lives. When regional military Commander Hu (Ban Wang) appoints younger Qi (True Legend's Wenzhuo Zhao) lead the army due to his recent victories against pirates in other parts of the kingdom, Yu steps aside only out of his deep respect for Hu. Rather than scheduling an attack, Yu bases his strategy for the unpreparedness of the enemy on that of his own men, and the surprise attack allows them to infiltrate the camp and send the pirates retreating; or so Yu believes before Hu intercedes when he realizes that a band of rescued prisoners are actually an ambush. Although Hu sends news of a victory back to the kingdom, the king's secret service comes to impeach Qi and Yu, accusing them of colluding with the pirates' leaders who have managed to get away. While Qi and Yu are taken out of action, Yu tells Qi that he suspects that the pirates are actually Japanese soldiers based on a sword left among the dead; indeed, he is right, as the supposed pirates are actually the ronin of the Damayo clan who are there to build up the fortunes and firepower of the clan – ostensibly lead by young Lord Yamagawa (Shin Godzilla's Keisuke Koide) whose impulsiveness is held in check by his strategic sensei Commander Kumasawa (Fist of Legend's Yasuaki Kurata) – along with an uncouth band of samurai who are in it for women and money. When Qi is reinstated – much to the displeasure of his learned wife Madame Qi (Regina Wan) – he comes across in the search for the pirates the villagers of Zhao Dahe who are battling neighboring villagers hand-to-hand over the right to mine gold recently discovered on their lands. When Qi sees in these villagers the kind of fighting spirit he is looking for to combat the pirates, he appeals to Hu for permission and funding to train them in return for some of army agreeing to protect the gold mine. The Japanese have replenished their forces with twenty-thousand men and have split them among three potential sites of attack, leaving Qi to guess which of them to take the greater amount of men while leaving the other two sites potentially vulnerable with fewer men. Unbeknownst to Qi, this is exactly Kumasawa's plan; and once the attack is underway, he wages another attack on the Xinhe where the families of Qi and his men are stationed, leaving Madame Qi – who took her husband's diplomatic concession for her to observe and advise the troops in training – to defend the fortress along with the women and children of Zhao Dahe and two hundred Ming soldiers.

Supposedly based on the true story of Ming general Qi Jiguang, the film might as well be a CGI-enhanced documentary reenactment of battles, as virtually all of the exposition and characterization in between the action set-pieces fails to give much depth to the protagonist, with only Hung and Kurata getting by on their natural charisma (just as Hung gets to show off his skill with the staff in an early scene sparring with Zhao, so too does Kurata get the dignity of a standout swordfight in the finale). Every battle scene continues beyond necessity to monotony – with wounds that probably would have been just as visceral for the viewer without the ridiculous CGI blood spatter – with only the penultimate battle at Xinhe really engaging the viewer with the ferocity of its predominantly female and minority male defense forces swinging swords, throwing rocks, and strategically using their limited firepower while waiting for support from Qi. However epic in visual scale and aural scale with the usual expansive scope image and DTS:X object-based soundtrack, God of War is nevertheless an empty dramatic experience.

Video


God of War may well be one of Well Go USA's best-looking Blu-rays thanks to the source and a BD50 encode that concentrates the bulk of its bitrate on the feature rather than extras. Fine detail is striking in facial features, the textures of clothing and armor, the mud and greenery of the locations, and even the woodwork and brushstrokes of the few interiors. Bum film withstanding, Well Go USA might have considered this title to debut 4K UHD.

Audio


Although we could not audit the DTS:X soundtrack on compatible equipment, the track mixes down quite impressively, still conveying the sound design's precise placement of each and every slash, stab, and clank from close-up detail to epic wide shots (presumably the overhead speakers would convey a sense of height to the flying arrows and canon fire). Dialogue comes through as forcefully as the score in what could be an audio system demo-worthy soundtrack. A Dolby Digtial 2.0 stereo soundtrack is also included along with optional English subtitles (the DVD in the combo includes Dolby Digital 5.1 and 2.0 tracks).

Extras


Extras are relegated to a pitifully short making-of featurette (1:33) which is really just a montage of fight choreography on sets and in front of greenscreen material, and a trailer (1:45) for the feature (along with a handful of trailers that also play as startup material).

Overall


However epic in visual scale and aural scale with the usual expansive scope image and DTS:X object-based soundtrack, God of War is nevertheless an empty dramatic experience.