The Film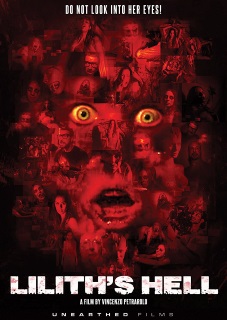 British aspiring filmmaker Ryan (The Best Offer's Marcus J. Cotterell) arrives in Rome to meet the producer Marco (director Vincenzo Petrarolo) of his realism-based horror film which is set to feature a cameo by Ruggero Deodato whose Cannibal Holocaust Ryan regards as creating the mockumentary genre and rendering all supernatural-based horror films obsolete. Ryan is quickly disillusioned with Marco's reluctance to procure the lighting and dolly equipment he would like in favor of single cameraman Alberto (Federico Palmieri) and available light. He is further disappointed that the remote country house of Marco's grandmother (who is on a pilgrimage to Lourdes) is no spooky villa or castle but a white-walled split-level luxury cottage with a hot tub and personal gym. Needless to say, Ryan soon realizes that the actresses Marco has hired are connections he made on the internet, including porn star diva Michelle (Manuela Stanciu) who arrives a day early with her goth make-up artist Sara (Joelle Rigollet) and complains not only about the lack of food (set to arrive the next day along with the other actors and crew) but also the lack of cocaine or Xtasy. Placated by some hash but nevertheless immune to Marco's charms, Michelle starts hearing noises which prove even more unsettling when they are supposed to be in the middle of nowhere with no neighbors for miles. Ryan grows frustrated trying to convey the realism of his concept to vapid Michelle and to Sara who is more open to the idea of the unseen, but Marco proves himself to be something of a producer in being able to distill Ryan's concept down to a maniac traps some people in a villa and documents with a camera their starvation and cannibalism of one another. After some bumps in the night and some pranks have the quintet convinced that it really is "just the wind" they settle in for the night only for sleepless Marco and Alberto to discover a considerably more friendly and horny Michelle joining them in the hot tub… that is, until she bites Alberto's cock off. From then on, we are in Evil Dead territory with a found footage twist as Ryan, Marco, and Sara discover something more disturbing than movie cannibals within the walls of the villa and must find a way to prevent the demon goddess Lilith from possessing any available female and carrying out her revenge on all of mankind.

Starting off with a relatively intriguing premise as Ryan dismisses Italy and the rest of Europe's vast mythology of the horrific in favor of "realism" as represented by cannibals only to have the supernatural reassert itself, Lilith's Hell pretty much goes on autopilot after the first forty-minutes or so. With Italy's masculine half generally predisposed to view feminists as castrating man haters, one wonders whether the filmmakers in holding up the demonic Lilith as the symbol of feminism are actually being misogynistic or not so deftly commenting on the fear of female sexuality that is endemic to a fair subset of monstrosities in the horror genre; if the women who conjure up the demon are movie madwomen or meant to represent a most radical feminism. In a film with possessed women that are a cross between Deadites and a bloodier version of The Astounding She Monster and a rote exorcism finale (conducted by Body Puzzle's Sebastiano Lo Monaco), such deeper debate is moot and on instead fixates on just how much Marco the producer's cheapjack approach to filmmaking is reflected in that of director Petrarolo, with the titillation of nudity and gore (practical or CGI) largely indiscernible amidst shaky-cam photography in murky environments, with the only truly pleasing contribution of note from set designer Marco Tarascio "panic room" murals. Deodato, who also recently "presented" the Mexican found footage serial killer movie Atroz and returned to the director's chair with the Amanda Knoxsploitation film Ballad in Blood, does indeed appear in wraparound segments, but he seems far less ruthless in his intentions to document the bloodshed than Cannibal Holocaust's Alan Yates. While the film is not particularly good, the dearth of horror production in Italy these days means that Italian horror fans cannot entirely dismiss such titles as this, Morituris, Closed Circuit Extreme, The Torturer, The Last House in the Woods, or Three Faces of Terror.

Video


Digitally-photographed in generally natural light and murky settings with a reliance on night-vision and auto-exposure, the image looks deliberately rough with some additional video glitches added, so one has to take it on faith that MVD's anamorphic encode looks as good as the film can in standard definition.

Audio


The English/Italian Dolby Digital 2.0 stereo track is heavily reliant on live audio goosed with some direction sound effects, screeches, and some spare use of music. Less problematic than the thick accents of most of the cast is the subtitling which attempts to both translate the Italian and transcribe some of the accented English but more than once resorts to "(mumbled)" suggesting that either the production was not responsible for the subtitling or they had as much trouble transcribing the improvised dialogue.

Extras


The self-produced extras start off with a cast and crew interviews (15:35) section in which Petrarolo comments on the production and interviews co-star Palmieri, set designer Tarascio - who specialized in Roman and Gothic-influenced art - and composer Massimo Cardamone who discuss the challenge of scoring a mockumentary and the emphasis on ambient cues and sound effects over melodies. Video playing in the background suggests that the Italian version of the film features Italian subtitles for the English dialogue rather than dubbing. Petrarolo appers again to host a Ruggero Deodato Interview (34:09) in which he discusses his cameo in the film, the inspiration for Cannibal Holocaust in Mondo Cane, some recollections of the film, and his opinions on more modern examples in horror and other genres, including those he has been asked to judge on various festival panels (and his opinions are not always glowing about the genre). Also included are trailers for six other Unearthed Films titles.

Overall


While Lilith's Hell is not particularly good, the dearth of horror production in Italy these days means that Italian horror fans cannot entirely dismiss it or other less-than-inspiring contemporaries.