The Man Who Died Twice [Blu-ray]
Blu-ray A - America - Kino Lorber
Review written by and copyright: Eric Cotenas (13th November 2017).
The Film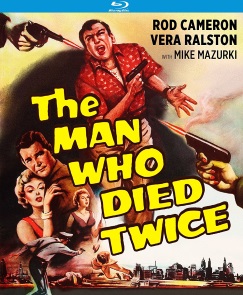 Just two days after nightclub owner T.J. Brennan (The Devil's Brigade's Don Megowan) plunges off a hillside to a fiery death in an automobile accident, his singer widow Lynn (Dakota's Vera Ralston) arrives home arrives home from his club in time to witness a man fall to his death from her own apartment balcony onto the sidewalk in front of her. The next day, Brennan's estranged police detective brother Bill (Psychic Killer's Rod Cameron) arrives from Kansas City in response to a frantic telegram only to learn that T.J. is dead. When he attempts to see his brother's widow who is in the hospital being treated for shock, he is intercepted by police Captain Andy Hampton (The Big Sleep's Louis Jean Heydt) and Chief Sloane (The Prowler's John Maxwell) who reveal that the narcotics department suspected Brennan of being a middleman for dope between Mexico and Chicago, and that two of their investigators had been murdered while searching Brennan's apartment for a hidden cache of drugs by an assailant looking for the same thing. Sloane has Bill transferred to his division to assist in the investigation by getting close to widow Lynn who they suspect knows more than she is willing to tell them but is either keeping silent out of fear or because she may be involved in her dead husband's dealings. Lynn claims not to remember anything from the night of the murder, and Bill finds his attempts to press further hampered by the club's bartender Rak (Night and the City's Mike Mazurki) who not only resents Bill taking over the club's operations but also carries a torch for Lynn. When a pair of hired hitmen from Chicago – Santoni (Union Station's Richard Karlan) and Hart (The Naked Kiss' Gerald Milton) – show up to gun down a man who was trying to shake down Brennan, they may not be so patient with Lynn when she pleads ignorance about the "present" her husband was holding for their boss.

Although filmed in Republic Pictures' own anamorphic widescreen process Naturama by in-house cinematographer Jack Marta (Duel), The Man Who Died Twice is really no more a visual stunner than a particularly standout example of the film noir genre, feeling more like a standard B-feature crime drama despite some tantalizing but ultimately wasted plot elements. Lynn's inability to fully remember the cause of her shock is conveyed entirely through dialogue like "I must be going crazy" without any of the experimental visual or aural techniques one might expect of a budget noir stylist like Detour's Egdar G. Ulmer (had the film's prolific director Joseph Kane worked in more genres than western and crime, he might have been more comparable to the likes of William "One Shot" Beaudine); in any case, the film's title should clue any remotely attentive viewer into the solution. Cameron's undercover detective is only slightly more developed than Ralston, but a motive of desire and jealousy underlying his belief in Lynn's guilt or innocence is so underdeveloped that it is not even subtext. What charms the film possesses are in the economical treatment of a bum script – by Richard C. Sarafian who would later helm the superior thriller Vanishing Point himself – peopled with some very welcome familiar faces like Mazurki, the lovely Luana Anders (Dementia 13) as a desperate junkie, and Jesslyn Fax (Rear Window) as an ill-fated elderly stoolpigeon who brings Santoni and Hart to the attention of the police in exchange for money to buy "cooking sherry."

Video


Derived from a band new 4K scan provided by Paramount, The Man Who Died Twice's 1080p24 MPEG-4 AVC 2.35:1 widescreen scan looks spectacular (as much due to the high bitrate and brevity of the film on a BD25) with a wealth of textures starting with the credits background and extending to the sets (some of which do look a tad artificial with the enhanced resolution), facial details, and clothing. The anamorphic mumps of the early widescreen process are evident in some close-ups that rob some of the glamour off of Ralston during her singing sequences while actors who flank the sides of the frame look thinner than they should.

Audio


The sole audio option is a clean and crisp DTS-HD Master Audio 2.0 mono track, no stereo or discrete surround options for Republic's widescreen process unfortunately, but the sound design is fairly standard with voices, music, and the occasional gunshot or skidding tire. No subtitle or caption options are provided.

Extras


The sole related extra is an audio commentary by film historian Toby Roan in which discusses the film in its context as the "end of the line" for Republic Pictures with president Herbert J. Yates losing the company over his efforts to make a star out of his wife Ralston (for which this was her last credit along with her brother Rudy Ralston serving as associate producer) while affectionately discussing the cast from Cameron - who started out as a stand-in and stunt performer for major studio before starring in Republic features and serials along with a couple Universal television shows in the fifties - to the many character actors Mazurki, Heydt, Megowan, Anders, and "old lady" film and TV regular Fax. He also points out the use of mismatching stock footage from a Monogram serial. There is no trailer for the film but the disc includes trailers for

Overall


While by no means an exemplary example of film noir or even a Poverty Row thriller, the slick and economical Republic Pictures effort The Man Who Died Twice is peopled with some welcome familiar faces going through the motions.

---
DVD Compare is a participant in the Amazon Services LLC Associates Program and the Amazon Europe S.a.r.l. Associates Programme, an affiliate advertising program designed to provide a means for sites to earn advertising fees by advertising and linking to amazon.co.uk, amazon.com, amazon.ca, amazon.fr, and amazon.de.