The Film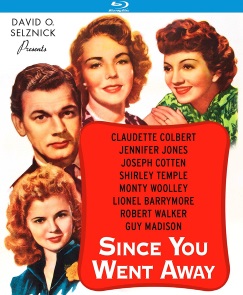 Just after the New Year of 1943, housewife Ann Hilton (It Happened One Night's Claudette Colbert) sees her advertising executive husband of eighteen years Tim off to war, leaving her to handle the household alone for the first time with teenage daughters, man-crazy Jane (Angel, Angel, Down We Go's Jennifer Jones) and daddy's girl Brig (Fort Apache's Shirley Temple), missing their father as much as she. Having to sell the car and let faithful housekeeper Fidelia (Gone With the Wind's Hattie McDaniel) go in favor a higher-paying position for a wealthy family, Ann cannot make heads nor tails of the household budget and is dependent on the kindness of grocer Mr. Mahoney (The Manchurian Candidate's Lloyd Corrigan) – whose son Johnny (Common Law Cabin's Jackie Moran) has also enlisted – to put off collecting the previous month's bill until she receives her allotment check. Ann is initially reticent about Brig's idea of taking in a lodger, but Jane soon warms to it at the prospect of a handsome enlisted man. What they get, however, is curmudgeonly retired Colonel William G. Smollett (The Bishop's Wife's Monty Woolley) who commandeers the master bedroom while Ann moves in with Jane. When Tim's former best man Lieutenant Tony Willett (Citizen Kane's Joseph Cotten) – or "Uncle Tony" – sweeps in and also expects to be taken in, Ann and Jane move in with Brig. Discomforted by Jane's youthful crush, Tony attempts to divert her attentions towards bashful young enlistee Corporal Bill Smollett (Strangers on a Train's Robert Walker) whose confidence has been destroyed by his grandfather's coldness after getting kicked out of West Point and his decision to pursue engineering over becoming a decorated officer. The family proper – along with their adopted contingent of Tony, Fidelia who has moved back into her old room while working elsewhere, and the Smolletts – suffer an emotional blow when Tim is reported missing in action (shortly after hearing of the death of a family friend in a training accident); but Ann will have to marshal up her resolve ("Fortitude is easy when there's no feeling," Smollett the elder tells her) for the sake of her family when Tony and Bill get their marching papers.

A David O. Selznick presentation of a David O. Selznick production, adapted from the newspaper column-turned-epistolary novel by Margaret Buell Wilder by Selznick with the credit "Screenplay by The Producer" – does anyone remember that the film was directed by John Cromwell (Of Human Bondage)? – Since You Went Away is schmaltzy, manipulative, war-effort propaganda that panders to the lowest common denominator (with the introduction of "the unconquerable fortress" that is the American home accented by Casablanca composer Max Steiner with the "Be it ever so humble…" part of the song "Home! Sweet Home!"); and yet, surprisingly, it resonates emotionally with the viewer with its themes of separation, loneliness, the emotional stasis of those left behind to "keep the home fires burning", the threat of death, and forced psychological and emotional maturity. Those not emotionally engaged can still revel in the lighting and show-stopping masters shots of the great Stanley Cortez (The Magnificent Ambersons) and Lee Garmes (Scarface) and the layered tracking shots that follow or lead the principals while paralleling their sentiments of the principals with sound bites from other surrounding families and couples. Jones and Temple provide most of the tears but Colbert carries the film, and her climactic decision to join the war effort ala "Rosie the Riveter" resonating not as doing her patriotic duty but realizing the futility of trying to preserve things at home as they were before the war whether her husband returns or not (just as Jane is warned not to dwell on the past by The Red Shoes's Albert Bassermann as a Freudian psychiatrist treating shell-shocked future Peter Gunn star Craig Stevens). While near-two hour first part of the film builds nicely, the second part feels more rushed in cramming comedy and tragedy into the final hour that the question of whether Tim will be coming home alive or dead is literally a last-minute development. Besides a typecasted but no less entertaining turn by Agnes Moorehead (All That Heaven Allows) as yet another stuffy battle-axe, the sprawling cast also includes Lionel Barrymore (It's A Wonderful Life), stereotypical ethnic turns from silent film great Alla Nazimova (Blood and Sand) and Basserman, a young Keenan Wynn (Joe Butterfly) in one of the earliest of many military roles (comic or otherwise), and a small introductory part for Guy Madison (The Beast of Hollow Mountain), along with uncredited early bits for the likes of singer Dorothy Dandridge (Carmen Jones), dancer Butterfly McQueen (Cabin in the Sky), future directors John Derek (Bolero) and Andrew V. McLaglen (The Wild Geese), as well as actresses Rhonda Fleming (The Spiral Staircase), Terry Moore (Come Back, Little Sheba), and Ruth Roman (The Baby).

Video


Although Kino offers no information about the HD master, Kino's 1080p24 MPEG-4 AVC 1.33:1 pillarboxed fullscreen encode is a definite improvement over MGM's interlaced DVD with similar framing but a greater sense of depth (while also revealing that foreground objects meant to enhance depth in some compositions are actually two-dimensional), more texture in the extremely-studied set decoration, and deep blacks that sometimes add a touch of gloom to innocuous set-ups. This is the roadshow version of the film running just under three-hours (compared to the 1949 re-release which ran 130 minutes) with a five-minute overture and one-and-a-half minute entr'acte.

Audio


The sole audio option is a DTS-HD Master Audio 2.0 mono track sporting clear dialogue (including the "sound montages" of background extra dialogue snippets) while also calling better attention to the musical quotations in Steiner's score (although it is hard to separate out his score from the many uncredited additional composers listed at IMDb) along with the many other instances of source music. Optional English SDH subtitles are provided.

Extras


Apart from the film's theatrical trailer (1:39), and trailers for four other Selznick films - A Farewell to Arms, I'll Be Seeing You, Portrait of Jennie, and Duel in the Sun - there are no extras, and it is just as well given the feature's running time and bitrate.

Overall


The David O. Selznick scripted, produced, and uncredited co-directed Since You Went Away is schmaltzy, manipulative, war-effort propaganda, yet it resonates emotionally with relatable themes and is also a visual stunner with a sprawling cast of dependable performers.