Paris Holiday [Blu-ray]
Blu-ray A - America - Kino Lorber
Review written by and copyright: Eric Cotenas (13th December 2017).
The Film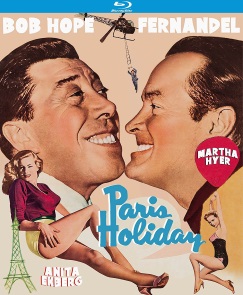 He soon gets distracted by the acquaintance of lovely Ann McCall (Sabrina's Martha Hyer) of the state department aboard ship. His attempts to romance her, however, are frustrated by the presence of his French comedic counterpart Fernydel (The Little World of Don Camillo's Fernandel) just returning from conquering America and just as interested in Ann, as well as his image as a ladies' man ("It's a lie but keep spreading it") when he is the only one on the ship who does not see bombshell spy Zara (La Dolce Vita's Anita Ekberg) sneaking in and out of his room to find a manuscript believed to be in his possession (after which she is supposed to kill him). Upon arriving in Paris and meeting Vitry, he learns that the play is not a comedy but a serious and shocking drama. Seeing the possibility to branch out as a Hollywood mainstream star, Hunter is able to convince Vitry to provide him with the address of his English translator to borrow a copy of the play. Returning to his hotel, he finds a government official ordering him out of the country due to an issue with his landing papers and is then nearly killed in a freak elevator accident. When Ann and Fernydel express concern for his safety, Hunter believes that Fernydel wants the role for himself. After Hunter's driverless cab crashes into a storefront and he is arrested, Hunter learns that he is being detained as the chief suspect in the murder of Vitry since he was the last to see the man alive. Ann intervenes and the American Ambassador (The Mummy's Shroud's André Morell) reveals that Vitry was murdered because his play reveals the identities of a ring of counterfeiters who nearly brought about a European economic collapse after the war by flooding the market with fake French francs and is ready to start up again entrenched in positions of power. After Ann, Fernydel, and Hunter barely elude a quartet of gunmen in a circus tunnel of love, Hunter decides to flee the country but unfortunately accepts a ride from Zara.

Comedic superstar Hope's first foray into producing ("Produced by Robert Hope"), Paris Holiday – from a story by Hope scripted by Edmund Beloin () and Dean Riesner (Charley Varrick) and helmed by jobbing director Gerd Oswald (A Kiss Before Dying) – is a lush-looking Swiss-American co-production that is nonetheless only fitfully entertaining. While Hope and Hyer have some nice chemistry while Ekberg's presence is wasted here (and would be again in her second collaboration with Hope Call Me Bwana five years later). The film's secondary purpose as a vehicle for Don Camillo's Fernandel is a hard sell leads to a protracted third act with Hunter committed to an asylum by Zara, with Fernydel donning a series of disguises to bust him out while a sanity trial sequence seems a roundabout way of getting to the stunt-doubled and back projection-heavy climax. There are still plenty of laughs, but Hope's vehicles are best left to more creative hands with the star adding the one-liners after the scripts have been written.

Video


Although released theatrically by United Artists in the United States and most territories, Paris Holiday did not wind up with MGM and was released on VHS first by Unicorn Video in the eighties and then by Video Treasures in the nineties. Although panned-and-scanned, Brentwood's 2000 DVD was a legitimate release, having been licensed from Pearson Television whose assets would wind up with Fremantle Media who licensed Kino Lorber's 1080p24 MPEG-4 AVC 2.35:1 widescreen Blu-ray of this Technirama film. Like VistaVision, Technirama ran the 35mm film through the camera sideways but added an anamorphic squeeze, and the resulting image would then be optically converted to CinemaScope compatible 4-perf anamorphic 35mm. It goes without saying that the new transfer blows the previous versions out of the water, with bold blues and reds making themselves known from the start from the credits to the wardrobe. Back projection shots are free of distracting outlines while only a few night scenes look less consistent, although this is presumably a fault of the cinematography.

Audio


The sole audio option is a clean-sounding DTS-HD Master Audio 2.0 mono track that actually makes one wish the film had been mixed in magnetic stereo or surround since it has more than a few opportunities with sound effects and a sequence with two overlapping bi-lingual conversations occurring at opposite sides of the frame. There are no subtitles or captions.

Extras


The only extras are a still of a shampoo ad featuring Ekberg to promote the film and an "also from KLC" clip reel of Hope titles.

Overall


While there are plenty of laughs in Paris Holiday, Bob Hope's vehicles are best left to more creative hands with the star adding the one-liners after the scripts have been written.

---
DVD Compare is a participant in the Amazon Services LLC Associates Program and the Amazon Europe S.a.r.l. Associates Programme, an affiliate advertising program designed to provide a means for sites to earn advertising fees by advertising and linking to amazon.co.uk, amazon.com, amazon.ca, amazon.fr, and amazon.de.