Maigret Sets a Trap [Blu-ray]
Blu-ray A - America - Kino Lorber
Review written by and copyright: Eric Cotenas (12th December 2017).
The Film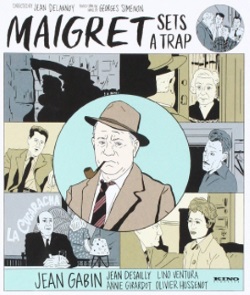 The Marais Killer struck four times, targeting full-figured brunette women in the streets late at night. When the latest killing of a young violinist breaks his pattern of one a month, Inspector Maigret (The Grand Illusion's Jean Gabin) suspects that whatever motivates the killer may drive him to strike more often. Upon learning that it was the killer himself who called in the tip about the latest victim and requested that Maigret himself be contacted – quite fortuitous as local precinct detective Lucas (Such a Pretty Little Beach's André Valmy) thought not to bother contacting him at that time of night despite the detective's instructions – he realizes that the killer is gloating and comes up with an idea to draw the killer out by wounding his pride. Arresting eccentric, alcoholic informant Mazet (The 400 Blows' Guy Decomble) and letting the press believe that he is being charged with the murders, Maigret soon receives among the crackpot tips a poison pen letter claiming that he has arrested the wrong man for killing "the sluts of Marais." Staffing the reenactment of the last murder with plainclothes policemen to follow persons of interest and fifteen police secretaries as bait, Maigret and his men are unable to apprehend the killer when he makes an attempt on a decoy who fights him off and tears a button off of his tailored coat. While Lucas has pinned his suspicions on local butcher Barberot (Carnival in Flanders' Alfred Adam), Maigret takes an interest in landlady of the butcher shop's building Madame Maurin (Les Dames Du Bois De Boulogne's Lucienne Bogaert) upon learning from his right hand man Lagrume (Olivier Hussenot) that not only did her daughter-in-law Yvonne (Rocco and His Brothers' Annie Girardot) before going to meet her gigolo dancer lover Jojo (Van Gogh's Gérard Séty) but a recessed door opening in the courtyard from the building would have made a good means for the killer to evade being captured after the murders. Probing into the Maurin family make-up under the guise of informal inquiries about Barberot who took over the butcher shop from the late Maurin, he discovers an obsessively clingy and praising mother, a youth prodigy artist of a son in Marcel (The Soft Skin's Jean Desailly), and an unhappy wife seeking affection elsewhere all weaving a tapestry of deceit to shore up a crumbling picture of bourgeoisie respectability that may have spawned something more twisted than sexual improprieties going back to the previous generation.

The first of two Gabin vehicles based on the Maigret novels of Georges Simenon helmed by Jean Delannoy (Pastoral Symphony) for producer Jean-Paul Guibert (The Possessors), Maigret Sets a Trap opens with the seasoned detective contemplating retirement in the country only to be goaded by his knowing wife Louise (Jeanne Boitel) into taking personally the killer's continuing elusiveness knowing that Maigret would grow bored without a challenge. The lightness of tone of much of the film – in spite of some frank discussions of sex, rape, and post-mortem mutilation – leaves the audience disarmed for the climax as Maigret employs deft psychological manipulation to reduce one suspect to hysteria and two others to blurt out confessions in panic and anger before a genuinely creepy scene in which it seems as if we are to see the killer enact an onscreen iteration of the crime previously shown in pantomimed silhouette in the opening. While the suspect is not hard to guess, it is primarily through following Maigret and his nonverbal reactions that we come to share his suspicions on a deeper level that generic familiarity, and his interest in not just in the who but they why that lends a greater psychological depth where textbook madness might have proved just as satisfactory to matinee audiences; and that following the plot actually demands audience attention to the dialogue and Maigret's observations makes this a more rewarding viewing experience than a divertissement. The story was subsequently adapted for the 1960's BBC series with Rupert Davies (Witchfinder General), the better-known ITV series from the nineties with Michael Gambon (Gosford Park), the concurrent France 2 series with Bruno Cremer (Sorcerer), and most recently the Ealing Studios series of television features with Rowin Atkinson (The Blackadder). Future star Lino Ventura (Army of Shadows) has a small early role.

Video


Released subtitled theatrically in the United States by Lopert Films - whose other foreign releases included Nights of Cabiria and Black Orpheus among others - Maigret Sets a Trap is currently unavailable on Blu-ray in France, although it appears as though the same HD master may have been released on DVD separately and in a boxed set with the second film Maigret and the St. Fiacre Case and an unofficial follow-up Maigret Sees Red exclusive to the set. The Kino Lorber release was preceded by a 2014 German Blu-ray edition which is presumably framed at 1.33:1 like Kino's 1080p24 MPEG-4 AVC pillarboxed fullscreen transfer. Although specs for the 2006 German DVD cite anamorphic 1.66:1 framing, the 1.33:1 framing here seems ideal with foreground and background props positioned along the bottom and top of the frame that would be chopped in half with letterboxing lending shots a sense of balance and enhancing depth in the many angular compositions and noirish lighting of Louis Page (Port of Shadows). TF1's restoration is virtually free of blemishes, and what initially seemed like shimmering in the fine lines of the vertical bars of the butcher shop in the establishing long shot is revealed to actually be a spinning fan behind the bars while the fine detail of clothing, weathered brickwork, and interiors both squalid and refined are pleasingly rendered.

Audio


The sole audio option is a DTS-HD Master Audio 2.0 mono track that effectively delivers the hysterical pitch of some of the dialogue amidst rather sedate sound design and sparse underscore. Optional English subtitles are free of errors.

Extras


The only extras are the film's theatrical trailer (5:13) and a trailer for the follow-up feature Maigret and the St. Fiacre Case.

Overall




---
DVD Compare is a participant in the Amazon Services LLC Associates Program and the Amazon Europe S.a.r.l. Associates Programme, an affiliate advertising program designed to provide a means for sites to earn advertising fees by advertising and linking to amazon.co.uk, amazon.com, amazon.ca, amazon.fr, and amazon.de.