Hermia & Helena [Blu-ray]
Blu-ray A - America - Kino Lorber
Review written by and copyright: Eric Cotenas (9th December 2017).
The Film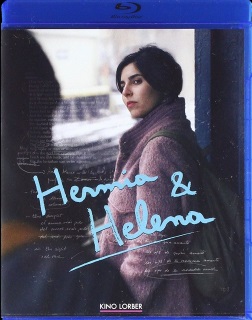 Traveling from Argentina to New York for a fellowship during which she be working on a translation of A Midsummer Night's Dream into Spanish for a stage production to take place upon her return, Camila (Viola's Agustina Muñoz) is advised as to what to expect by former fellowship member Carmen (The Princess of France's María Villar) who will be staying at her place while she is away. Arriving in New York, she finds herself missing life back home despite the presence of friends in the New York area. Seeking distraction, she laboriously tracks down her filmmaker ex-lover Gregg (Computer Chess's Dustin Guy Defa) but the reunion quickly turns to disappointment when she realizes that they cannot recapture the magic they once had. She ponders whether she really is meant to replace Carmen in more ways than taking her physical residence as she starts receiving a series of postcards addressed to Carmen from troubled former fellowship student Daniele (35 Shots of Rum's Mati Diop) who is travelling the country and starts to anticipate her meeting her as she makes her way towards New York, not to mention the seeming inevitability of sleeping with goateed fellowship residence coordinator Lukas (Queen of Earth's Keith Poulson). When Daniele arrives, Camila responds to her dark intensity and even entertains the notion of taking to the road with her, possibly even farther than Montana where the fellowship program has another branch as she becomes more frustrated with her translation. When Camila impulsively decides to meet Horace (Honeymoon's Dan Sallitt), the estranged father she never met who is now living in upstate New York, their reunion – which takes the form of an interview with prepared questions – may resolve some of internal doubts and fears about her ability to engage with other people off the stage. Meanwhile, back in Argentina, Carmen seems to be having a hard time readjusting to her home life with her family and her boyfriend Leo (The Distinguished Citizen's Julián Larquier Tellarini).

Told in a series of elliptical episodes in which parallels to A Midsummer Night's Dream seem superfluous with the exception of Camila's frustration with the progress of her translation and the feeling that she is being pushed into playing a role without connecting to it rather than inhabiting her life (including the possibility of making choices that nevertheless correspond to the part like her grudging attraction to Lukas). Camila really is only slightly more developed than some of the other characters, although the dark demeanor of Daniele – whose wanderlust seems like exile following an incident involving a fire that ended her fellowship – does shed light on Carmen's own pessimism about what she says she could have had with Lukas even though there does not seem to be any real imperative for her to return home and she seems no happier in the presence of her family and boyfriend (The Distinguished Citizen's Julián Larquier Tellarini). Camila's scene with her father is wonderfully played and improvised (the booklet that comes with the Blu-ray features an essay by actor Sallitt who recalls that there was little scripted dialogue and that the question and answer sequence was "directed" by promptings for director Matías Piñeiro). Perhaps more dedicated to the stage and Shakespeare than his protagonist, Piñeiro's prior film Viola not only featured Muñoz and Villar but was also based around a theater company's rehearsal of Twelfth Night and the blurring of lines between reality and the stage, which is also a theme for The Princess of France which features a male protagonist director who abandons the titular project to work with five actresses with who he has had prior relationships.

Video


Kino Lorber's 1080p24 MPEG-4 AVC 1.85:1 widescreen Blu-ray provides a strong and noiseless encode thanks to a film in which the digital cinematography remains more traditional and disciplined than the improvisational and on-the-go nature of the scripting and setting.

Audio


Audio options include English/Spanish DTS-HD Master Audio 5.1 and DTS-HD Master Audio 2.0 Stereo which are pretty similar with the surrounds of the former carrying a bit more depth in atmosphere and spread to the sprightly piano score. Optional English, English SDH, and Spanish subtitles are provided.

Extras


The film is accompanied by an audio commentary by director Matías Piñeiro and producer Graham Swon (Short Stay) in which the director reveals that the film was motivated by his desire to do things he had not done before in film, including shooting in the United States, working with New York area actors (as opposed to the stage actors he worked with in Argentina), as well as stylistic changes afforded by the locations as well as the touches by the editor on the early cuts that he ended up liking. He reveals that the film was inspired by his own time doing a director's fellowship, and that the casting of Diop occurred because she was in Boston doing a director's fellowship of her own and was available for a few days. He and producer Swon discuss the casting, the shooting schedule, and the influences of the likes of Éric Rohmer and Jean-Luc Godard. Also included are two short films by Piñeiro: "Is it Raining?" (2:02) and "Gregg" (3:42) - the latter interesting because it is the same short shown in the feature but with Piñeiro's English-subtitled Spanish narration rather than the English version deliver by Defa - as well as a trailer for D'A Film Festival (0:31). There are also a U.S. trailer (2:28) and Argentinian trailer (2:45) as well as a a booklet by actor Sallitt who discusses Piñeiro's methods and the shooting experience during the two days he worked on the film.

Overall




---
DVD Compare is a participant in the Amazon Services LLC Associates Program and the Amazon Europe S.a.r.l. Associates Programme, an affiliate advertising program designed to provide a means for sites to earn advertising fees by advertising and linking to amazon.co.uk, amazon.com, amazon.ca, amazon.fr, and amazon.de.