A Woman's Life [Blu-ray]
Blu-ray A - America - Kino Lorber
Review written by and copyright: Eric Cotenas (10th December 2017).
The Film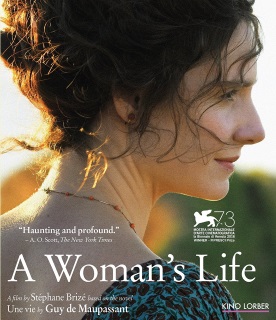 The daughter of Baron Simon-Jacques (Le Havre's Jean-Pierre Darroussin) and Baroness Adelaide Le Perthuis des Vauds (Amélie's Yolande Moreau), Jeanne (Spiral's Judith Chemla) lives a carefree existence in nineteenth century rural France with an interest in farming and gardening fostered by her father. When handsome but penniless Julien de Lamarre (Black Heaven's Swann Arlaud) visits the estate, Jeanne does not realize that her parents have decided that it is time that she marries. Thrust into adult life, Jeanne's idyllic happiness when she discovers that Julien is the father of maid Rosalie's (Saint-Cyr's Nina Meurisse) bastard child and when he further betrays her with the wife (Three Worlds' Clotilde Hesme) of aristocratic friends. Left to raise her own boy Paul alone, Jeanne keeps him close; but, as he grows into early adulthood, Paul (Neither Heaven Nor Earth's Finnegan Oldfield) begins to resent her closeness when she forbids him to see a girl he has met. Based upon the serialized first novel by Guy de Maupassant, A Woman's Life as filmed by Stéphane Brizé (The Measure of a Man) from a screenplay co-authored by Florence Vignon (The Grocer's Son) is a series of ellipses, focusing not on the big moments (which all happen offscreen) but on their emotional effect on Jeanne, as much through cutting away before revelations to their aftermaths as with the decision to use the Academy 1.37:1 aspect ratio to isolate her emphasizing how much happens without her involvement or consent. While the film emphasizes just how little control she has over her life as a woman, it is not a run-of-the-mill period melodrama. For as many scenes in which her parents is present to her a question of marrying Julien and welcoming him into their home or marrying another as being sent off to live with strangers, or Jeanne finding when the Abbot Picot (Read My Lips' Olivier Perrier) intercedes in the aftermath of Julien's betrayal that the onus is on her to forgive her husband (while the abbot's replacement then pressures her to tell Fourville of her husband's betrayal when she does not want to cause heartache by framing it as a sin in lying to herself), there are just as many scenes that reveal how ill-prepared she – and perhaps all young women and men of her station – is for adult life. During the scene in which she tries to council pregnant Rosalie, it appears that the reason for latter's reticence to confide is the identity of the child's father rather than the idea that the well-meaning Jeanne should suddenly become more worldly and wise by becoming lady of the house by virtue of marrying and losing her own virginity. Scenes of Jeanne and Gilberte with their husbands playing croquet are contrasted with scenes of the two women alone running around the garden playing tag and giggling like children. Julien's inability to keep it in his pants may have been grudgingly accepted for the period, but the end he comes to suggests that even his upbringing was deficient while Jeanne's attempt to raise Paul not to become like his father seems to have had the same effect that sending him away to school to make a man out of him would have had. Jeanne seeking comfort in memories of better times throughout the film even early on is mirrored in her discovery of treasured letters of her mother from a lover written after her marriage; but it is ambiguous as to whether those memories actually help her bear the leaner later years or shelter her from the reality of her economic situation and the seeming hollowness of her son's few letters requesting money and using emotional manipulation. While it is a thought-provoking in some respects, A Woman's Life is often as dreary a film as a life.

Video


The film is presented in 1080p24 MPEG-4 AVC 1.37:1 pillarbox widescreen, and the image faithfully reproduces the rugged details of stone, greenery, and skin under warm and cool conditions natural and practical lighting conditions.

Audio


In keeping with the intimate approach, the film has been mixed in mono and the DTS-HD Master Audio 2.0 track reproduces the film's emphasis on dialogue and live sound while sparse music and some sound effects-intensive remain centered while using volume rather than spread or surround depth for emphasis. Optional English subtitles are provided.

Extras


Extras start off with an interview with director Stéphane Brizé (27:04) discussing his discovery of the novel and the affinity he felt with the protagonist as he discovered the "duality of adult life" and seeing Jeanne as a character who does not compromise her ideals to protect herself from life's harsh awakenings. He then discusses the challenge of adapting the story in forgetting the novel "while retaining the story line." In the interview with cinematographer Antoine Héberlé and sound designer Pascal Jasmes (18:58), Héberlé (Grisgris) and Jasmes (The Lady in the Car with Glasses and a Gun) discuss director Brizé's desire to have the camera and sound equipment remain discreet and observe the scenes from a distance (sometimes filming from outside the rooms in which scenes are taking place). The film's theatrical trailer (1:47) is included along with ones for the director's The Measure of a Man and Mademoiselle Chambon.

Overall


While it is a thought-provoking in some respects, A Woman's Life is often as dreary a film as a life.

---
DVD Compare is a participant in the Amazon Services LLC Associates Program and the Amazon Europe S.a.r.l. Associates Programme, an affiliate advertising program designed to provide a means for sites to earn advertising fees by advertising and linking to amazon.co.uk, amazon.com, amazon.ca, amazon.fr, and amazon.de.