China Moon [Blu-ray]
Blu-ray A - America - Kino Lorber
Review written by and copyright: Eric Cotenas (16th December 2017).
The Film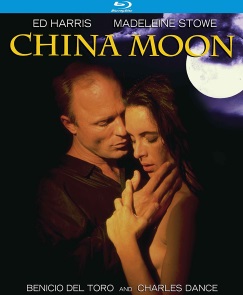 "Murderers are dumb shits. They always screw it up sooner or later," says small town Florida homicide detective Kyle Bodine (Knightriders' Ed Harris) to his less observant partner Lamar Dickey (Sicario's Benicio Del Toro) as he uses his powers of observation to determine the real nature of an apparent robbery-rape-murder case. Unlike his restless partner, Bodine has grown into his "boring life"; that is, until he meets Rachel Munro (Blink's Madeleine Stowe), a beautiful but troubled woman whose evasiveness about her private life intrigues him until he and Dickey respond to a domestic disturbance involving her and well-healed husband Rupert (Alien 3's Charles Dance). Long unhappy with her husband's brutality and his philandering – his latest mistress being his secretary Adele (The Possession of Michael King's Patricia Healy) – Rachel begins an affair with Bodine. Things become heated when Bodine urges Rachel to divorce her husband and she voices the fantasy she has entertained of the perfect murder before driving off into the night. As in her fantasy, Rachel flies to Miami and books a room at a hotel to establish an alibi and then drives back to town in the dead of night; however, she goes to Bodine's trailer instead and agrees to leave Rupert for him. Driving back to her home, Bodine waits in the car while Rachel goes inside to pack. Rupert flies into a rage and Rachel shoots him. Unable to call the police and treat it as a normal case of justifiable homicide since Rachel shot her husband with an unregistered gun and, intentionally or not, enacted part of her plan (including forgetting to check out of the Miami hotel), Bodine instead dumps the body and applies his knowledge of homicides to cover any traces of it. He sends Rachel back to Miami to return a few days later to report her husband missing. Dickey immediately suspects foul play and tells Bodine of Rachel's reputation with men – not to mention her mental problems, past suicide attempt, and two previous attempts to file for divorce – and suggests that she may have had one of her lovers kill her husband for the twelve million dollars she would inherit. Dickey may indeed have been paying more attention to Bodine's lessons, picking up on the forensic steps Bodine took to erase traces of his presence at the crime scene. Further holes pop up in Rachel's story that leave Bodine unprepared and suspicious as to whether she really is innocent or setting him up as a patsy; especially when the bullets pulled out of Rupert's corpse and an unaccounted-for third bulletthe bedroom wall come from a police-issue .38 like his own rather than Rachel's 9mm.

Shelved three years before its belated release from the failing Orion Pictures, the narrative feature debut of cinematographer John Bailey (American Gigolo) is a half-baked, hard-boiled film noir that attempts to be diverting but just gets sillier as the twists keep coming. Harris and Stowe are engaging while del Toro's quirks are reined in by a script that makes him seem like a flat performer rather than an ambiguous character. With Bailey stepping into the director's chair, his choice of cinematographer in seasoned veteran Willy Kurant (The Night of the Following Day) and the visuals have a sheen that demanded a better script and more audacious stylistic flair. The scoring of George Fenton (The Company of Wolves), on the other hand, goes through symphonic and synthesizer string gymnastics like some of Pino Donaggio's sub-Bernard Herrmann work from equally contrived thrillers of the same period. A forgettable thriller at the time of release, China Moon has more entertainment value as a time capsule of the sterile yet twist-laden thrillers of the pre-Basic Instinct variety.

Video


Released theatrically and on panned-and-scanned home video by Orion Pictures - along with a widescreen Image Entertainment laserdisc in the nineties - China Moon wound up along with other Orion titles with MGM who gave it a new transfer for their 2001 anamorphic DVD (which also included a 4:3 fullscreen option). Although free of aggressive edge enhancement and noise reduction, Kino Lorber's 1080p24 MPEG-4 AVC 2.35:1 widescreen Blu-ray appears to have been sourced from an older master going by the windowboxed opening title sequence. The image looks relatively crisp and colorful when it needs to be, largely favoring cold blues and warm amber as a sort of color noir style.

Audio


The sole audio option is a DTS-HD Master Audio 2.0 encoding of the Dolby Stereo soundtrack in which the surrounds are used largely for the score and source music with restrained atmospheres until the fateful thunderstorm sequence. Optional English SDH subtitles are provide din a small, unobtrusive font.

Extras


The sole new extra is an audio commentary by director John Bailey and co-editor Carol Littleton (The Accidental Tourist) who have been married since 1972. Bailey reveals that production company TIG was that of actor Kevin Costner (Dances with Wolves) who is uncredited in the film but was heavily involved during pre-production, and Bailey recalls Costner's reactions the changes he made to Roy Carlson (The Wrong Man) including the emphasis of socioeconomic differences between the hero and lover, making the hero more naive than hard-boiled, and casting the British Dance as a Southerner with a deliberately overplayed accent. Littleton points out the nuances of the supporting cast, the placement of music and the different motifs, as well as drawing comparisons to a previous noir she worked on: Body Heat. Also included is the theatrical trailer (1:26) and previews for similar titles in the Kino library.

Overall


A forgettable thriller at the time of release, China Moon has more entertainment value as a time capsule of the sterile yet twist-laden thrillers of the pre-Basic Instinct variety.

---
DVD Compare is a participant in the Amazon Services LLC Associates Program and the Amazon Europe S.a.r.l. Associates Programme, an affiliate advertising program designed to provide a means for sites to earn advertising fees by advertising and linking to amazon.co.uk, amazon.com, amazon.ca, amazon.fr, and amazon.de.