Body Electric
R1 - America - Breaking Glass Pictures
Review written by and copyright: Eric Cotenas (22nd December 2017).
The Film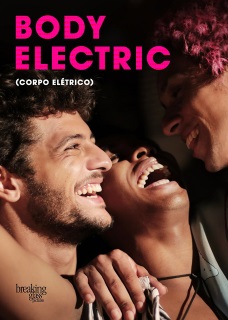 Maguey Award (Best Feature Film): Marcelo Caetano (won) - Guadalajara International Film Festival, 2017
Grand Jury Award: Honorable Mention (Outstanding International Narrative Feature): Marcelo Caetano (won) - L.A. Outfest, 2017
Jury Prize: Special Mention (Best Feature Film): Marcelo Caetano (won) - Queer Lisboa - Festival Internacional de Cinema Queer, 2017
Bright Future Award (Best First Film): Marcelo Caetano (nominated) - Rotterdam International Film Festival, 2017

Working as an drafting assistant in a clothing factory in Sao Paulo, Elias (Kelner Macêdo) is not thinking that far beyond a summer at the beach. Indulging in anonymous sexual encounters - which he occasionally uses to regale and arouse older regular lover Arthur (Ronaldo Serruya) - Elias is otherwise a loner until he finds himself having to spend more time with the workers as productivity increases towards the holidays. As overtime hours make it impractical for some of the workers to travel the long distances home before they have to be back in the morning, Elias finds himself going out and drinking, partying, and sleeping (in both senses of the term) with his fellow employees and getting insight into their worlds, including mild-mannered foreman Anderson (Henrique Zanoni) who finds a chance to shine in the spotlight by hosting the group at his parent's house, Wellington (Lucas Andrade) who introduces him to his drag queen friends - among them Marcia Pantera as himself - and Guinea-Bissau immigrant Fernando (Welket Bungué) from whom Elias realizes that he is substituting friends and co-workers for his estranged family. When his boss warns him to take work relationships into consideration in his future as a designer and businessman, Elias ponders what is more important as an aimless twenty-three year old.

Video


Breaking Glass' progressive, anamorphic 1.78:1 encode looks quite nice for a film that privileges performance over slick images with some noise in the darker scenes.

Audio


The Portuguese Dolby Digital 5.1 track is mostly active in terms of music as this is a dialogue-heavy film. The English subtitles are burnt-in but unobtrusive.

Extras


Extras include an interview with the director Marcelo Caetano (14:09) who discusses the inspiration for the film in Walt Whitman's titular poem, the theme of heterotopia and the ways in which characters find a balance between work and pleasure with cathartic acts of reconnecting with their bodies. Also included is Ball (16:51), a short film by the director, a trailer (2:14) for the film, and previews for other Breaking Glass titles.

Overall

---
DVD Compare is a participant in the Amazon Services LLC Associates Program and the Amazon Europe S.a.r.l. Associates Programme, an affiliate advertising program designed to provide a means for sites to earn advertising fees by advertising and linking to amazon.co.uk, amazon.com, amazon.ca, amazon.fr, and amazon.de.